November 17 – Battle scenes accompanied the Euro 2024 qualifier between Bulgaria and Hungary, which was played in front of empty stands in Sofia as thousands of fans from dozens of Bulgarian clubs gathered to protest in front of the Vasil Levski national stadium.
The demonstation was against the leadership of the Bulgarian Football Union (BFU) and its president Borislav Mihaylov. Initially, intended to be a peaceful protest, it quickly escalated into a violent one, creating scenes previously unseen in the centre of the Bulgarian capital.
Fans had started to gather hours before the start of the match, and minutes before the kick off, the violence erupted outside the stadium.
The Metropolitan Police in Sofia had brought in nearly 2,000 policemen to monitor the security around the stadium, but they barely managed to cope.
Dozens of policemen and fans were injured, after the ultras bombarded law enforcement with missiles. The police used water cannons to disperse the crowd and push them away from the stadium.
As well as throwing stones, homemade bombs and bottles at the police, the fans set fire to dozens of garbage cans, cars and a police bus.
Hungarian fans who had arrived in Sofia, despite the Bulgarian Football Union announcing days before the match that it would be played behind closed doors, joined the protests of the Bulgarian fans. Some of them were eventually allowed into the stands of the stadium to support their team.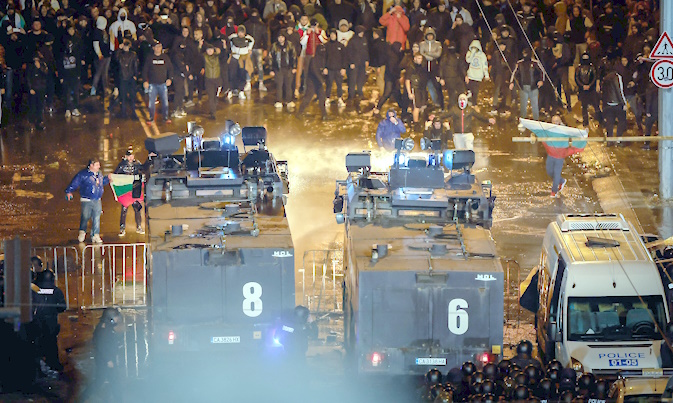 The protest against Mihaylov is gathering pace and is unprecedented in the history of Bulgarian football. Despite the dissatisfaction of the fans and the general public in Bulgaria, Mihaylov refuses to resign his position. He has led Bulgarian football for 18 years. Under his leadership the national team have fallen to 84th place in the world ranking.
Bulgaria's last victory in an official match was exactly one year ago, when they beat Cyprus 2:0 in a friendly. In the end, Bulgaria vs Hungary failed to produce a winner, with the final score finishing 2:2. This result secured Hungary's qualification for Euro 2024 in Germany.
Minutes after the end of the match, former Prime Minister of Bulgaria, Boyko Borisov, called on Mihaylov to resign.
"To Borislav Mihaylov – after so much blood, go away! And those who allowed the protest, after which Sofia is in flames and water cannons, and citizens, fans and police are fighting – You are worth nothing! Take responsibility," said Borisov, who is the leader of GERB – the second largest political party in Bulgaria," said Borisov.
Ironically November 17 marks the 30th anniversary of one of the greatest moments in the history of Bulgarian football. Bulgaria's 2-1 over France in Paris secured qualification for the World Cup 1994 in the USA where they reached a historic fourth place.
Contact the writer of this story, Aleksander Krassimirov, at moc.l1702135878labto1702135878ofdlr1702135878owedi1702135878sni@o1702135878fni1702135878