Australia have emerged as serious contenders to host the World Cup, particularly the 2022 tournament, with its high-profile supporters including Franz Beckenbauer, who has spoken on several occasions about how he believes it would be an ideal location to stage the world's biggest sporting festival.
It seems appropriate that Beckenbauer is among the most enthusiastic of Australia's supporters because he, more than most, has been able to chart the remarkable progress that the sport has made Down Under – as I can testify. It was 35 years ago that the Socceroos qualified for the World Cup for the first time in their history and, back then, they were seen as something of a novelty outfit.
I have special reason to remember that occasion because it involved my uncle, Jimmy Mackay. A few days later my father, mother and myself travelled to Hamburg to see Australia's second match of the tournament against hosts West Germany.

The sight of Uncle Jimmy running out in the gold and green of Australia at the Volkspark in Hamburg that June day in 1974 to face a West Germany side containing not only Beckenbauer but also Sepp Maier, Paul Breitner and Gerd Müller is one that created an indelible impression on an eight-year-old.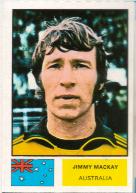 All the Australians who guided the Socceroos to qualification for the 2010 World Cup in South Africa – the first time the country have made it through to consecutive tournaments having done so well when the event returned to Germany in 2006 – will be too young to recall the first time that Australia qualified for the World Cup finals but they will have heard of Jimmy Mackay (pictured), midfielder and scorer of the most famous goal in their country's history.

The scars of England fans, inflicted by elimination by Poland at Wembley in 1973, had barely begun to heal when the progress of Australia's team of failed professionals induced new agonies. The backbone of the team was English-and Scottish-born players – such as Jimmy, who was born in Edinburgh and appeared for Airdrieonians – who had never scaled the heights back home and had moved to Australia to combine playing semi-professional football with a trade. Unlike the present side, fair dinkum Aussies were thin on the ground.

It seemed they had blown their chances in a play-off when they drew 0-0 with South Korea in Sydney and quickly went two goals behind in Seoul in the second leg. But they pegged the Koreans back for a draw. With the away-goals rule not operating then, the teams had to replay in Hong Kong three days later.

In those days my father, in the Royal Signals and based thousands of miles away at the military base in Herford, West Germany, tried desperately to discover how his brother's adopted country had done. This, remember, was in the days before the internet, mobile telephones and rolling news channels. Then, much to his surprise, there was a headline on German television.

I do not think he believed what he saw. The match was locked in stalemate when Jimmy settled the issue with a 25-yard half-volley that flew past the startled Korean keeper into the top left-hand corner. It was voted among the best eight goals worldwide by the following year's Rothmans Football Yearbook along with efforts from Joe Jordan, Alan Mullery, Malcolm Macdonald, Kevin Keegan and Denis Law.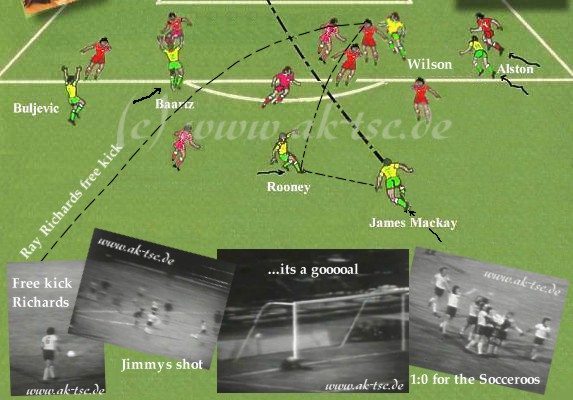 The 5,000-1 outsiders arrived in West Germany amid a fanfare of publicity after being drawn in the same group as the hosts and favourites. After an unlucky 2-0 defeat against East Germany in Hamburg they prepared to face West Germany four days later on the same pitch.

The day before the match my dad and I were invited to the Australia training camp. The most fascinating thing for me was not the fact I was having a kick-around with World Cup footballers but that at each corner was a policeman with a semi-automatic gun.

Everyone had been talking about the prospect of facing the great Beckenbauer. So it was a bit confusing when the first time the West German captain touched the ball he was roundly booed by the crowd of 53,000. The locals were unable to set aside the fact Beckenbauer was the captain of Hamburg's biggest rivals, Bayern Munich. He inflamed the situation by appearing to spit at them; the booing grew louder. My uncle then got a huge cheer from the crowd for a particularly badly mistimed tackle on the Kaiser which earned him a yellow card.

Australia were 2-0 down at half-time to goals from Wolfgang Overath and Bernd Cullmann but the avalanche never came and Germany added only one more in the second period through Müller. Indeed for the final 20 minutes Australia enjoyed much more of the play and were unlucky not to score when Atti Abonyi hit a post.

Australia rounded off their first appearance in the World Cup finals with a 0-0 draw against Chile in the Olympiastadion in West Berlin.

Jimmy Mackay died in Melbourne 24 years after that never-to-be-forgotten June in West Germany. I like to think that the part he played in getting Australia get to the World Cup finals more than three decades ago helped establish the sport Down Under and has led to its current popularity, making Australia one of the favourites to host the 2018 or 2022 World Cup. He would have been a proud man.

Duncan Mackay is the editor of insideworldfootball