I've been reading about and listening to all the "good judges'"- pundits, players and even some managers – who have recently been talking up England's chances of leaving South Africa with the golden trophy.
They cite team spirit, and how the John Terry-Wayne Bridge debacle has brought the squad closer together. They say how Peter Crouch must play alongside Wayne Rooney, whom many now regard as the world's best player.
They point out that Steven Gerrard and Frank Lampard are two of Europe's finest midfield players…blah, blah, blah!
Whilst this may all very possibly be true, as so often before the country has had a massive knee-jerk reaction following another meaningless win in a friendly - this time against Egypt.
Egypt have more chance of winning the Grand National than qualifying for the final stages of a World Cup. Yet for 50-or-so minutes they frustrated an England unit which, for me, was beginning to look devoid of genuine innovation. Indeed, England were actually losing against a team of few, if any, world class stars.
Now to the point. I've watched the England team in world football all my life. The current squad is no different from numerous other groups of potential "world beaters".
This is where it all gets a bit tactical and certainly technical.
The bottom line is that, at their best, England can be incisive, penetrating and hungry for victory, producing some brilliant passing and finishing. And yes, currently, Rooney does look untouchable.
On their day England can beat anybody. But on a bad day they look like Bolton Wanderers, with defenders lumping the ball forward almost in desperation.
To win the World Cup you have to play seven matches.
Now England can sometimes "press" the opposition as well as any top Champions League team – in the way, for instance, that Barcelona did in last year's final when their midfield ran the show and made Manchester United, with Ronaldo, look very ordinary.
But what has been proven is that you cannot press world class opponents for seven games and for 90 minutes each and every game without having the highest level of individual and collective skill in the most fundamental of all techniques – retaining possession.
Another area that really bothers me about England is their goalkeeping.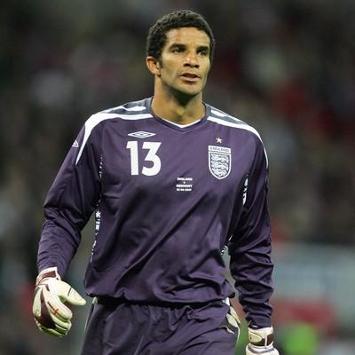 When I first saw David James (pictured) as an 18-year-old at Watford I turned to George Best and said that I'd never seen a more complete goalkeeper at his age. He was absolutely brilliant.
Having watched him since and followed his career closely, I think he is nowhere near the keeper I thought he would turn out to be. Truthfully, I feel he has concentration problems that may not even be rooted in football. But I'm only guessing.
If David is our No.1 I feel it's more likely than not he will have one of those moments that an international goalkeeper just cannot afford to have if his team expects to win the World Cup.
I'm also disturbed that many teams continue to score against our defence. Game after game we concede.
Then we get to the system England will play. Who knows? Rooney up top in a 4-5-1, or with a partner in 4-4-2?
One thing is for sure. England will start with a flourish against a very fit USA team. Failure to qualify through the group stage is not an option. But after that is when it all gets interesting…
I admire Arsene Wenger greatly, and he said it best: "I prefer to win with  economy of effort."
Brazil, Italy, Germany and Argentina will all get through to the final stages comfortably without major exertion.
So when we eventually come up against the very finest, will we have the technique and tactics to prevail?
For me…NO!
Rodney Marsh is one of the most charismatic and entertaining players to have graced English football. He played more than 400 games and scored over 150 goals during a career at Queen's Park Rangers, Manchester City and Fulham which saw him win nine England caps. He was also one of the early pioneers of English players to carve out a name for himself in the United States, scoring 41 goals in 87 appearances for the Tampa Bay Rowdies. Marsh is now a popular and respected pundit who will be writing regularly for insideworldfootball.