History may not always repeat itself first as tragedy then as farce, as Karl Marx said, but there are some very curious and interesting similarities in the latest attempt to get West Ham into the Olympic Stadium.
The tragic episode came back in 2006, so is it possible that we have now reached the stage of farce? And in the end could, as one football chairman told me, the stadium become a place where Tower Hamlets play Shoreditch Grammar School with grass growing out of the seats?
Well, let us go back to 2006 when the last serious attempt was made to make West Ham an anchor tenant for the Olympic Stadium. Richard Caborn, the then Sports Minister, was very keen on it so was Sir Robin Wales, the Mayor of Newham and so were the owners of West Ham.
Indeed Terry Brown, then chairman, saw the move to the Olympic Stadium as crucial to West Ham competing on anything like equal terms with the likes of Chelsea or Arsenal. It also formed a central plank of his desire to sell the club. And on the field of play the club faced relegation.
Out of that cocktail of possibilities the only event that actually materialised was the sale, although Sheffield United fans will forever claim that relegation would and should have happened had West Ham been prevented from paying Carlos Tevez.
The sale had its own drama with Brown and Co not selling to the Russian-born Israeli that Tevez's manager Kia Joorabchian had introduced but to a then rich Icelander. Nevertheless Brown and co still walked away with something close to a £100 million.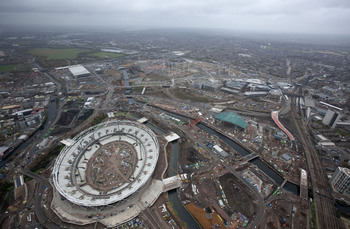 Four years later the club has new owners, is again facing relegation and the move to the stadium is back on the agenda. The difference is Messers David Sullivan and David Gold, now see it as crucial to the club's salvation. It is a reflection of the completely altered economic climate that a post-2012 move to Stratford is not meant to make West Ham the equal of Chelsea or Arsenal, more to ensure the club stays afloat.
Given the mess the Icelandic owners created, Sullivan and Gold can hardly hope to walk away with £100 million but are coping with clearing debts of £100 million.
Any talk of football moving to the Olympic stadium means we renew the tennis match, or to borrow Lord Coe's phrase, replay the cracked record of the future of the running track. Sullivan, soon after he completed the takeover, lobbed over the argument that it had to go which promoted a volley back from Coe, the 2012 chairman, that it had to stay.
And this view was reiterated by Baroness Ford, chair of the Olympic Park Legacy Company, in her evidence to MPs last month when she insisted that athletics could co-exist with football. Her words are worth noting, "for me premier athletics must be part of the mix because that was part of the bid commitment."
So can all this be resolved? One man who can claim to have an insight into all this is Barry Hearn, the chairman of Leyton Orient. While West Ham moving to the Olympic Stadium has been the main news, ever since the stadium was planned the default position of the Olympic authorities has been that the League One club could be the anchor tenant and help pay the costs of its upkeep.
I have been talking to Hearn and he tells me that, whatever happens, his club will not be moving to the OIympic Stadium after the 2012 Games. Hearn told me: "For three years we have been talking. Leyton Orient would have loved to have been in the Olympic stadium."
At Brisbane Road Leyton Orient can accommodate 9,000 although at present they average round 5,000. Post-2012 with a 25,000 stadium to fill Hearn felt this "would have given us capacity to grow to perhaps 24,000. But I have told the Olympic authorities we will not be moving there."
Hearn's reasons for turning the move down is simple.
"They have built the wrong stadium. In an athletics stadium the slope of the seats is different, they go up at a different angle to a football stadium. When Seb said, 'I have given my word that the running track must remain,' I said spend money on a hydraulics system, like at Stad de France where seats come forward during football to cover the track. But they did not want to spend the money. A running track kills football. In modern football proximity to players generates the atmosphere."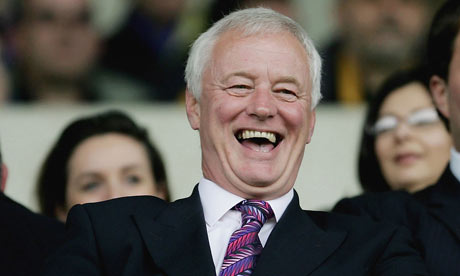 Hearn is absolutely scathing about what has happened. "We will have spent £500 million plus and in two years we will end up with Tower Hamlets playing Shoreditch Grammar School and grass growing out of the seats. Wonderful, well done boys."
And then, in a voice drained of any hint of sarcasm, he added: "They have built a stadium which will be completely useless after the Olympics, totally, a waste of public money, a disgrace.
"Because they don't listen to anybody, they don't think it through and they don't have common sense. Nobody has taken any responsibility."
Since Hearn turned down a move to Stratford he has closely followed the discussions West Ham are having and is convinced that for all the warm noises coming a deal with West Ham is impossible. A few days ago David Sullivan rang Hearn to tell him he was confident the talks would be successful. Hearn said: "David is a friend of mine but he does not understand the infrastructure and the details at the moment. He is a clever man and, when he does, he will realise the deal with West Ham cannot be done."
Time will tell whether Hearn is right but with Hearn's rejection of the stadium this does mean it severely limits Baroness Ford's options to get a workable post 2012 deal.
Options that are even more restricted as a result of Boris Johnson taking over from Ken Livingstone as the London Mayor. Back in 2005 when the cost plans for the Olympic Park were being made Ken Livingstone, essentially on the back of envelope calculations, said he would provide £10 million a year for its upkeep.
Johnson was aghast when he heard about it. For him the £10 million a year for the park that Ken talked about has never made any sense.
He is much more concerned with grass roots legacy and he has ring-fenced £15 million which with matching funding is part of the £30 million pot he wants to ensure 2012 will provide a real  sporting legacy.
So where will Baroness Ford get the money for her legacy plans and will this not put her under greater pressure to do a football deal with West Ham? But how she can square it with the running track is difficult to see.
All this suggests to me that this stadium story far from being concluded has now entered its most difficult and its most unpredictable phase. If Hearn is proved right this will turn out to be a farce which will produce tears not laughter.
Mihir Bose is one of the world's most astute observers on politics in sport and, particularly, football. He formerly wrote for The Sunday Times and The Daily Telegraph and until recently was the BBC's head sports editor.