Under normal circumstances, FA Cup Final week should be about excitement, anticipation and gaining maximum publicity for all the right reasons.
But Portsmouth are no ordinary club as the last few months have starkly illustrated.
When a global television audience of billions plugs into the action at Wembley tomorrow afternoon, few of them will appreciate the bigger picture engulfing the already relegated Premiership club.
Whether they like it or not, Portsmouth's mountain of debt remains the focus of attention rather than the prospect of upsetting Chelsea and lifting the famous trophy in the end-of-season showpiece game.
Anyone who attended the recent creditors meeting would have been  alarmed by the atmosphere of confusion and distrust that pervaded the room. 
Security officials in scary-looking yellow bips kept a constant roving eye on proceedings, checking to see no-one present was recording the sessions or dictating down a mobile phone. At times a five-hour meeting that was only supposed to last an hour threatened to boil over as various creditors bombarded the administrators with questions about the actual level of Pompey's debts and how they were being managed.
To make matters worse, three days later it has suddenly emerged that a new £15 million claim for unpaid taxes issued by Her Majesty's Revenue and Customs involved payments for image rights rather than player salaries, a dangerous precedent that could have widespread ramifications for the entire Premiership.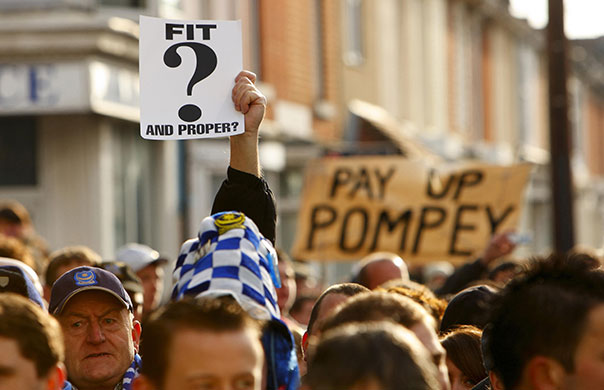 The claim took Portsmouth's debt to a staggering £138 million, including £90 million worth of unsecured creditors, figures that will lead to a widespread clearout with as many as 11 players leaving the club following the final.
About the only thing that seems clear is that Balram Chainrai, the club's fourth owner in a year, will remain in charge pending the outcome of a Company Voluntary Agreement (CVA). Details of the CVA are being circulated to creditors with administrators offering, it has to be said, a unexpectedly generous 20 pence in the pound over five years, a repayment deal designed to take the relegated club out of administration, attract new investment and secure its future. 
But what kind of future? The first tranche of Portsmouth's parachute payments, likely to be around £14 million, will be used to pay off larger football creditors. The wage bill will then be slashed by three-quarters to correspond to life in the Championship. 
Portsmouth deserve, for the sake of their fans, to enjoy the day at Wembley and good luck to the firmest of underdogs. Their real problems begin once the final whistle has blown.
Andrew Warshaw is a former sports editor of The European, the newspaper that broke the Bosman story in the 1990s, the most significant issue to shape professional football as we know it today. Before that, he worked for the Associated Press for 13 years in Geneva and London. He is now the chief football reporter for insideworldfootball