It was always going to be a close-run affair but you only needed to witness the relief on the faces of the victorious French delegation and the look of total despair on those of their Turkish rivals to understand just how agonising it was.
 
UEFA's decision to award the 2016 European Championship finals to France by a solitary vote may have been no surprise given the expansion of the tournament from 16 to 24 teams and the need to choose a safe haven as a result of the mounting problems afflicting 2012 joint hosts Ukraine.
But after two failed attempts, there had been a quiet sense of optimism among the Turkish bid committee who genuinely believed that this would be their day after being beaten out of sight for both 2008, as part of a joint campaign with Greece, and for 2012 on their own.
The Turks went first with their final 30-minute submission to UEFA's Executive Committee at a converted conference centre on the outskirts of Geneva. It was convincing, colourful, powerful and emotional, included an endorsement from new national coach Guus Hiddink and ended with a plea on the giant video screen, "We are the Future, Give us a Chance, it's Turkey's time."
The neutrals thought at that point it well might be Turkey's time, that UEFA might be swayed by the fact that Turkey has come on leaps and bounds - economically and socially - since twice being denied the second biggest stage in world football.
That view didn't change when Italy took the stage. There has never been an air of total commitment about the Italian bid and despite the assurances of a group of hand-picked students about the benefits of living there, the outsiders gained little ground with only a lukewarm endorsement from the great Paolo Maldini.
Then came the coup de grace, a French submission that was slick and skillful and probably clinched the votes of any UEFA waverers.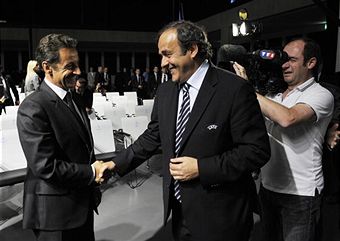 It combined the relaxed authority of President Nicolas Sarkozy, who flew in specially for the occasion to guarantee that everything promised would be carried out; the charismatic presence of three-time world player of the year Zinedine Zidane; and, by contrast, the cute innocence of a 10-year-old boy, Nathan, who was the star of the show, pitching a number of prepared questions to various dignatories about what staging Euro 2016 would really mean – and getting all the answers he was looking for.
Nathan's final act was a direct approach to the 13 blazered voting members of the UEFA Executive Committee, a plea to recapture the atmosphere and spirit of the 1998 World Cup he wasn't even born in time to see; to fulfil his dream of having Euro 2016 in his country.
It may have been completely staged but it tugged enough heart strings to pull France over the line - just - after Italy had been eliminated in the first round of bidding.
The fact that the celebrations were brief and restrained among French Football Federation president Jean-Pierre Escalettes and his colleagues spoke volumes about the relief they felt and the respect for the vanquished Turkish bid.
"France will fulfil its promises. This trust will not be betrayed," Escalettes told a news conference. "Today is the beginning of a new and beautiful adventure."
UEFA President Michel Platini, who was not eligible to vote along with the Italian and Turkish members, kept his feelings to himself. He spoke of Uefa's democratic voting system but added, poignantly: "It was a situation that was certainly not easy for me."
In the end, several key elements probably conspired to swing the vote. France's clever final presentation was cetainly a factor. So was the fact that the tournament is being expanded to 24 teams and UEFA didn't want any serious setbacks. A second straight straight Euros in a previously untapped territory was considered too much of a risk by the majority.
Turkey would have had seven stadiums to build while France, hosts of the 1998 World Cup as well as Euro 84 when they were led to victory by Platini the player, had presented the most convincing technical report with a staggering €1.7 million budget.
Even taking all that into account, UEFA came desperately close to making another adventurous choice, one they would have been commended for by anyone who has  experienced the passion for football among Turkish fans. Instead they predictably went for conservatism over another gamble. But a gamble that would surely have proved far more popular and far less foolhardy than the last one.
Andrew Warshaw is a former sports editor of The European, the newspaper that broke the Bosman story in the 1990s, the most significant issue to shape professional football as we know it today. Before that, he worked for the Associated Press for 13 years in Geneva and London. He is now the chief football reporter for insideworldfootball