Whatever happens to England in South Africa, and whether or not the hurt of 44 years is finally assuaged on July 11, there has been one revolution in England's national game that is undeniable.
And profound.

The English have finally overcome their phobia of having a foreign manager. And this is saying something about a country that gave football to the world and still feels that it is the home of the world game.
Nothing illustrates this better than the very different treatment meted out to Fabio Capello compared to the first foreigner to manage England, Sven-Goran Ericksson.
In recent days there has been much speculation that Fabio Capello may not continue after South Africa. Inter are very interested in him to replace the departed Jose Mourinho. Before the Inter opportunity arose, Capello had talked to Lord Triesman, then FA chairman, about changing his contract so there could be no doubt that he could remain England manager until 2012.
But then, as can so often happen, everything changed. Mourinho won the Champions League for Inter on Real Madrid's ground and decided he wanted to make the Bernabeu his real home. A dinner that Triesman had with a friend created such problems that he was forced to leave the FA. The result: Inter knocking on Fabio's door and poor Fabio not knowing who was running the FA. He got so confused that he described Brian Barwick, the former chief executive, as chairman – wholly understandable given the merry-go-round the suits at the FA indulge.
With Inter perhaps sensing that Fabio may have had enough of the English and be ready to move, the speculation mounted. Although the latest word on it has yet not been said, it seems that it will all be sorted out and Fabio will stay with us until Euro 2012.
All this you may say is what happens in the circus that is modern football management. The really interesting thing here is the reaction of the British media to all this. As I write I have before me the back page of Daily Express. Its headline reads: "Hands off Fabio". The suggestion here is that this Italian is a national English treasure that his fellow countrymen may not poach.
Yet England managers being courted before important tournaments is not a new story. It was the same with Ericksson. Cast your mind back to 2004, just before start of the Euros that year. Ericksson was being wooed by Chelsea. Indeed he was seen talking to Chelsea owner Roman Abramovich. Now observe the reaction to that drama.
The FA got into a panic. An emergency board meeting was called by Mark Palios, then FA chief executive; it was so hurried it was all done on the phone and Erickson was given a pay rise to make him stay as England manager. When all this emerged, the press reaction was very hostile. The Swede was felt to have betrayed his adopted country. Let the Swede go, was the message. If he cannot be loyal he does not deserve to be here.
And of course it did not help Ericksson that at the Euros Greece won and a much more gifted England failed and, as so often, left at the quarter-finals.
Now it is true that Ericksson had cast his eyes away from the FA before, particularly when Manchester United came calling. As I revealed in my book on Manchester United, when Sir Alex Ferguson decided to retire United wanted the Swede. They were just about ready to do the deal when Ferguson got wind of it and decided he would not go. The whole plan fell apart. The rest, as they say, is history.
As far as Capello is concerned, nothing quite like that has happened. There is no evidence he has been in touch with Inter. Inter clearly would like him but Capello does not appear to have done anything to encourage the club.
So his behaviour in that sense is very different to that of Ericksson.
Nevertheless, the very fact that this drama is not being used to rail against England having foreign managers shows how far we have come since the Ericksson days. His appointment met with hostility on nationalist grounds. Capello's did not. I remember going to Eton soon after the Swede was appointed to discuss the merits of Ericksson's appointment with Jeff Powell of the Daily Mail.
Jeff was opposed as he felt it demeaned a country of England's standing to have a foreigner. Most of the boys at David Cameron's old school agreed with him.
But Capello has not provoked such xenophobia. The feeling in the game seems to be that it was inevitable that he, or somebody like him, would take over England.
This is well summed up by Jamie Redknapp. He agrees with his father that English managers do not get a fair chance in this country. We have, he mourns, lost our faith in English managers.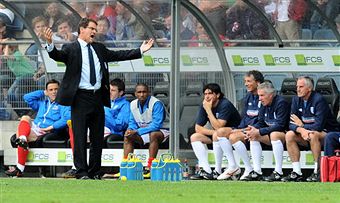 But when I asked him about Capello he was very guarded.
"Isn't it," I asked him, "a reflection on English football that we have to have an Italian to lead us?"
Jamie's reply, "No, but he's a great Italian."
Me: "The major nations of this world always have their own nationals managing the team. And for the country that gave the game not to …"
Jamie: "Listen, I know where you're going with this, but at the time perhaps it was the right thing to get Capello. Look at it. We've gone for Sven – it didn't work. Steve McClaren unfortunately took it at the wrong time. Maybe if he'd had taken it in 10/15 years he might have been the right man. He's proved he has the ability. What he's done at FC Twente is incredible."
Me: "What about your father?"
Jamie: "It wasn't the right time for him. And, looking at it, he wouldn't have been at Tottenham now. Who knows what the future holds? People like Roy Hodgson could manage England. We all have to get behind Fabio Capello now and hopefully he can lift the World Cup and, if we lift it, he's definitely the right man!"
Listening to Jamie Redknapp, it seems that the English football world is like a man in a desert dying of thirst. It matters little to him who is holding the jug of water. Such is the national desire to win that trophy again that a foreign manager who promises to deliver, as Capello does, is acceptable. Capello's final picks for the national squad to go to South Africa has provoked some disquiet – no Theo Walcott but an injured Gareth Barry selected – but overall Capello carries great hopes of success at last.
The problem is that it puts England on a different plane to all the other previous World Cup winners. Only seven countries have ever won and the other six have managers who are home grown. No World Cup winner has ever been managed by a foreigner. Whether the other six are motivated by nationalism or xenophobia is hard to say. What is clear is that, in the English case, whatever xenophobia existed has long been eradicated by all those years of desiring success and tasting failure.
Such a background often feeds xenophobia – people turn inward when they fail repeatedly – but in the case of English football the exact opposite has happened.
Mihir Bose is one of the world's most astute observers on politics in sport and, particularly, football. He formerly wrote for The Sunday Times and The Daily Telegraph and until recently was the BBC's head sports editor. His latest book, "World Cup 2010 South Africa: the Teams, the Players, the Venues", is available now.
www.mihirbose.com
http://twitter.com/mihirbose