They were the kind of images FIFA President Sepp Blatter and his right-hand man, South Africa 2010 organising committee chief Danny Jordaan, least wanted to witness. 
"World sees our soccer shame," trumpeted the front page of Johannesburg's main newspaper above several gruesome images.
One a  terrified child, another a blood-stained fan with one eye half-closed; a third a frightening melee of confused supporters trying to find their feet after crashing into a gate.
As a stark reminder of past stampedes that have occasionally plighted African football, it could not have been more poignant. Police in riot gear, helicopters circling overhead. An estimated 20,000 people - double the stadium capacity - pushing to get through the turnstiles with what were free tickets. Not enough organisation, not enough control.
"When we were coming in, they were just stepping on us," said one fan wearing a green South African shirt of the bulging crowd. "I thought I was dying."
As wake-up calls go, last Sunday's World Cup warm-up game between Nigeria and North Korea in which 16 fans were injured could have been screamed any louder.
Inevitably, it was the main topic of discussion during Blatter's press conference the following day, superceding any discussion about the two-day FIFA Executive Committee that preceded it.
Yes, admitted Blatter – who has praised South Africa to the hilt at every available opportunity since the country was awarded 2010 – it was indeed a wake-up call. But no, FIFA could not take responsibility for a friendly that was not part of the organisation of the tournament itself. And no, nothing of the kind could or would take place when the real action starts on Friday.
All three pronouncements may well be correct but in terms of a public relations exercise it could not have been much more disastrous. We all knew there would be horrendous traffic jams. We all knew that  internet use could disappear at any time.
But what nobody could ever have foreseen were the bloody scenes at the Makhulong Stadium in Johannesburg that were too close for comfort to the tragedy at Ellis Park nine years ago when 42 fans died.
FIFA general secretary Jerome Valcke, to whom Blatter invariably turns for assistance when he can't quite find the words to adequately explain an unforeseen snafu, was at his smooth best.
What happened, he said, illustrated the danger of selling tickets on match days which FIFA has consistently refused to do. "We have been criticised very often for not distributing tickets on the match day at the stadium and it's what happened there," said Valcke. "It's good for us because it proved we are right to say that you should never distribute tickets at the stadium on the match day. The  level or organisation when we organise a game is definitely higher than the one we have just seen."
Valcke refuted suggestions that FIFA could have prevented the game from being played. The Nigerian authorities, whose fans represented the bulk of the crowd, would have preferred a larger venue but Valcke made it clear what was, and was not, permitted under the rules.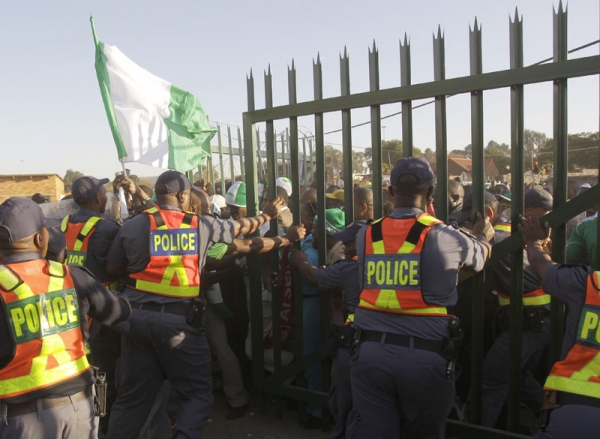 "We control the 10 World Cup stadiums which cannot be used [for friendlies]," he said. "But there are other stadiums, including rugby stadiums, where they could have played."
If there is one lesson to be learned, it is that you can never be too vigilant. In one way, what happened on Sunday brought into focus the reality of African football at local level. The spectre of supporters attempting to force their way into stadiums for major matches is a regular occurrence, often with deadly consequences.
Just over a year ago 19 people were killed and more than 100 injured trying to stampede into a World Cup qualifier between the Ivory Coast and Malawi in Abidjan.
Major football games around Africa can be horribly haphazard. FIFA, sensitive beyond words about anything that might dampen spirits ahead of the first World Cup to be staged on the African continent, have predictably made all the right noises about this latest unwanted incident.
Nevertheless, you can bet your last rand that security will now be beefed up ahead of the real thing in a few days' time. That seems to be a given. For the sake of Jordaan, who deserves a hugely successful tournament, one can only hope the month ahead brings new standards off as well on the field, allied to the passion  and colour that has been part of Africa's football culture for decades.
Andrew Warshaw is a former sports editor of The European, the newspaper that broke the Bosman story in the 1990s, the most significant issue to shape professional football as we know it today. Before that, he worked for the Associated Press for 13 years in Geneva and London. He is now the chief football reporter for insideworldfootball