The line of questioning thrown at FIFA spokesman Nicolas Maingot the morning after the night before Frank Lampard's already imfamous "goal-that-wasn't" included the words laughing stock and embarrassment. You can understand why.
When football's lawmakers ditched goal-line technology once and for all just over three months ago, FIFA general secretary Jerome Valcke said he hoped the decision did not come back to haunt the organisation at the World Cup.
"Questions will always come, we just hope they will not come in the World Cup," said Valcke at the time.
Even 24 hours before England met Germany in Bloemfontain, Valcke raised the issue again. The use of video technology, he told reporters, was "definitely not on the table" claiming a "zero-fault" system was not possible.
What must he and his colleagues be thinking now?
Hundreds of millions of fans watching the Germany-England game across the world will have been doing so not out of a keen sense of loyalty to either team but because this is the World Cup, the one tournament that sucks in neutrals and non-sports fans alike to showcase the game at the highest level.
Many will have known that in tennis, cricket and even rugby, wrong decisions are re-examined so that justice is seen to be done. Not, it seems, in football.
Valcke's inauspicious remark back in March followed the International Football Association Board (IFAB) meeting in Zurich when a handful of self-interested traditionalists were too afraid to take responsibility to push football into the 21st century.
It had been widely anticipated that after years of intense but fruitless debate, the IFAB would finally give the green light to scientifically help referees make game-changing decisions.
Instead, a majority of football's custodians voted 6-2 against both Hawk-Eye, used successfully in cricket and tennis, and a highly sophisticated microchipped ball system developed - irony upon irony - in Germany.
Instead too, the IFAB – made up of FIFA plus the four home British associations – decided to consider pressing ahead with the more "human" experiment of two extra officials, trialled during this season's Europa League and the pet scheme of UEFA President Michel Platini.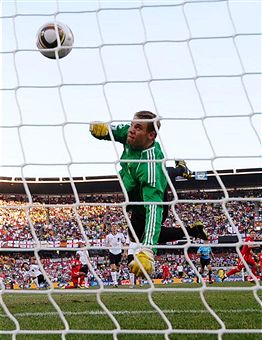 Siding with FIFA against technology were the Welsh and Northern Irish, two federations who don't even have a full professional league yet. England and Scotland, who have long embraced the idea of technology, were scandalously outvoted.
Year after year, Hawk-Eye and Cairos, a German firm owned by Adidas – rivals in business but united in the cause of technology – had been invited to the IFAB to present their findings. And year after year they were sent away to fine-tune their product with every encouragement that they were on the right track to solving one of football's greatest injustices. What, one might ask now, was the point?
"I don't understand why they invited us out there to start with if they never wanted technology at all," said Paul Hawkins, managing director of Hawk-Eye. "The technology works but their process for decision-making is totally unrepresentative of football. I doubt there is any issue in football that is so unanimous."
After yesterday's debacle, you can say that again.
Even more frustratingly has been FIFA's decision not to use their two extra officials idea in South Africa. You may not agree that two additional pairs of eyes are an acceptable substitute for virtually foolproof technology but at least it's something.
Having another official behind Manuel Neuer's goal would surely have flagged up the fact that Lampard's sublime effort was well over the line. In fact not even close. Frustratingly for neutral fans everywhere, not even that luxury was afforded to Fabio Capello's team.
Don't get me wrong, England were well beaten in the end. But they might not have been. Something has to be done, and soon, to bring in some kind of rule that prevents the kind of officiating blunder, however innocent, that occurred in Bloemfontain. A kind, crucially, that ultimately eliminated one team and helped the other advance.
And if that means two extra officials, one behind each goal, in all future major competitions, so be it. Better than nothing - but too late for England.

Andrew Warshaw is a former sports editor of The European, the newspaper that broke the Bosman story in the 1990s, the most significant issue to shape professional football as we know it today. Before that, he worked for the Associated Press for 13 years in Geneva and London. He is now the chief football reporter for insideworldfootball