England's World Cup chances were doomed by their manager's failure to understand or inspire his players, a state of affairs which meant that the team which took to the field had a subsconscious wish to punish him by failing to do their best.
And that ambivalence was strongest of all in the former captain, John Terry, whom Fabio Capello had stripped of his position and publicly rebuked during the group stages.
That is the view of Simon Meyerson, a member of the Institute of Psychology and formerly with the Tavistock Institute, who has watched England struggle and fall in South African with little surprise.
Meyerson, who has worked with several teams in recent years including Sheffield United and Crystal Palace, believes that the England side which faced Germany was already beaten when it came to their mental attitude.
"The state of mind of the England players had been dismantled," he said. "In four matches, England's players have given back to Capello what he gave them for four weeks. In order to stay in his job, I think he will have to accept that he has to change some things - but I don't think he can do that.
"We don't know if they were the better footballers, but the Germans' mental state was far superior - they were smiling, open-eyed, exhilarated.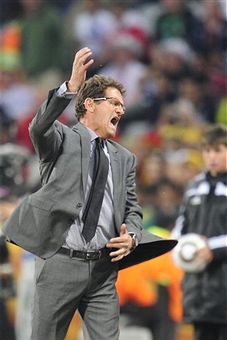 "The German manager wasn't having temper tantrums. He looked like he could have a discussion with his players.
"The England players had been mentally demolished by Capello. He psychologically flattened and fragmented his team. He became more argumentative than authoritative.
"There was no real rapport between him and the players. I think he lost the players. There was nowhere for them to go, really, except to lose. Subliminally, they went into action wanting to punish him for the way they had been punished."
The lack of distractions, and access to loved ones, in the England camp is something which Meyerson feels had a draining effect in the space of the last month. 
"For short-term, three-day preparations it didn't work so badly. Capello's way of dealing with things wasn't found out. But when he was exposed to dealing with the team for three or four weeks, then I think he was found out.
"He was a bad host for them in South Africa. He was like a Borstal host. I have worked in borstals for the Home Office, and the way the players were reminded me of boys I saw in there."
And Capello's fractured relationship with his former captain, John Terry, put a fault-line through the whole team, causing Terry to go out to play with ambivalent feelings towards his role. 
Meyerson believes that Capello's decision to take away the captaincy from Terry following the furore over his affair with his team-mate Wayne Bridge's former girlfriend was ill-judged, and sowed the seed of discord in what was a vital relationship for the England team.
"I think what happened there was very judgemental with regard to Terry's private life," Meyerson said. "To take away his captaincy, but to keep him in the team: what's the story?
"Capello should have repaired Terry, rather than leaving him to fester with frustrations. I think he could have done that by taking him away from the England role for three weeks and maybe giving him counselling, then bringing him back as captain.
"Terry is quite a towering personality.  He had nowhere to go with his resentment, which led to the press conference comments.
"And when Capello's response was that Terry had made a 'big mistake', that was a big mistake for the manager to make. He should have dealt with it privately rather than publicly attacking his player.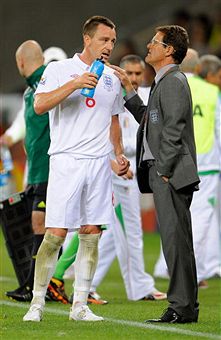 "Terry is saying now that Capello is an excellent manager, but that is not what his actions say.
"He was sluggish in the game against Germany, he wasn't in the right position for the first goal - he left it to Matthew Upson to deal with. His level of play was down in the tournament."
Meyerson also thinks the unsatisfactory arrangement with Terry compromised the performance of the man Capello chose to be his successor as captain, Steven Gerrard.
"Gerrard didn't enter into the captain's role," Myerson said. "While Terry was there, he couldn't. Gerrard wasn't a leader at all. His face didn't even look like Gerrard, he couldn't even fully open his eyes."
Meyerson  noted the way in which Capello's assistant, Stuart Pearce, was marginalised during matches. The BBC players' panel had their fun watching re-runs of Capello's boisterous outbursts alongside the former England full-back, who more than once got an elbow in his side in the process, and at one point was ordered from his seat by the manager, only to be told to return immediately.
"I think  it was a closed group with the Italians in the squad. Pearce was outside the group.
"Capello wasn't calm on the bench. He wasn't authoritative. He was inside an emotional state. When Brian Clough lost his temper with his players at Nottingham Forest there was always a strategy to it. But I don't think this was the case with Capello.
"He was reprimanding, and no one wants to be subjected to that. 
"When I worked at Sheffield United, the manager there at the time, Dave Bassett, would verbally attack players, but he managed to make it positive and warm. When it was done, he and the player were still buddies.
"If you lose your lose your position as an inspirational manager, you have to fight to get your position back. But once that reputation goes, you are in trouble. People in that position become accusatory, the relationship with the team begins to fracture. I don't think Capello will be able to carry on in this job."
Mike Rowbottom, one of Britain's most talented sportswriters, has covered the last five Summer and four Winter Olympics for The Independent. Previously he has worked for the Daily Mail, The Times, The Observer, the Sunday Correspondent and The Guardian. He is now chief feature writer for our sister publication, insidethegames