Sepp Blatter's decision to re-open the file on goalline technology marks a stunning U-turn even by the standards of his undisputed mastery of football politics.
But before fans across the world get too carried away by the FIFA President bowing to global outrage following Frank Lampard's "goal-that-wasn't" for England, a little caution would be advisable.
This isn't the first time the publicity-seeking Blatter has reacted to media scrutiny and worldwide pressure in order to buy time. Announcing that FIFA will have another look at technology may have appeased fans across the world but all it does for the moment is give Blatter precious breathing space.
Why, otherwise, would he make such a statement based on one potentially game-changing decision when in the past he has been so vehemently opposed to introducing technology without being convinced of a foolproof system?
Perhaps the answer lies in Blatter's own future. The canniest of operators, he knows full well that with his Presidency up for renewal next year, any popularist stance he takes now can only improve his chances of staving off any rival.
And where does this leave UEFA President Michel Platini, once a strong ally of Blatter but these days very much his own man and considered in many circles to be a political foe?
It was Platini who argued that football should press ahead instead with an alternative system to goalline technology.
The experiment of using two additional assistants – one behind each goal and trialled in last season's Europa League – was Platini's pet plan but its future now seems in jeopardy since it is highly unlikely two separate methods would run concurrently.
Ironically, an extra official behind Manuel Neuer's goal would undoubtedly have spotted Lampard's effort in Bloemfontain on Sunday that would have brought the scores level at 2-2 and prevented the eventual humiliation that Germany piled on Fabio Capello's team.
Equally ironically, the referee at the heart of the controversy, Uruguay's Jorge Larrionda, was conspicuous by his absence at an open training session yesterday attended by the media.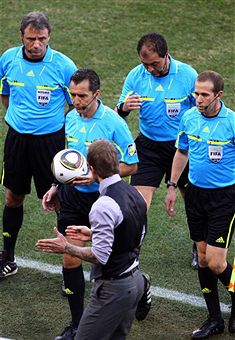 Almost all the officials involved in the World Cup were there but not Larrionda (pictured) who, we were told, was "recuperating". Also conspicuous by his absence was Italy's Roberto Rosetti, the other referee everyone wanted to speak to after he outrageously failed to give Argentina's Carlos Tevez offside against the Mexicans in the other part of Black Sunday. Rosetti had taken a "personal decision" not to attend the session.
Privately those officials who did attend made it clear they would embrace some kind of technology for which we now await the next move. The only body who can implement goal-line technology is the International FA Board, comprising FIFA and the four British associations. They hold a preliminary meeting in Cardiff next month followed by their main annual meeting, also in Wales, in March.
Nothing can be implemented until then at which time a decision will have to be taken whether to use the Hawk-Eye system employed in tennis and cricket or the concept of a microchipped ball being developed in – irony of ironies – Germany.
The 2014 World Cup seems the most likely start date if the green light is given but Blatter still isn't sure about which system is preferable. Hawk-Eye, he said, was not 100 per cent efficient because "there can be moments when, if maybe a goalkeeper's body is in the way, the camera cannot see the ball", he said.
Paul Hawkins, managing director of Hawk-Eye Innovations, rejects this out of hand. "It's 100 per cent accurate," he said. "Hawk-Eye has been independently tested by the Premier League and the International FA Board, and shown to work in all instances tested."
Hawkins hopes Lampard's disallowed goal will provide the spark for goal-line technology to finally be brought in but has his doubts after years of being fobbed off by football's administrators.
"I'm not cracking open the champagne yet," he said. "The issue now is whether FIFA are really serious about having a proper look at this or whether they are just trying to diffuse the situation until after the World Cup – and then block it again."
Andrew Warshaw is a former sports editor of The European, the newspaper that broke the Bosman story in the 1990s, the most significant issue to shape professional football as we know it today. Before that, he worked for the Associated Press for 13 years in Geneva and London. He is now the chief football reporter for insideworldfootball