Defeats are not easy to take, but they can be a springboard for success provided we are prepared to learn from them. The depressing thought is that England's annihilation by Germany - and despite the disallowed goal, that is what it was – will not lead to the sort of revolution the national team needs.
So the debate in England has been whether Fabio Capello should stay or go. That is the wrong question. 
The real question to be asked is whether in England we could have a revolution which would mean the Football Association would become the real ruler of the English game and call all the shots. This would mean the Premier League, in particular, should be subservient to the FA and the national team would be at the centre of the English game. But, given that this question is not even being asked, or at least not loudly enough, there is no chance of any real, meaningful change happening despite all the tears being shed after Bloemfontein.
In the 17th century, England may have shown the way to the world by lopping off the head of a King they did not like. In the 21st century, English football is incapable of such radical surgery.
The fundamental problem with English football is that they have confused commercial success with success on the field.
There is little doubt that the Premier League is the most successful product England has produced in the last 20 years. But like Topsy it has just grown. Nobody anticipated its success and how it would take over the world. But this success has dealt a hammer blow to the national team and the Football Association, huge collateral damage that it cannot recover from.
English football has always been dysfunctional. Back in the last years of the 19th century the Football League was set up because the FA was strictly for amateurs and would not pay players. The FA-League relations were always fraught. So much so that Alan Hardaker, the crusty old League secretary who did not care for the European Cup, would not let Chelsea play in it. It required Matt Busby to defy him and ensure Manchester United pioneered England's participation in what is, undoubtedly, the greatest club competition, and whose appeal is second only to the World Cup.  Hardaker, for good measure, said after '66 that England's triumph would make no difference to the bread and butter of league football.
The FA had a golden chance to set things right when, in the 80s, the big clubs were chaffing at the fact that the television money they received, which was nothing like it is today, had to be shared equally. For them it was ridiculous that Rochdale was on a par with Manchester United. Their argument was television was drawn to football because of them and they wanted all or at least most of the cake.
A shrewd, clever FA could have used the avarice of the big clubs to set English football right, make sure everyone was finally housed in one tent working to a common purpose. The FA failed miserably in that and the national team has been paying the price ever since.
The FA, as the licensing authority for the game in the country, had a veto over whether it would allow the big clubs to break away from the Football League. It could have used the veto to make sure the Premier League that was set up was a truly collective body, which shared all its revenues equally and whose ultimate goal was meant to improve the national game. Indeed, when proposals for a Premier League were first formulated these were some of the ideas floated. The big clubs, keen to curry favour with the FA, argued that in setting up the Premier League it would ensure a successful national side.
But the FA handled things so badly that it spawned a child which has in effect devoured its parent.
Instead of the Premier League helping the FA, the national team now looks to clubs to model itself on. This has resulted in the ridiculous situation that the England team was given the name Club England, confusing club ethos with national purpose.
Worse, far too many years and far too much money was spent in rebuilding Wembley, putting an intolerable and unnecessary strain on FA's finances, so that England could have a stadium to compete with club stadiums, like the one at Old Trafford.
What has not been looked at is how the game should evolve, what should be done at grass roots level so that the national team keeps up with its rivals.
That such steps are very necessary cannot be denied.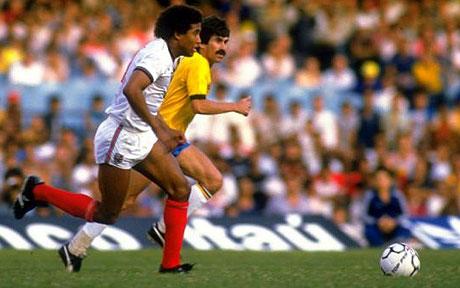 Listen to John Barnes (pictured), who played for England 79 times including two World Cups. He was in Turin that night in the summer of 1990 when Gazza cried and England lost yet again to Germany, but that time unluckily on penalties and in the semi-final, the best performance since 1966.
Barnes told me, "Historically the teams in England play a lot of different styles of football, not formations, different styles. Some people play long-ball, some people play short-ball. Hull plays differently to Chelsea whose play is different to Arsenal and they are different to Manchester United. So when you take these players out of their clubs, put them in an England team they've got four days to come up with an identity or a strategy. It's difficult. In Spain the game is standard. The formation may be different, some play five in midfield, one up front, some play four up front, some play two up front, but the way the game is played is the same. That is also the case in Brazil, exactly the same.
"This means Spain has an identity. If you look at Spain play and you just black out their faces, you don't know who's playing, but you can see it is Spain because of the way they play; you can see it is Brazil because of the way they play. Everyone has an identity. We don't. England get by on the individual ability of a Rooney or a Gerrard or a Lampard.  What I always say is that if your success is based on individual ability rather than collective ability then you're always relying on an individual to win you a match. Now if that individual either isn't playing or he doesn't play well, that means you can't win."
Such a need for an identity is all the more important because, while the world has changed, the fundamental nature of English football has not. As Barnes puts it, "Even when I played for England we had this English mentality, which they're now talking about going back to, 'Up and at them; get stuck in.' England was really aggressive; that's how we really got by - we didn't technically outplay teams. We played Tunisia, we played all these teams, but we were not technically better. But we were physical, we were strong, we were big and we could use our strength to win. England were always bigger and stronger than everyone.  Technically not as good but that's how we got by."
The problem with that approach is that, with modern referring, teams are penalised for being overly physical. Or as Barnes puts it, "You see red and yellow cards being dished out so football has changed in that respect." The other big factor is that countries that were always technically superior to England have now decided to embrace the physical aspects of the English game. As the game has evolved round the world, these countries, says Barnes, "have embraced those physical aspects of sport and allied them to their natural technical ability. If you want to fight Brazil, they can fight you and technically they can out play you."
And what is England's response to this change? According to Barnes, "In England, we're still saying, 'If we're not successful let's go back to fighting,' instead of saying, 'Let us now concentrate on the technical aspects of football where we have to improve'. No-one ever says that, that we should keep the ball more, we should pass the ball more, we shouldn't be as rushed; we should play with a change of tempo - quick and slow. What we say is 'fast tempo all the time, big, fight, strong'. Why do we have a right to be stronger than the opposition? We don't, but that is how we got by in the past."
Nobody watching this World Cup, particularly Brazil, can have any doubts that the Samba men have also learnt how to be stronger and bigger than their opponents, shake off physically powerful opposition, and then use their superior skills to subdue them.
England can fight and will fight, but passion and fighting alone is not enough.
But the problem is the changes Barnes seeks, and the ones that are urgently necessary, require root and branch reform, and that is something we are unlikely to get.
So we shall have a lot of argument as to who the next manager should be and whether he should be English or foreign, but none about how the game is organised and how we can learn from the world to make sure we make an impression.
To ask for that is to ask for an English revolution, and that is asking for too much.
That is the real tragedy of English football.
Mihir Bose is one of the world's most astute observers on politics in sport and, particularly, football. He formerly wrote for The Sunday Times and The Daily Telegraph and until recently was the BBC's head sports editor. His latest book, "World Cup 2010 South Africa: the Teams, the Players, the Venues", is available now.