Hamish Husband has been a travelling member of Scotland's Tartan Army for more than 30 years, and in the last fortnight has offered a Scottish viewpoint on the 2010 World Cup finals and England's efforts in several media outlets, including Channel 4 News and the News of the World.
Now this quintessential Scotland supporter answers a World Cup (and Wimbledon) quiz exclusively for insideworldfootball…
A recent YouGov poll indicated only 24 per cent of Scots were taking the Anyone But England line on these World Cup finals. But is that accurate? Did Scotland revel in England's misery on the night they lost to Germany?
For the Tartan Army it was sheer, unadulterated glee – happiness that just stops short of a home victory in a Hampden friendly (One in 10 years by the way!).
Are there any similarities between Fabio Capello and Scotland 1978 World Cup finals manager Ally Macleod?  Optimism, maybe?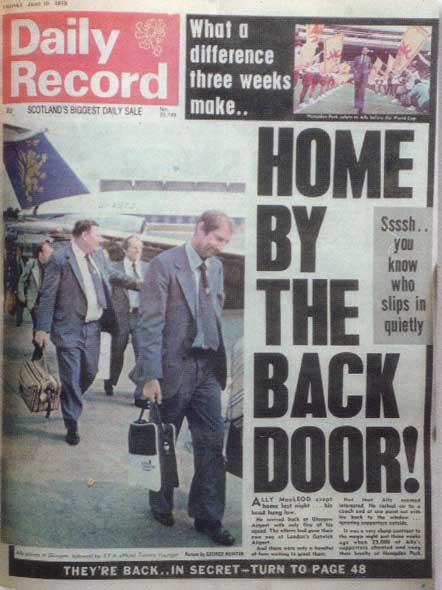 None whatsoever. One is a world class manager with a proven record at the highest level. Ally was an optimist who had had a managerial career with Ayr United and Aberdeen. Lacking in stature, he was consumed by the tournament and it is doubtful that he even picked the team against Holland. He was manager by default as Jock Stein was not available. Had Macleod set the target at the second round he might have been treated more favourably. He was also the fall guy for the disastrous organisation of the SFA, a foolish sending-off, a terrible hotel with no training facilities,.a drugs scandal, sticking with Masson and Rioch and ignoring Souness.
Capello had to cope with the inadequacies of the England footballer, mentally and technically. A criticism would be that he should have employed a nanny and had daily card sessions. 
Who was the most and least disappointing performer in England's ranks?
Wayne Rooney. But they all disappointed, or in our case, delighted us. 
What went through your mind when Lampard's goal was disallowed. Be honest!

1966.
But then Scotland have a decent history of injustice being done unto them, don't they?
We grab defeat from the jaws of victory – our own fault. There was no injustice when I was in the Amsterdam Arena and we lost 6-0 in our European Championship qualifier in 2003. But the record books show that the Johnny Haynes's last minute equaliser for England against us in the 1-1- draw at Hampden in 1956 was offside and not technically over the line -and was kicked after the Dutch referee blew his whistle.
 
A pattern showing a Dutch conspiracy, never mind the Dutch goal through Seaman's legs at Euro '96 that put us out. I rest my case.
England's defending reminded me of schoolboys following the ball. Do you agree?
Yes, as above I believe that the majority of players from the home nations do not have the technical / mental ability of
the continental. They have neither the ability to follow instructions or conversely to think outside the box, or in the box come to think of it. The Italians conform to the team ethic, however are skilled and can win tournaments and invariably have that bit extra, this year excepted.
How different would that result against Germany have been if Dave Mackay and Billy Bremner had been in the England side?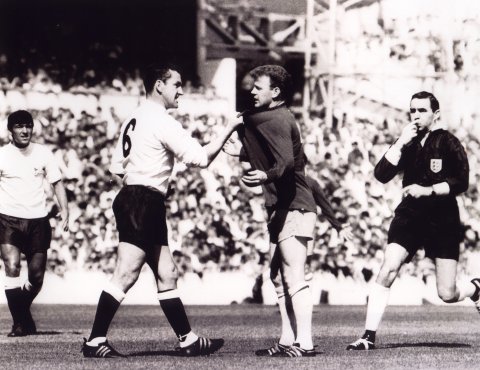 The game has obviously changed and passion is not enough. These two were both skilful and hard men. They would have eschewed the kissing of the badge that is prevalent in modern footballers. When an England player kisses the Three Lions I am dubious of the relevance and likewise with most of the Scots today. There is a picture of Mackay squaring up to Billy holding him by the scruff of the neck. Take these two heroes and add in Alan Ball and they would have taken charge of the squad (physically and spiritually) and taken on the world. Bremner would have thrown John Terry and his pals out of the team.
Where do you stand on the resistance of the Welsh and the Scots to provide players for a British football side in the Olympics? Isn't this missing a great opportunity?
I'm 100 per cent against a combined British side. The danger comes in setting a precedent of having a single team in a major competition in a world of full of resistance to our status as independent footballing nations.
 Do you believe in "Golden Generations"?
No evidence in UK terms other than in 1966. Portugal had one that nearly won Euro 2000. Brazil 1970. Argentina '86. Holland '74-'78.
If you do, what was Scotland's most golden generation? 
Those of a certain age point to the class of '62-63, who were beaten in a play-off for the 1962 World Cup finals by the eventual finalists, Czechoslovakia.
Ian Ure was one. He recalled a summer tour following the 1963 2-1 win at Wembley, when Jim Baxter scored twice. They had a 4 – 1 victory at home to Austriam then lost 4-3 in Bergen to Norway, with Law getting a hat-trick. They then drew 1 -1 with Irealnd in Dublin and beat Spain 6 -2 in Madrid.
Ure told us that the night before the Norway game Baxter challenged Willie Henderson to a drinking contest. The team were hung-over when they took the field, drunk. We beat Norway 6-1 later on that year, and Law scored four.
The 1960's culminated with Celtic winning the European Cup in1967, using players born within 30 miles of Glasgow, while Rangers lost 1-0 to Bayern Munich in the final of the European Cup Winners' Cup and Kilmarnock reached the semi-finals of the Inter Cities Fairs Cup. That was a momentous year for Scottish football.
We now go to Hampden to watch second-raters and players I don't quite recognise. We have no influx of immigrants to add a flavour to our small players. We, like England, indulge in soul-searching to no avail. We do not invest in facilities, for any sport other than curling, and so our kids cannot match a world full of talent and skill and expertise. We, together, invented football and that I believe is our curse.
Do you think the England-Scotland match should be revived? Would you like to see that happen?
No. We enjoy trips to European cities other than London and the evidence of the last game in Glasgow showed a city under curfew and basically a police-state. Perhaps we have moved on – however I do wonder.
It seems England's fans - touch wood - have behaved themselves in South Africa. Is that because only the rich could afford to travel – or is that rubbish?
Thank goodness the England national team has been reclaimed by the fan. It all went pear-shaped in Italia '90.
However a word of caution and advice. My brother Keir worked at the 2006 World Cup finals in Germany and attended many games including all of England's. Considering the great hospitality shown by the hosts to all the guest fans he was amazed and saddened by the continual reference to the Second World War in the stadiums – fans singing the Dambusters Theme etc. Pictures of young lads in the stadium on Sunday with "Tommy" hats on!  Please move on.
We do not allow that in the Tartan Army, where we operate self-policing and respect for the local anthems and fans. (We are of course not perfect.)
What's the best thing about supporting Scotland, and when will they be competing in the World Cup finals again?
At present the Tartan Army is like a family. There is a great feeling setting off from the house to go to a big game at Hampden. I have met so many friends. The atmosphere at Hampden, the half-time sing song. James McFadden.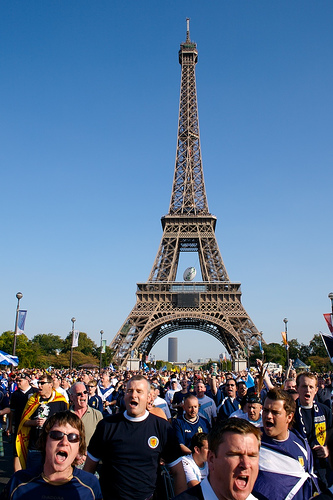 The horrendous period from '03 to '06, and then France at home and away when 20,000 Scots supporters marched from the Eiffel Tower to the Parc de Princes.
The fans.
We will qualify again – don't know where, don't know when…
We did qualify five times in a row between 1974 and 1990. However our future appearances in the finals will be sporadic at best. 
Which have been the high and low moments for you as a Scotland supporter? 
 
The highs: Opening the World Cup finals in 1998. Qualifying for the World Cup finals for the first time since 1958 with a 2-1 win over Czechoslovakia at Hampden in 1973.
Beating Wales 2-0 at Anfield in 1977 to qualify for the 1978 World Cup finals..
Beating England 2-1 at Wembley in the same year. I was on the pitch.
England at Hampden in 1974 – 2-0, my first win.
Beating France home and away in the qualifying stages of the 2008 European Championship.
Beating Sweden 2-1 in Italia '90.
Driving to Switzerland in 1991 for the European Championship qualifier - we were 2-0 down and drew 2-2. When Ally McCoist equalised with seven minutes left I landed on Keir and injured him.
Half-time at Wembley during Euro'96 - there was a great sing-song. Status Quo, Rocking All Over The World. We showed 'em.
Prague '99 for the Euro 2000 qualifier - but only the first 70 minutes, Drove there and we were 2-0 up. The roof fell in when they brought the big lad Kohler on.
The lows:  So many lows. So many.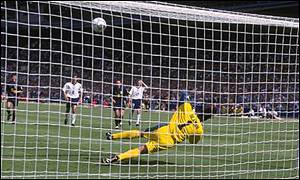 Holland 6, Scotland 0. What were they doing in the Euro 2004 play-offs? What were we doing in the play-offs? Gary McAllister's penalty miss against England at Euro 96 (pictured).
Norway 4, Scotland 0 in last year's World Cup qualifier – and a pint of beer in the Oslo Radisson hotel for £12.00
The World Cup qualifier against Belgium in Brussels in 2001 – a win would have seen us through to the 2002 finals.
You would think I would know better.
So many lows. The biggest was the 2-1 loss to Italy three years ago which meant we didn't get through to the Euro 2008 finals, despite doing the double over France. I weep at the memory.
How many Scots would get into the all-time British side? Any?

Denis Law and Kenny Dalglish. And if Alf Ramsay is not the manager the great Jimmy Johnstone, who was an even better winger than Stanley Matthews.
Who would you like to see win the 2010 World Cup? And why?
I have always liked Diego Forlan and (not always) Uruguay as a minnow - the country is smaller than Scotland. Like many Scots I was a Brazil fan until I met their fans. Arrogant.
Which have been the high and low moments for you so far in the tournament?
Too many lows and I await a real high, perhaps Spain's passing movements. But I have appreciated the joy of the South Africans, who have been great hosts.
Many Scots do not and will not support England despite having English friends, work colleagues or relatives. For a Scotland fan it is the first law of physics.
However many Scots do support England – surveys reveal this. But the media overwhelming us Scots means we can only go so far - so no further than the semi-finals for England.
My neighbour admitted that he supported England. When asked for clarification he also admitted that he did also not want them to win the World Cup. Quite a lot of people feel that way north of the border.
Fulham in the Europa final, no problem. Middlesbrough likewise.
But England, the team of 9-3 defeats, 5 -1, 4 -1 and more. Producer of Simon Cowell and  Piers Morgan! A step too far. And that Haynes goal still rankles…
Mike Rowbottom, one of Britain's most talented sportswriters, has covered the last five Summer and four Winter Olympics for The Independent. Previously he has worked for the Daily Mail, The Times, The Observer, the Sunday Correspondent and The Guardian. He is now chief feature writer for our sister publication, insidethegames