The rich, as Hemingway said, are different to the rest of us – they have more money.
But what is now emerging is that the rich in football are expected to behave differently to rich people in any other sport.
This is a very recent, modern, phenomenon which is making football even more distinct from all other sporting activities. It is also creating a huge problem for the game.
You only have to compare what is happening in the Ryder Cup with the continuing trauma at many of our football clubs tormented by the failings of their rich owners.
The Ryder Cup at Celtic Manor in south Wales is only possible because of the wealth of Sir Terence Matthews.
Sir Terence – "call me Terry" – it must be said does not like bragging about how much money he has made.
When I met him not long ago he said: "I don't talk about my wealth."
He could, if he had wanted to, have retired in 1979 and, in the last year, his wealth has declined.
Hailed as the first Welsh billionaire, according to the Sunday Times Rich List the downturn has seen him lose £350 million, but that still makes him worth £650 million – plenty rich enough for most of us.
But what makes him fascinating is that, in the run up to the Ryder Cup he has made no secret of the fact that his investment in Celtic Manor was not out of any great love for the game.
He does not play golf, the game takes four hours which, he says, is far too long.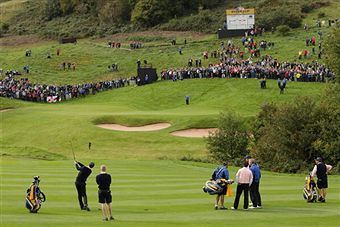 His decision to sink some £125 million into the resort (pictured at the start of this week's Ryder Cup) was purely a business decision.
He is convinced that the worldwide visibility of the Ryder Cup will recoup his money, golf being such an important part of the lives of all the men he does business with.
And, if nothing else, as he puts it, how many people can say they own their own suspension bridge, his being the £2 million construction that spans the River Usk to link the players' warm-up facility to the resort.
Yes, buying the Manor House he was born in – then it was a maternity ward – was something of the Welsh boy made good coming back to show his folks how well he had done.
After all, when he left Wales back in 1969 to go on holiday to Canada, he was a 26-year- old radio engineer working for Post Office Telecommunications in Castleton near Cardiff, earning less than £2,000-a-year.
Canada offered him opportunities which he seized and, since then, he has set up nearly 90 companies – all but six of them successful.
Matthews can be very eloquent about what makes for business success: select bright young undergraduates, not necessarily the ones with the best marks but people who can work as a team, and then set them a defined task.
Yet ask him about sports and it is clear it is not something he has thought much about.
So, when I talked to him about sport and the part it plays in society, his response was: "Are you talking about hockey, ice hockey?"
"Hockey is terrific, probably the fastest sport you will ever find. Very popular in Canada, of course.
"I spend a lot of time looking at hockey as a spectator.
"Rugby, of course, is inherent in the roots of Wales where I was brought up, woven into the fabric of society. I like rugby, it is a gentleman's game."
But, will his investment in Celtic Manor tempt him to look next at buying a football club – Cardiff City, perhaps – or some other club?
This is what he says.
"Why would I do that? Cardiff is not within my normal daily interest.
"Why would I want to buy a sports franchise? Do they make any money? Well, tell me, do they make any money?"
And, when I pointed out that Alan Sugar put in £8 million in Tottenham and walked away with £50 million, Matthews says: "True, but that is a rare bird isn't it?
"There are people who invest in sports because they want to make a name for themselves.
"I am pretty busy with electronics companies.
"There are only 24 hours in a day. I do not want to be on the front pages, no, Jesus, absolutely not.
"The worst thing in life, in my view, is to be extremely well-known and have money. Look at Michael Jackson, he couldn't go anywhere without having people guarding him.
"How would you like to be Prince Charles?
"He can't even go for lunch. I can do that.
"The best thing in life is to have some money in your pocket which no one knows about.
"Are your kids able to go to school without being teased?
"Kids can be pretty cruel. My children have come through school without being teased because I don't play myself up, I play the companies up.
"I like to go out to a restaurant and eat dinner without people coming and asking for signatures.
"It doesn't help you get success unless you are an actor or actress and someone who lives with a fan club – I'm not."
And this is where Matthews is different to those who own football clubs.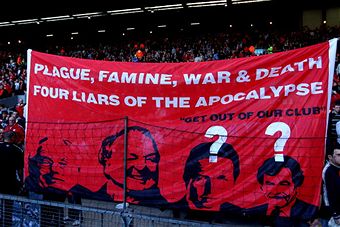 A Gillett or a Hicks or a Glazer buying a football club has to declare that they love the club.
They have to kiss the badge, affirm their allegiance when it is clear that the real reason they are buying the club is because they see profit in it.
But they can't be as blunt as Matthews because the football fans will not wear it.
The result is football owners cannot deliver what the fans want, not just money but commitment as well.
In other words, even as they take charge of the club, a yawning gap develops between supporters and the owner.
Of course, in the American ownership of Liverpool and Manchester United, the owners have not invested their wealth.
They have borrowed money and burdened the clubs with debt, creating a further, and probably irreparable, layer of alienation with the fans.
But, even without that, had they, like Matthews, just put in money and said that they did not care for football, the fans would never have accepted them.
So, even though Alan Sugar invested his own money, he found it very difficult to win over the Tottenham fans.
There was one exception. That was when, having outfought the FA, he regained an FA Cup place for Tottenham.
The following Saturday, as Tottenham played at home, he received a standing ovation.
But that gratitude did not last long and Sir Alan was, in the end, happy to leave the Spurs boardroom, seeing his tenure there as a failure.
As Greg Dyke, once famously, said you do not invest in football, you donate.
Football developed as a wonderful community sport in Victorian times.
But now it is a business and a more protected business than banking.
So much so that, when Ed Miliband was asked by Sarah Montague on the Today programme whether football players' wages should be clawed back in the same way as high earners in other industries, he said football was different.
This is one new policy area the Labour leader, for all his claims to be the new generation, does not want to go into.
This business aspect of football, where players and owners seek money, may not be what fans want to hear.
But they must recognise this reality otherwise they will keep looking for rich men who declare instant love for a club they buy, only to lead to dreadful disillusionment as at Anfield
Reality is often not comfortable. But it is better to be realistic than to build up expectations which are never fulfilled.
Mihir Bose is one of the world's most astute observers on politics in sport and, particularly, football. He formerly wrote for The Sunday Times and The Daily Telegraph and until recently was the BBC's head sports editor.