So we've got Rodney – Marsh, of course, who else? – in the nightclub – Tramps, of course, where else? – with George – Best, of course, who else? – and Michael – Caine, of course, who else?
And Caine's conversation gets around to all the great things Best – now playing with Marsh at Fulham – did at Old Trafford.
The problem arrives when Caine leans across the table and, as Marsh describes it, "with messy fingers", takes some chips from the plate of Best's then wife Angela.
At which point Best warns the film star not to do it again or he will give him a slap. At which point Caine takes another chip. At which point Best whacks Caine on the chin and knocks him off his chair.
Amazingly, no newspaper carried this story. But it has now emerged in all its tabloid glory through the publication of Marsh's autobiography, written with journalist Brian Woolnough, entitled: Rodney Marsh: I was born a Loose Cannon (Optimum, £19.99).
Given Marsh's opening explanation of the title, such a recollection is exactly what one expects from this book: "How do you describe a Loose Cannon? That's easy: someone who doesn't really care about anything except the things they love. Say what you think, do what you believe in and live with the consequences."
So yes, there are the anecdotes. The 1967 League Cup final, in which Third Division QPR beat First Division West Bromwich Albion despite being 2-0 down at half-time, reached its tipping point with Marsh's meandering genius of an equaliser. But there were mixed feelings about the glorious victory on the part of his colleague Bobby Keetch who, Marsh reveals, had put £900 on West Brom to win at 4/9 on.
And naturally Marsh recounts the story of how he sabotaged his England career with a remark which the manager, Sir Alf Ramsey, found about as amusing as Argentina. Before the match against Wales at Wembley in 1973, Ramsey told Marsh: "If you don't work hard then I will pull you off at half-time." To which Mr Self Destruct apparently responded: "Christ, Alf. At City we normally get a cup of tea and an orange."
It was the same Mr Self Destruct, many years later, who brought about the end of his career as a Sky TV pundit shortly after the tsunami had caused death and devastation in Thailand when he made a joke that played on the similarity of "tsunami" and Toon Army, the unofficial name of Newcastle's supporters.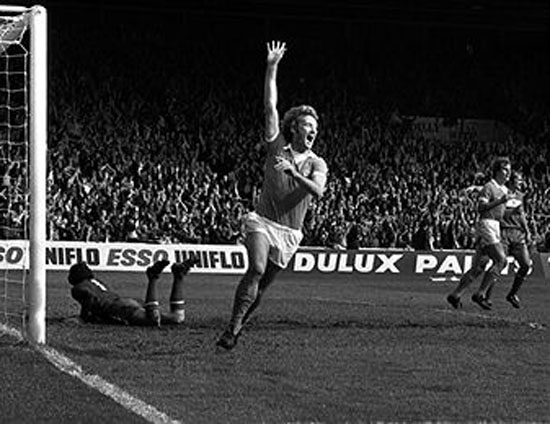 In both cases, he insists, there was no premeditation. The words just came out.
For many observers, Marsh was similarly thoughtless as a player. But for every spectator who cursed his profligacy or self absorption, there were 10 who loved his brilliance and panache.
As Manchester City agonise over an unpredictable midfield/forward talent who might yet be the key figure in them reclaiming the League title for the first time since 1968 – it remains to be seen which way the suddenly articulate Carlos Tevez will jump – this book offers the best account yet of the impact another such talent had on the club as they came desperately close to repeating that triumph four years later.
When Marsh was signed by City towards the end of the 1971-72 season – or rather, as this account makes clear, when he was signed by the coach, Malcolm Allison rather than the old-school manager Joe Mercer – the intention was for him to be the light blue icing on the cake as they appeared on the brink of a second title in the space of four years, heading the table with nine games left.
History records that the cake remained un-iced, as Leeds United came past and then faltered at the last to give the title to Brian Clough's Derby County by a point, with Liverpool third and City fourth, both on the same number of points as Leeds.
While Mercer had been suspicious of the showman, Allison had embraced him. Marsh recalls how Allison told him that, despite being a great team, City were "not a showbiz" team, which was what the bold coach wanted in order to lift attendances. In that respect Marsh was an unequivocal success. The Kippax took to him straight away, and within a few games, the average home attendance had risen from 33,000 to 53,000.
But Marsh's introduction also had the effect of disrupting the team's familiar, swift flow, to the point where their title charge lost its power and intensity.
Marsh, being Marsh, is the first to admit this. Indeed, the relevant chapter could hardly be more succinct: Manchester City – It's All My Fault.
And yet the fault lay more widely than that. It lay with the cabal of players, led by captain Mike Doyle, who bitterly resented Marsh's arrival. It lay perhaps most heavily with Allison, another of life's self-destructors, for overreaching himself and causing a grievous split at managerial and playing level in the club he so loved.
Marsh feels the circumstances were best summed up in the words of one of the players who welcomed him into the fold, Mike Summerbee: "Rodney was the right player at the wrong time."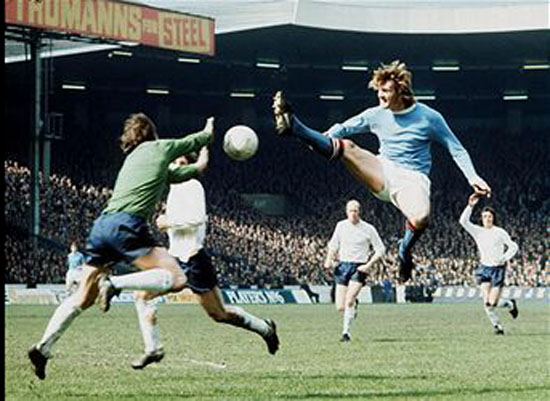 In his own recently re-released book – Mike Summerbee. The Story of a True City Legend (Optimum, £9.99), written with Jim Holden of the Sunday Express – the City winger is damningly plain about the controversial transfer.
"Malcolm Allison tried to be clever and signed Rodney Marsh from QPR for £250,000, to add even more flair to our team. He thought it would be the move that clinched the title. What happened instead was that it denied us the glory we should have had…Our football that season was a quick, attacking game and when Rodney came into the side it was a problem because he wasn't passing the ball to players where they were used to receiving it."
For all his flippancy, Marsh is clearly a serious and thoughtful soul. He evidences unwavering respect for one or two figures in his past – his friends and drinking partners Bobby Moore and George Best, his former club team-mates such as Francis Lee, Summerbee and Colin Bell, whom Marsh describes as "one of the greatest footballers ever".
Summerbee too has both joyful and poignant memories of Moore, with whom he got on particularly well, and of Best, who was Best Man at his wedding. Two stand out. Shortly before Moore died of cancer in 1993, Summerbee went out to lunch with him in Manchester at an Italian restaurant in Deansgate.
"He was so gaunt and emaciated," Summerbee recalls. "It was Bobby, but it wasn't Bobby. The Italian waiters there were football daft but they didn't recognise Bobby Moore. I saw a little bit of blood come down his nostril and I wiped it off. It brings tears to my eyes now thinking about it."
As for Best, Summerbee remembers how they would meet up on Saturday evening after their respective matches for United and City and would start off at Arturo's restaurant, which just happened to be the regular haunt of their respective managers Mercer and Matt Busby, and their respective wives.
"We'd deliberately be drinking orange juice or lemonade so that when the managers and their wives came in we looked like a couple of sober professionals. Mrs Mercer and Mrs Busby were always concerned about the pair of us, so we went through this little charade.
"At about half past nine we'd go over and say our goodbyes as we were leaving, and it must have gone through the ladies' minds that these two young players were looking after themselves. Then we'd walk out of the door, and go 'Yeeaahh!' as we jigged off down the street to start the real night out."
Such artifice. And yet such innocence.
Mike Rowbottom, one of Britain's most talented sportswriters, has covered the last five Summer and four Winter Olympics for The Independent. Previously he has worked for the Daily Mail, The Times, The Observer, the Sunday Correspondent and The Guardian. He is now chief feature writer for our sister publication, insidethegames