Just occasionally, in the murky, unpredictable world of football politics, an issue so outrageous and so baffling hits you so hard between the eyes, you wonder if you are actually seeing straight.
More column inches have been written about FIFA's decision to award Qatar the 2022 World Cup than of us could have imagined before last month's Zurich vote. What's done is done say those who voted for the tiny Middle East state half the size of Wales. Let's move on.
If only it was that easy. The fact is that some of the more recent revelations about Qatar's viability deserve further debate having served only to fuel widespread scepticism about whether the gas and oil-rich nation achieved its staggering 14 votes in Zurich by fair means rather than foul.
Sepp Blatter's admission that informal discussions about a winter World Cup in Qatar took place before the vote – I was one of those invited to the round-table chat at his Doha hotel and heard it first hand – surely made a complete mockery of the entire bidding process.
Whether or not Blatter himself voted for Qatar is open to question. More serious is the fact that Qatar's bid documents said nothing – not even in the fine print – about switching the tournament from the searing desert summer heat to more palatable January conditions.
Having spent three days in Qatar in and around the start of the current Asian Cup, I can personally testify to the fact that conditions both inside and outside the stadiums were perfect for football.
The fact that the drinking of alcohol, even in moderation, was banned by some hotels – though strangely not others – was certainly a drawback, made worse by the sight of airport-style scanning devices on entry.
Everyone, of course, should respect Qatar's strict Muslim laws but even Prince Ali bin al Hussein of Jordan, Asia's newly-elected 35-year-old FIFA vice-president, admitted that the World Cup was a tournament for everyone, not just a select few, and that some of Qatar's strict laws would have to be relaxed by the time hundreds and thousands of western fans converge on the tiny state.
But back to the matter in hand. Blatter's confirmation of a possible winter World Cup will cause untold turmoil within Europe.
FIFA sources have told me that not one, not two but three league seasons will have to be totally revamped in terms of fixture lists and the associated commercial deals that will have to be put in place. Even if a winter break is implemented in England to match much of the rest of Europe, it will not be nearly long enough to cover the necessary number of weeks needed.
There may be over 11 years to go but FIFA say a decision over a winter World Cup must be made no later than 2015 – not so far away when it comes to clubs tying up their sponsorship agreements.
Just to make matters more complicated, the winter of 2022 would clash with the Winter Olympics. Another interesting twist to the debate.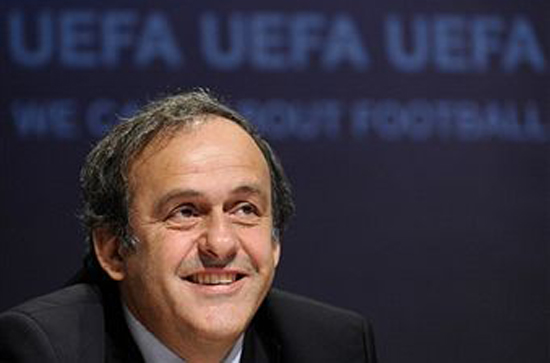 As if Blatter's remarks were not telling enough, along comes Michel Platini (pictured) at UEFA headquarters last week with yet another variation on a theme. The UEFA President told a group of us over lunch that he would like to see the World Cup be played in the entire Gulf region rather than just Qatar alone. Again, nothing in the original documents about that. You couldn't make it up.
Throw into the equation reports about how Qatar has expanded its much-lauded Aspire sports academy into some 15 countries worldwide – including those with FIFA voting members – and you get an idea why so many people believe something fishy was going on, and still is.
All of this, of course, is pure conjecture. Those outside the Middle East may cry foul but there has been absolutely no proof of anything deliberately underhand. Qatar may have worked the system to their advantage but there is no evidence to suggest they have broken any rules.
The real, unacceptable crime is that the goalposts appear to have been changed after the vote. Qatar seem happy to let FIFA's 208 member federations – and not its Executive Committee as has been reported – make the ultimate decision over a winter tournament and who can blame them? If only we had known about these issues beforehand.
Anyone in their right mind can empathise with the World Cup going to new territories. But one that has to cram 12 stadiums into a land mass the size of Connecticut, and where temperatures can reach 50 degrees in summer?
Australia's beleaguered 2022 bid chief Frank Lowy was still a crestfallen figure when he attended the recent AFC Congress in Doha. The wounds of missing out on the World Cup and gaining only one vote, he said, would take ages to heal.
Qatar may have played their cards brilliantly throughout the campaign but if taking the World Cup to new destinations really was FIFA's prime requisite, then it is easy to understand why Australia were spitting blood.
All the current talk must only add to salt to those gaping wounds.
Andrew Warshaw is a former sports editor of The European, the newspaper that broke the Bosman story in the 1990s, the most significant issue to shape professional football as we know it today. Before that, he worked for the Associated Press for 13 years in Geneva and London. He is now the chief football reporter for insideworldfootball