Ever since UEFA announced its financial fair play regulations designed to stop clubs over-spending, Michel Platini has been at pains not to single out the Premier League as the prime culprits. Penny for the UEFA President's thoughts now.
Any of us who thought – and there are a good many – that the age of mind-boggling transfer fees had been swallowed up by the credit crunch were brought right back to reality when the mid-season window reached its frenzied dramatic conclusion.
Even taking into account that January is always a more expensive time than the summer to buy players, the £200 million ($323 million)-plus lavished on new signings almost defied belief. As did the fact that just two clubs – good old moneybags Chelsea and Liverpool, desperate to revive their long-lost glory days – were mainly responsible. Reining in spending? Do me a favour.
Anyone who believes Platini would be wrong to now point the finger squarely at the English should consider a couple of statistics. While both Fernando Torres and Andy Carroll smashed the domestic transfer record and at the same time set the fourth and the eighth most expensive deals of all time, in Germany the biggest fee laid out on a single player was around £12 million ($19 million); in Spain it was half that.
Make of that what you will. At UEFA they must be tearing their hair out. Not that Roman Abramovich, who led us believe the days of big spending were over, will care a fig. Likewise the new owners of Liverpool though in one way they can be exonerated since the fees paid for Andy Carroll and Luis Suárez was largely money received for Torres.
Don't get me wrong. As a fanatical Tottenham fan, I am disappointed not to have seen re-inforcements made to an injury-hit squad when everything is seemingly in place to push on. Make that hugely disappointed. But would it make the season even sweeter if we now finish above Chelsea? You bet it would.
January deals are invariably fuelled by panic. In Chelsea's case not winning the Champions League – or, perish the thought, not even making the top four. In Liverpool's, another inglorious second half of the season.
Under UEFA's new rules, clubs will face possible suspension from European competition from the 2014-15 season if they spend more than they earn in the three years previously. During this rolling settling-in period, clubs are allowed to make a loss provided they are no more cumulatively than €45 million (£38 million/$62 million).
Manchester City, the new rich kids on the block, are already taking note. Losses of £121 million ($195 million) tell their own story and it was no surprise when their latest big-money signing, Edin Dzeko (pictured), was accompanied by several exits to reduce the salary budget.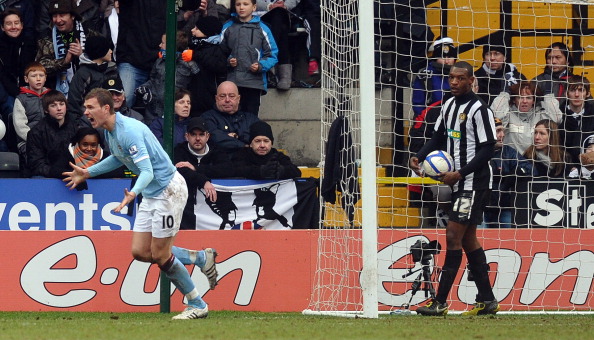 Ironically, Chelsea themselves have just revealed losses of £70.9 million ($114.4 million), down from last year's £72.3 million ($116.6 million) but still some considerable way off Platini's blueprint. What they have done is taken the gamble to spend big now, knowing they will not get another chance when UEFA's clampdown starts to bite.
Without Champions League revenue, break even becomes difficult if not impossible. Ensure Champions League qualification with all the television money, throw in ticket prices, fat sponsorship deals and other add-ons and losses are eventually wiped out. At least that's the theory. The trick is how to do it without paying inflated salaries.
The Financial Fair Play (FFP) plan may be designed to stop reckless spending by rich benefactors and force clubs to live within their means but for the moment, at least at some clubs, it is having the opposite effect.
One last throw of the dice appears to be the maxim. That depends. For those already earning a healthy profit, enjoying being a global brand or responsibly balancing their books, maybe not. Manchester United, for instance, are surely unlikely to stand still in the summer. But for the likes of success-buying loss-makers like Chelsea and Manchester City, let's hope so.
Andrew Warshaw is a former sports editor of The European, the newspaper that broke the Bosman story in the 1990s, the most significant issue to shape professional football as we know it today. Before that, he worked for the Associated Press for 13 years in Geneva and London. He is now the chief football reporter for insideworldfootball