Andy Gray and Richard Keys are the only people who appear to be surprised by the storm their comments have caused.
But what really intrigues me are the two issues the whole affair raises. Neither have received much attention. One relates to Sky Sports. The other is best summed up in the following question: where is England's Karen Espelund?
For Sky Sports, this has been something of an initiation ceremony in the hard realities of life. Let me make it clear that I am a great fan of Sky Sports for the way the channel has transformed sports viewing in this country. Before the arrival of Sky, there was little live sport available on our domestic television. Football was particularly poorly served. Interestingly, there was much more cricket and rugby, with cricket brilliantly well served by the BBC. There were England's home Test matches, every Sunday a John Player match on BBC 2. And I remember when the epic Lancashire-Gloucestershire Gillette semi-final meant that the then main evening news on BBC at 8.50pm had to be put back so the match could finish.
Sky has not only provided wall to wall football coverage on a scale unimaginable before, but also brought us cricket and rugby from overseas, something the BBC never did. Indeed, I doubt now if a cricket international takes place anywhere in the world which Sky does not televise.
However, Sky Sports has also established a certain style of coverage. The commentators are nearly all ex-players like Andy Gray. If you cannot show your medals, or your caps, you cannot opine, is the Sky view. So, no chance of an ex-policeman and poet, like John Arlott, emerging to seduce a whole generation to follow cricket. Also, Sky Sports makes sure never to offend anybody, certainly not the rights-holders whose support they need to get the exclusive rights they so prize. There is never any chance of Alex Ferguson not talking to Sky Sports – he refuses to talk to the BBC because, years ago, they showed a documentary about his son.
The Gray-Keys affair not only made bad news for the channel, but it came at about the worst possible moment – just when it was celebrating 20 years of Sky Sports. As part of this, celebrities like Keys were being offered up for interviews to publicise the wonders of Sky's brand of sports coverage. For Keys, the poster boy of the channel, to reveal such secret views on women could not have been more inconvenient for the bosses of Sky Sports. Keys may or may not be right in seeing "dark forces" at work, but the ruthless manner in which Sky acted showed it recognised the need to have a drastic damage limitation exercise. A channel like Sky Sports wants to broadcast live action. It does not want to be the subject of live reporting. It cannot afford to be.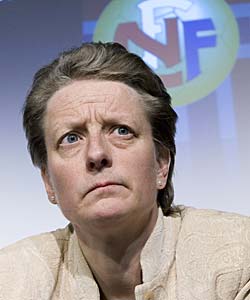 More interesting is the absence of an English Karen Espelund (pictured). She was, for years, the general secretary of the Norwegian FA. She was certainly not the first female to hold such a high position. Luxembourg's football association has had a female head, as has Hungary for a time. But of these three, Karen Espelund was the most remarkable.
She really stamped herself on the world stage at FIFA's Seoul Congress on the eve of the 2002 World Cup. Sepp Blatter was then under attack from his own Executive members led by UEFA. There was much disquiet about the effect of the collapse of ISL, FIFA's then marketing company, and the implications this had for FIFA's finances. There were all sorts of allegations flying around and Issa Hayatou, head of the African Football Confederation, encouraged by UEFA, had challenged Blatter for the FIFA Presidency.
But, while there were many whispers at the Congress, no one had stood up to question Blatter. It was at this stage that Karen Espelund took to the stage and asked Blatter some very direct questions. Her intervention rattled members of the Executive and Karen was on the stage when Blatter and Hayatou had a standoff. Karen's performance that day was certainly electric. Here was a woman, the only woman with authority in the Congress, challenging the man who ran the world organisation and asking the questions many wanted answered.
Observe that Karen Espelund that day was surrounded by middle-aged men, whose views on women in football were, I dare say, not all that different to Messers Gray and Keys. But, with Karen Espelund speaking as the head of a football association, she was a person to be respected. In the end, it did not matter, Blatter won at a canter. But the impact Karen Espelund made showed what a difference women in power can make.
As Espelund has often said, she got the chance because Norway's FA had a quota system. Norway required at least one woman on the Executive, and it has since been increased to two. After that, Espelund had to show her worth to become general secretary, but it was the quota that opened the door.
Now consider this. Let us assume that the general secretary of the Football Association of this country was not Alex Horne but Alison Horne. Then, do you think Messers Gray and Keys would have voiced such thoughts, even in private, about a lady running a line in a Premier League match? They would know the person running football in the country was a woman so, for a lady to run a line in a match would hardly be exceptional.
The real question here is empowerment. We, in this country, have done the talk of equality, both for women and minorities. But, when it comes to giving them power, we do not walk the walk. In that sense, we are a long way behind countries like Norway. If the Gray-Keys affair makes us realise that, then in the end it will have done some good.
Mihir Bose is one of the world's most astute observers on politics in sport and, particularly, football. He formerly wrote for The Sunday Times and The Daily Telegraph and until recently was the BBC's head sports editor