So now we know. After seemingly interminable prevarication, Mohamed Bin Hammam has finally shown his hand and announced that he really does intend to try and end Sepp Blatter's 13-year reign at the head of football's world governing body.
For the last few months, at conferences and congresses the world over, rather like handing a sweet to a child and then withdrawing it at the last moment, bin Hammam has teased us with all manner of hints and innuendos.
FIFA needs transparency and reform, he has repeatedly been telling us. A more accountable system of operating after the recent bribery and corruption scandals – fewer presidential terms.
We wondered how the brinkmanship would end, whether he believed he really was person for the job, the man who will ring the changes he says are so desperately needed at the helm of FIFA.
The bizarre thing about Bin Hammam's timing is that he said he first wanted to gauge European opinion, as that was the one that mattered most.
Yet he has made his announcement before the UEFA Congress in Paris on March 22, exactly the time and place when anyone and everyone of power and influence in European football will be coming together in one location. In other words, surely the ideal scenario to gauge the very views bin Hammam insists he needs so badly.
Instead he will now do things the other way round and go to Paris to woo as many federations as he can, having already laid down the gauntlet to Blatter.
Don't forget, he didn't actually have to make his decision until the March 31 deadline, more than a week after – not before – the UEFA summit. Perhaps his team of advisers managed to work the phones so aggressively that they already have a pretty clear idea of how much support he would get.
And how much is that? Now that he has taken the gamble of taking on his former ally, does Bin Hammam have any realistic chance of unseating Blatter at the FIFA congress in Zurich on June 1?
Most insiders spoken to by insideworldfootball have serious doubts. They believe that to succeed in a FIFA Presidential election you have to have a detailed and easily identifiable programme for the future. Equally significantly, Bin Hammam does not have the full support of his own confederation, a pre-requisite when it comes to something as huge as trying to become the President of FIFA.
Not all of Europe voted for Sweden's Lennart Johansson, the then UEFA President, when he lost out to Blatter in 1998. And not all of Africa backed Issa Hayatou of Cameroon four years later when he was veritably trounced.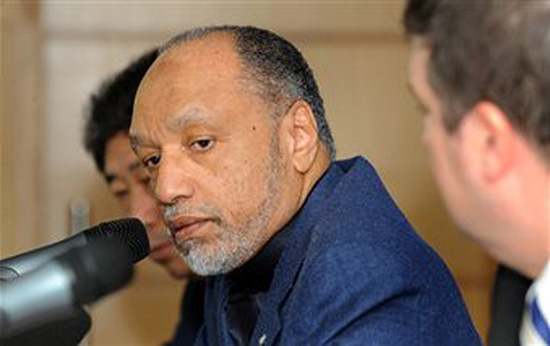 Bin Hammam may be head of the Asian Football Confederation, but like the two previous attempts to kick Blatter off the throne, he might easily find himself let down by his own people.
This, for instance, is what Sheikh Ahmad Al-Fahad Al-Sabah of Kuwait told me and other reporters at the AFC Congress in Qatar two months ago after Prince Ali bin Al Hussein of Jordan, a staunch Blatter ally, scored a shock victory over Chung Mong-joon for the post of Asian vice-president on the FIFA Executive Committee.
"The 25 who voted for Prince Ali today will all vote for Mr Blatter in any Presidential election. There is no doubt about that," said the Sheikh defiantly.
Ousting Chung was considered by many as a way of getting back at Bin Hammam who openly supported the South Korean against Prince Ali, the new kid on the block. Why would that be?
Because Bin Hammam, so insiders say, regularly picked and chose who his friends were in Asia and conveniently ignored the rest – mainly those who voted against him two years ago when he faced a strong challenge to his Asian presidency from Sheikh Salman of Bahrain.
Now comes the crunch. Bin Hammam is certainly no saint but at 61 is 14 years younger than Blatter. His belief that four terms is far too many has widespread support, and rightly so.
But that alone will not be enough to win over a majority of FIFA's 208 member federations.
Now that he has decided to stand, Bin Hammam will have to have something extremely persuasive up his sleeve to see him take over Blatter's throne and oust a veteran Swiss from the heartland of Switzerland.
Andrew Warshaw is a former sports editor of The European, the newspaper that broke the Bosman story in the 1990s, the most significant issue to shape professional football as we know it today. Before that, he worked for the Associated Press for 13 years in Geneva and London. He is now the chief football reporter for insideworldfootball