As Sepp Blatter prepared for a press conference at FIFA House in Zurich on Tuesday about new ways of making football a better spectacle, the only line of awkward questioning he was probably contemplating was why the three most high-profile members of FIFA's newly-established Task Force 2014 had failed to show up for its debut session.
Then someone, presumably his general secretary, told him the bad news. That in London at exactly the same time, no fewer than six of his Executive Committee had just been tarnished with serious – make that explosive – corruption allegations.
Not surprisingly, with two Executive Committee members already suspended, the FIFA President suddenly looked worried. "Oh no, here we go again," he must have been telling himself. Just when he thought nothing too damaging could get in the way of a straight path towards being re-elected on June 1, along comes arguably his biggest crisis of all; one involving, incredibly, one third of FIFA's inner sanctum.
Yet before everyone assumes that Blatter will be the obvious election fall-guy as a result of the staggering new corruption claims, there is an equally strong argument to suggest the allegations will do no favours either to the challenger for the FIFA Presidency, Mohamed Bin Hammam.
Lord Triesman's claims that four Executive Committee members sought sweeteners to vote for England's 2018 World Cup bid, pretty damning on paper, could be hellish difficult to prove. While Triesman could not possibly have invented such stories – as many of those identified by him appear to be suggesting – where is the actual evidence? In Triesman's head? In note form? Because without firm proof, it's just his word against theirs and FIFA's Ethics Committee, if the accusations go that far, would in that case have little to act on.
On the other hand, claims that Qatar, Bin Hammam's native country, paid two other Executive Committe members to vote for their 2022 bid are potentially far more dramatic. Why? Simply because they were made by the Parliamentary panel itself after receiving submissions from The Sunday Times. And it was The Sunday Times' expose, remember, that led to the Ethics Committee feeling it had enough evidence to kick out Reynaud Temarii and Amos Adamu.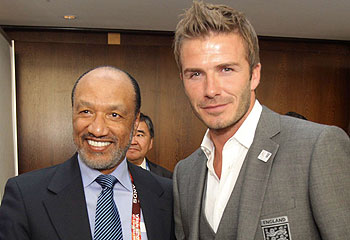 Qatar, which has long considered itself the victim of unfair discrimination, has consistently refuted any suggestion of malpractise. They have already been exonerated once by the Ethics Committee but this time names have been named.
If, just if, there is any shred of truth in the allegation that Issa Hayatou and Jacques Anouma took bribes to vote for Qatar 2022, it seems inconceivable that Bin Hammam (pictured with David Beckham) would not have known about it. His election manifesto may call for greater transparency but don't expect him, publicly at least, to be dishing the dirt towards Blatter in the coming weeks.
As for Blatter himself, he is anxious for a resolution to the new scandal before the election on June 1. At least that's what he says. Easier said than done. Clearly it wouldn't be ideal to have the stench of corruption pervading the corridors of the election conference hall.
But more suspensions within the next three weeks? Seems highly unlikely. Blatter is saying all the right things perhaps because he knows he will win. After all, this time 208 countries vote, an opportunity for the have-nots to make a difference and chances are not too many of them will give a fig about the recent allegations.
Afterwards, however, there will have to be reform – and fast. Otherwise, for all his fine words about completing his mission, Blatter may be the only one proud of the legacy he eventually leaves.
Andrew Warshaw is a former sports editor of The European, the newspaper that broke the Bosman story in the 1990s, the most significant issue to shape professional football as we know it today. Before that, he worked for the Associated Press for 13 years in Geneva and London. He is now the chief football reporter for insideworldfootball.