Disgraceful, scandalous, unbelievable. Just three of the adjectives that have been used over the past few days – and rightly so – to describe FIFA's decision to close the case against Jack Warner despite overwhelming evidence that their most senior vice-president played a prominent part in world football's biggest bribery scandal.
Who on earth were FIFA trying to kid by dropping their investigation into the hopelessly tarnished Warner and allowing him to withdraw from football by praising his contribution and inserting that now-infamous phrase, "the presumption of innocence maintained"?
Certainly not those within their own inner sanctum, certainly not their own independent Ethics Committee charged with investigating the case in the first place; and certainly not the public at large whose collective opinion of football's world governing body has plummeted to new depths of disdain.
Even by FIFA's standards of self-preserving, weasly-worded statements, this one just about defied belief.
Why were they so keen to try and protect Warner's battered reputation? After all, FIFA President Sepp Blatter has spent the last few weeks using every possible opportunity to insist how eradicating corruption will be the top priority of his final term in office.
If that's the case, how can he possibly have supported the phrase – let's repeat it – "the presumption of innocence maintained." Some might say that in itself is tantamount to a cover-up.
Rumours abound that a deal was struck whereby Warner would switch from poacher to gamekeeper and dish the dirt on his alleged partner in crime, Mohamed Bin Hammam, in exchange for leaving FIFA with his own credibility in tact.
Another explanation – and this appears to be technically sound – is that under Swiss law FIFA no longer had any jurisdiction once Warner resigned from all footballing activities. Clever, huh? Invoking the law of the land when it suits them but not when it doesn't.
Some will argue Warner's decision to resign after almost 30 years in FIFA is tantamount to a humiliating admission of guilt anyway. That's not the point. There is a clear distinction between him throwing in the towel with "the presumption of innocence maintained" (sorry – couldn't resist a third mention) and the organisation that once punished him for a World Cup ticketing scandal telling the world how disgusted they were with his behaviour.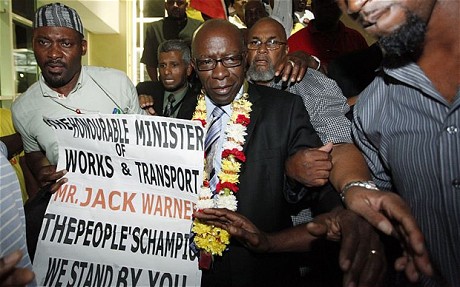 What FIFA could have done is say, in so many words, "sorry we don't accept your resignation, Mr Warner – the case continues until its conclusion." But then that's not FIFA's way, is it?
And even if that approach were not possible, even if the case against Warner had to be closed from a legal standpoint, why did FIFA do so with such pathetic reverance to a powerbroker who seemed to make up his own rules and – until finally snared by the Ethics Committee –get away with it?
Damian Collins, the British member of Parliament who is campaigning for reform of FIFA, believes the case against Warner should be re-opened. Collins may be a publicity seeker to his critics but he is furious that the inquiry into Warner has been called off and that the 68-year-old Trinidadian no longer has to answer the charges against him. There are a fair few who would agree with him.
Collins also questions whether an already unsatisfactory situation will turn into total farce if Bin Hammam ends up also resigning. Would he too be immuned from any FIFA critcicism? Would he too be praised to the hilt for being such an upstanding, righteous member of the organisation?
Bin Hammam is weighing up his options and you can understand why. His position is somewhat more complex than that of Warner given that his native Qatar has a World Cup to organise in 2022. How would it go down if their most powerful administrator is thrown out of the very organisation that controversially granted the Gulf state the tournament?
That might explain why Bin Hammam, who insists like Warner he that has nothing wrong, is still clinging to power despite a torrent of leaked evidence from the ethics committee that would appear to suggest he has no credible defence. Unless, of course, he has a canny trick or two up his sleeve to take us all by surprise in this most unpredictable of soap operas.
Andrew Warshaw is a former sports editor of The European, the newspaper that broke the Bosman story in the 1990s, the most significant issue to shape professional football as we know it today. Before that, he worked for the Associated Press for 13 years in Geneva and London. He is now the chief football reporter for insideworldfootball. To follow him on Twitter click here.