The giant makeshift marquees at the swish Marina da Glória where the 2014 qualifying draw took place have been pulled down and all delegates have now left town. Rio is back to normal daily life. But that, of course, still means a national obsession with football.
Bold and brassy, sexy and spontaneous, there is little doubt that in terms of colour and excitement, this country will put on a show in three years' time worthy of its unmatched footballing heritage.
Wherever I have travelled over the past few days here, football has been king. On the beaches, close to the favelas, among the street vendors, on television in virtually every bar. It's a national past time, a love affair. Rather like in England – only with a heightened sense of emotion and the skill set and trophy cabinet, at World Cup level at least, to prove it.
On my second evening in Rio, I joined some fellow scribes on an impromptu mission to the Olympic Stadium to watch Botafogo in a league match. Botafogo are the weakest of Rio's four clubs and in mid-table. The sparse attendance in the cavernous arena probably numbered no more than 5,000 but they made such a din they sounded like ten times that number. The poor referee trying to take things in his stride as every decision that went against the home side was greeted with chants describing various means of how to get rid of the man in the middle. It was passion at its most intense even if the stone seating was hard as nails.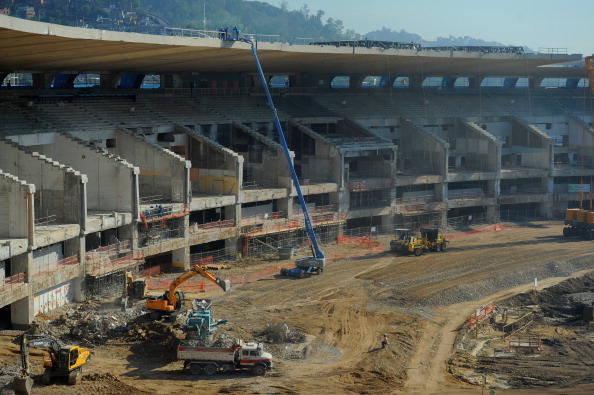 There is of course a downside. The massive Maracanã (pictured), billed as the world's most iconic stadium, looks little more than a building site right now as it is revamped and kicked into shape. And despite assurances from São Paulo officials that they will have a World Cup stadium to be proud of, it definitely won't be ready in time for the Confederations Cup the year before and therefore won't have a test-case tournament in which to pinpoint all the things that need tweaking.
It was telling at Saturday's qualifying draw that the President of Brazil, Dilma Rousseff, called on everyone to get behind the World Cup just as Pele had done 24 hours earlier. Why did they do that? Because it is clear, no matter how intense the national passion for the game itself, that not everyone is happy with the way preparations are taking shape. Just as the draw unfolded, a group calling itself The People's Committee of the World Cup and the Olympic Games staged a protest against the forced removal of thousands of residents from Rio's favelas to accommodate new venues and construction work on the two sporting events.
They may be in a minority but this is a country of stark economic extremes, which the occasional visitor doesn't necessarily always get a chance to take account of.
Then there is the cost. A three-course meal in a half-decent restaurant is unlikely to provide much change from £40 – and that's without having hit the Caipirinhas, Brazil's deceptively cute-looking cocktail which hits the palette as tastefully as any thirst-quenching drink but has a habit of paying you back the following morning.
Safety, security and the infamous Rio rip-off factor are other issues that undoubtedly need addressing, just as they did in South Africa last time. You do have to be careful where you go and where you look; a lot of untrustworthy people are more than willing to take you to the cleaners. You wouldn't expect the media centre, for instance, to be the kind of place where anything untoward could happen. But that was where the poor press officer from one of the 12 host cities was mugged – in broad daylight. And she was Brazilian.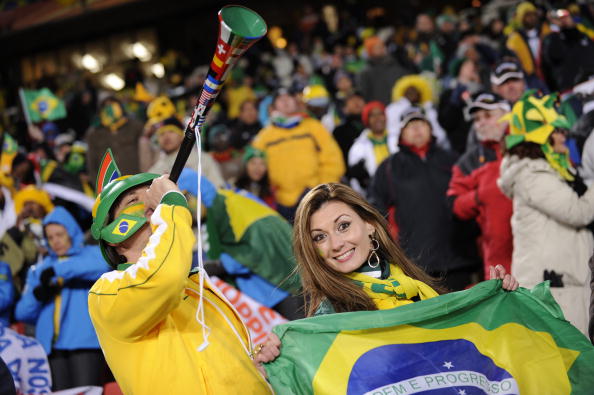 But after almost a week in this country of such colour and contrasts, all the experience has done is cement my sense of excitement for 2104 and returning to the heartland of the game. So stunning is some of Rio's architecture, so enticing the beaches, so outdoors the lifestyle, so clement the weather and so intoxicating the atmosphere that I am beginning to fear the very prospect of missing out, for whatever reason, on what will surely be the greatest footballing party ever held, 64 years – can you really believe it – since the finals last arrived on these shores.
Andrew Warshaw is a former sports editor of The European, the newspaper that broke the Bosman story in the 1990s, the most significant issue to shape professional football as we know it today. Before that, he worked for the Associated Press for 13 years in Geneva and London. He is now the chief football reporter for insideworldfootball. To follow him on Twitter click here.