Messy, sloppy, awkward, embarrassing. Just four of the adjectives that could be applied to the ongoing spat between Swiss club FC Sion and UEFA. Let's add a fifth: dangerous.
Football fans at large may not be too interested in an argument involving a middle-ranked football club that has little or no international relevance outside its own country. But didn't they say a similar thing about journeyman Belgian footballer Jean-Marc Bosman all those years ago? And we all know what a blow he struck, rightly or wrongly, at the very heart of the game.
Ever since the Bosman case, both FIFA and UEFA have been at pains to keep football within the boundaries of sport when it comes to legal disputes and not to involve civil authorities. In the main they have been successful, with the Court of Arbitration for Sport (CAS) invariably being the ultimate arbiter when it comes to resolving appeals and injustices.
Sion, however, have bucked that trend – and what an unholy row they have caused. The Swiss club, for the record, beat Celtic 3-1 on aggregate in the Europa League play-offs but were thrown out by UEFA for fielding players deemed by FIFA to be ineligible due to a previously imposed transfer ban. Both organisations claim Sion broke the rules. Well they would, wouldn't they?· But so, significantly, have all other sporting bodies including the CAS and the Swiss League.
So what did Sion do? They went to a tiny regional civil court to seek protection and got permission to field the players in question. A court which has no jurisdiction outside Switzerland but was deemed to be more legally watertight than all the sporting bodies put together.
So afraid were the Swiss League of being sued by Sion that they backed down, performed a U-turn and allowed one of their key clubs to get on with playing league games after all. So what will unfold as far as Europe is concerned? Celtic have been reinstated in a group which includes Atlético Madrid, Udinese and Rennes, with the first series of matches due to take place next week.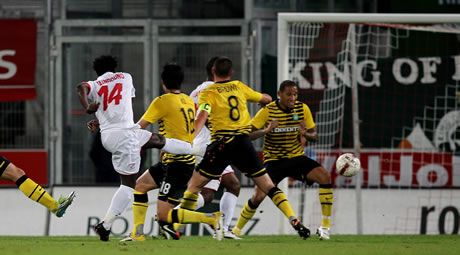 Sion's lawyer insists the Swiss courts have cleared the players to take part in the competition and that they are confident of overturning UEFA's decision. By rights, he says, UEFA has to comply with the laws of the country.
That single phrase is what this case is effectively all about, one that could end up serving as the most dangerous of precedents. Why? Because it could open the floodgates to any number of cases being rejected in the sporting arena but later upheld in the civil courts.
UEFA general secretary Gianni Infantino recently put on an air of defiance when he declared: "The civil court ruling does not affect UEFA. Civil courts have not been set up to deal with the sporting world."
And so say all of us – except that·where there's a legal will, there's a legal way. And Sion's attempt to exploit the system, fairly or not, could lead to future football disputes – and those involving other sports for that matter – going down an extremely rocky and complex road·where sporting authorities are ultimately rendered powerless and rules are only rules when·local judges deem them to be.
Andrew Warshaw is a former sports editor of The European, the newspaper that broke the Bosman story in the 1990s, the most significant issue to shape professional football as we know it today. Before that, he worked for the Associated Press for 13 years in Geneva and London. He is now the chief football reporter for insideworldfootball. To follow him on Twitter click·here.