David Beckham's American adventure had the fitting end it was meant to have, as LA Galaxy beat Houston Dynamo 1-0 in the MLS Cup final on Sunday – but then in showbiz, things always seem to go to plan.
So where next for Posh and Becks? So far Beckham's career has gone from Manchester to Madrid, to Los Angeles to Milan and back (twice), and so Paris would seem a logical next step. Paris St Germain, the Ligue 1 leaders, have been keen to show their interest in the former England captain, and the smart money is on him next taking to the field at the Parc des Princes. But what will be his impact on LA Galaxy and Major League Soccer (MLS)?
For LA Galaxy, Beckham's time can now be seen as a success. Having helped the club win the MLS Cup, they have now signed a $55 million (£32 million/€41 million) television deal over the next ten years with Time Warner.
That's before attendance figures are even touched upon. At 17,872, US football attendances are the 11th highest in the world, and have risen in recent years consistently despite the economic downturn. MLS commissioner Don Garber puts this down to Beckham, saying that away games for the Galaxy are some of the best attended in the league.
Beyond that, teams looking to join the MLS must pay $40 million (£26 million/€30 million), four times the fee required in 2000, and LA Galaxy themselves are now worth $100 million (£64 million/€74 million). So it is easy to make the case for Beckham after Sunday; he has delivered on the pitch, off the pitch and in the stands.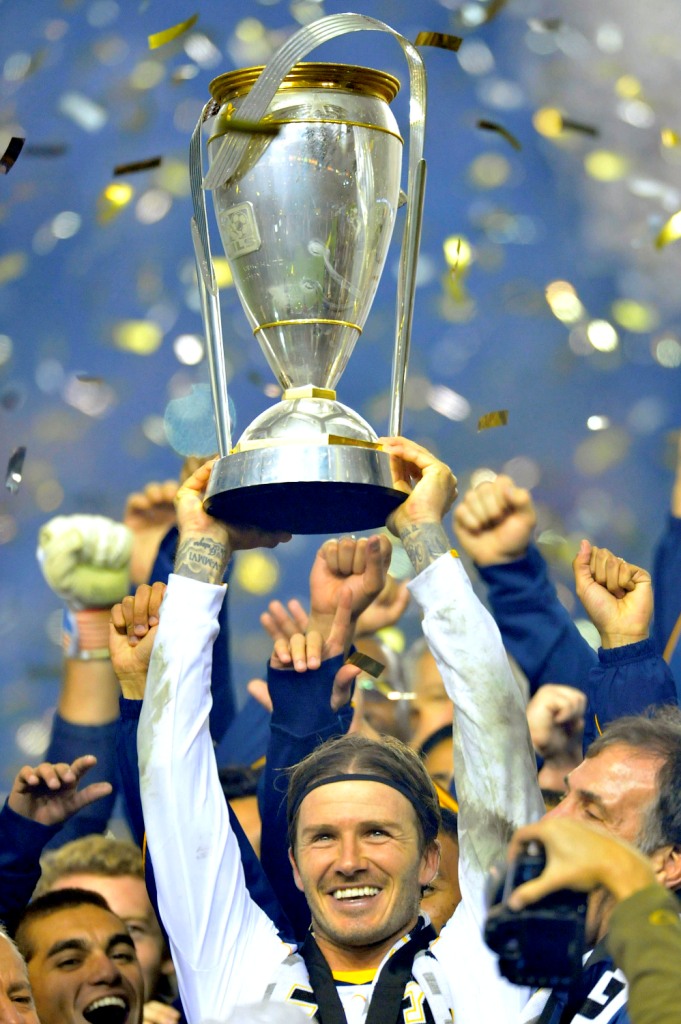 On the other hand, as US football commentator Sean Wheelock says, Beckham has not achieved nearly as much as it was thought he would when he moved to Los Angeles in 2007.
"Beckham was meant to be Pelé," he told BBC Radio last week.
"Pelé compelled millions to kick a ball for the first time.
"[Beckham] didn't play a lot, he didn't give his full effort, he missed training to attend the royal wedding – Pelé's heart was in it with the New York Cosmos.
"He demanded the captain's armband, the number 23 shirt, and the LA Galaxy acquiesced.
"Beckham did good things but he was meant to double the attendance overnight and quadruple the TV ratings."
He has also proved a divisive figure in the States, having been booed in 2009 by his own fans after returning from a loan spell with AC Milan. In a friendly game against the Italian giants shortly afterwards, he was involved in a confrontation with one of the club's own fans at half time. And he had a much publicised spat with team mate Landon Donovan (pictured below right with Beckham), after the US international made comments in a book written by US sportswriter Grant Wahl, "The Beckham Experiment".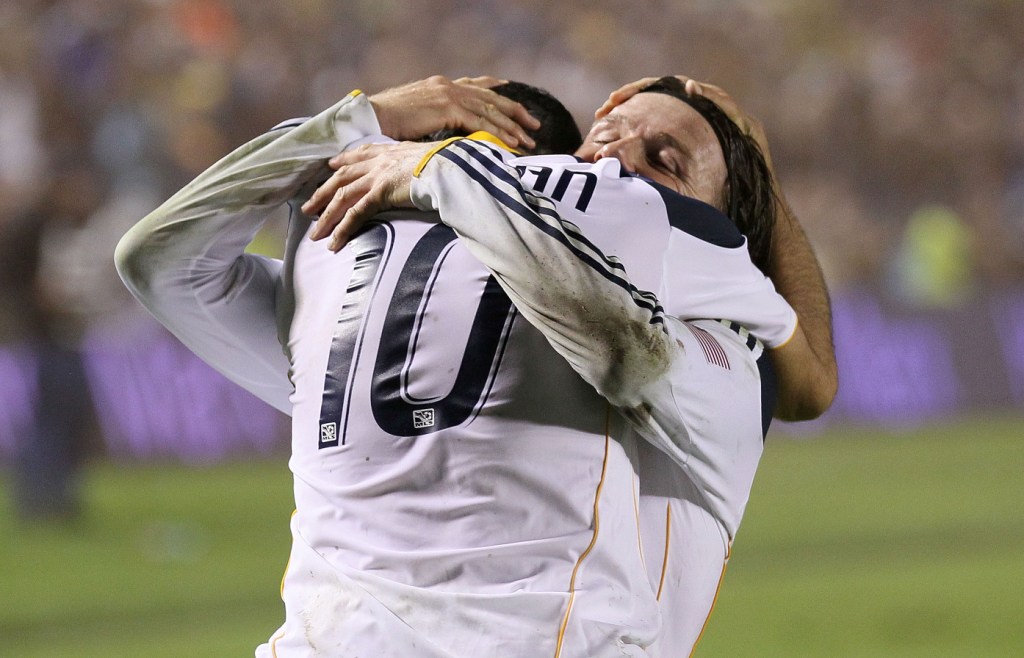 Though they made up, and certainly all seemed forgotten when the pair celebrated together after the MLS Cup final victory, some would say, perhaps rightly, that it is Donovan who has been the main driving force behind LA Galaxy's success this season. It would seem the only thing that is certain about Beckham's time in the States is that he has divided opinion.
But is he a success or not? The real measurement will be in what happens next, now that he has gone. Can American football continue to make progress, as it undoubtedly has in recent years? Galaxy's new television deal would indicate it can; they can now pay more in transfer fees for players such as Robbie Keane. And US soccer has been making progress in this area, attracting players with increasing regularity – Rafael Marquez and Thierry Henry both moved from Barcelona to New York Red Bulls, Juninho left Olympique Lyonnais for LA Galaxy, Keane (pictured below left) arrived from Tottenham and Michael Ballack has been linked with being the next big name in the States.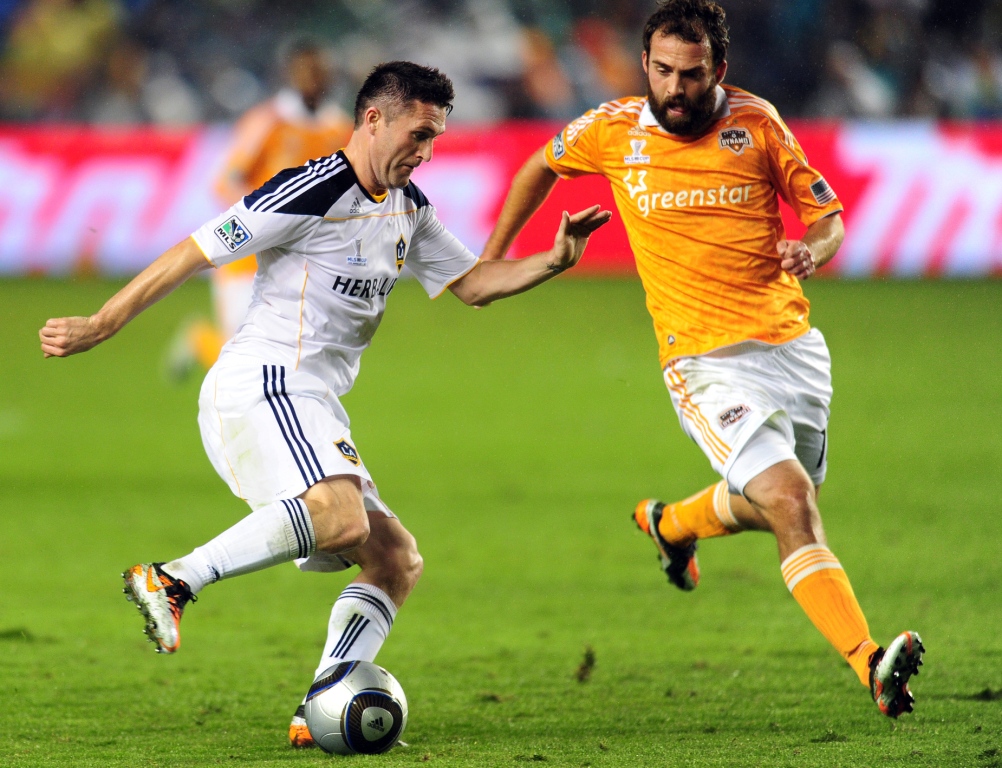 But the key now is to attract players who are at the peak of their careers, or even just beginning, to move and play in the MLS. Can the US become the Brazil of North America? Not in the sense that they can compete for the World Cup (though if, and it is a huge if, their potential was exploited and football became more popular, it is not inconceivable), but in that they possess the financial might to prise young talents from the smaller nations of the continent, and even perhaps from their rivals, Mexico. They have a long way to go, but it is possible, if the upward trend continues.
If Beckham really is to be a success, it will be because he spurred the MLS onto something bigger and greater. But maybe his success in the USA is yet to come. Rumours have abounded, and Beckham himself has indicated, that he could invest in an MLS franchise in the future.
A 19th club, Montreal, will join the league next year. Who better to invest in number 20 than Beckham?
David Gold is a reporter for insideworldfootball. You can follow him on twitter here.