British football's privileges are under threat. But don't blame Sir David Richards if Britain loses its unique status in world football. That will be the natural reaction after our Dave's extraordinary performance in Doha last week. But it will be wrong. Look to wider politics in the world body for the answer.
Not that the Premier League chairman covered himself with glory when he went to Qatar last week. His mission there was to tell the world what it can learn from the Premier League having become the most powerful League in the world. As has been well documented, he decided he would turn historian cum cultural commissar. And this was not helped by the fact that, having performed this curious, self-imposed role, he slipped and fell into an ornamental pool just as the assembled guests were sitting down for dinner. But that, it must be said, was not his fault. I was sitting a few feet away. There was no drink involved and it is the sort of accident that can happen to anyone.
Since then, much has been said about how Richards is a dinosaur and ought to go. I doubt that will happen since Richards knows his constituency very well – the 20 chairmen who make up the Premier League.

Remember that, when he took over as emergency chairmen following the defenestration of Peter Leaver, the former chief executive, and the departure of Sir John Quinton as chairmen, a Premier League rule stated that no one who was chairman of a club could be chairmen of the league. Richards was then in the Premier League as chairman of Sheffield Wednesday. But he was held in such high regard, the rule was amended and he was allowed to take over as chairman. He has remained there since his formal appointment in 1999, despite the fact that Wednesday have long since been out of the Premier League. He has kept his position because he understands what his 20 chairmen want. The rest of the world may find this strange, but that is how it is. Do not let his performance at Doha mislead you. Richards is a wily politician who knows how to keep his electorate happy.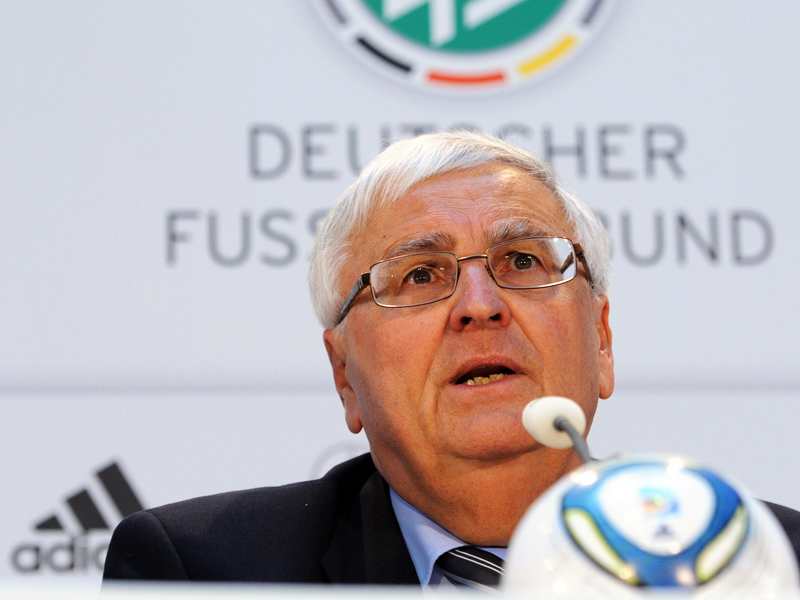 And as for Britain's unique position being under threat, that has never depended on what Richards said or did. That is part of how FIFA is changing and where Richards is only a bit player. Consider who has suggested that Britain should lose the right to have a vice-president on the FIFA Executive Committee. Why, the German member of the FIFA Executive, Dr Theo Zwanziger. Now why should he do so? The answer, I believe, lies in how the Europeans are reacting to what is happening to the world body in the wake of its worst ever corruption crisis.
Recall that the world, led by Britain, is demanding that FIFA has to reform, has to be accountable, and has to come clean. It must, so goes the demand, be a body fit for the 21st century. FIFA says it doing its best to go down that route. This has already seen Jack Warner, Mohammed Bin Hammam and Ricardo Teixeira depart. These men were, until recently, considered the supporting beams of the house of FIFA that João Havelange (pictured left) started building many decades ago, and to which Sepp Blatter (right) has added further floors. FIFA is even ready to publish documents regarding ISL that it has kept secret for years. All in the name of accountability and proper democracy.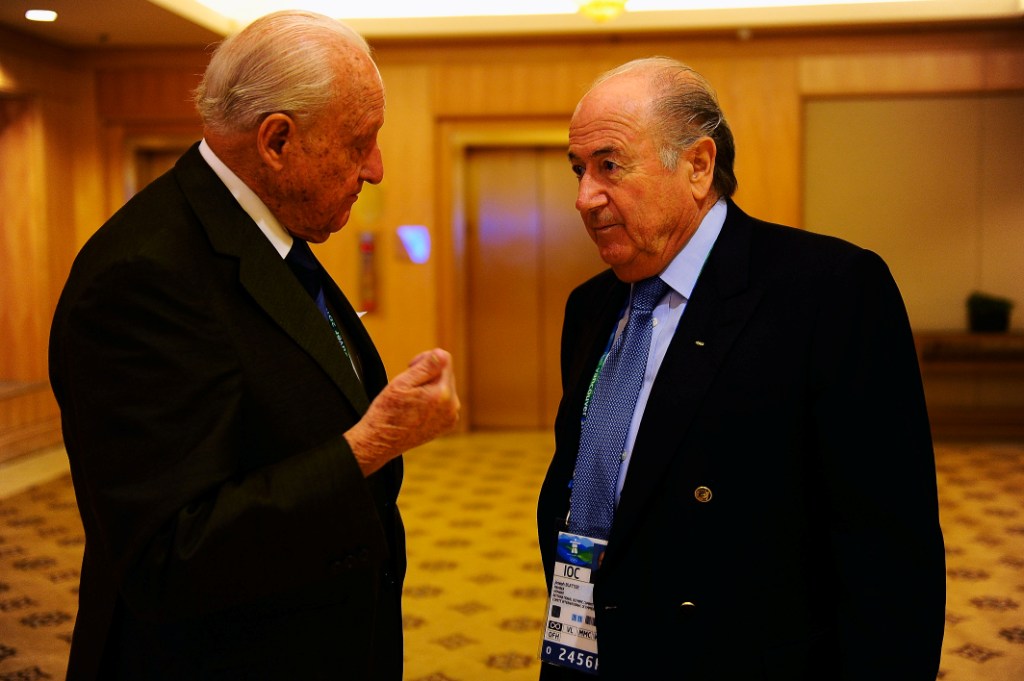 But this is where the British problem comes up. If you say FIFA should be democratic, then what is the most undemocratic thing in FIFA? Why, the British position.
Consider this: Britain has one vote at the United Nations like all other nations. And when it comes to the Olympics, there is a Great Britain team. Yet when it comes to world football, there is no country called Britain. Football just does not recognise it. There are four nations: England, Scotland, Wales and Northern Ireland.
Then take the International Football Association Board, which governs the laws of football: The four home nations each have a vote matching the vote that FIFA has. No other country has such a privilege. And, of course, the four home nations are allowed to nominate a FIFA vice-president. Again, this is a privilege unique to these isles. What could be more undemocratic, indeed quite ridiculous, in the 21st century? Of course sport has anomalies. So the West Indies has a cricket team when there is no West Indies nation. But at the International Cricket Council, the West Indies does not have 13 votes to represent the various islands that make up the team, but only one vote. British football has made one national state into four football states.
Now we all know how it came about. Britain shunned the world when Europeans wanted to set up FIFA back in 1904, as Richards (pictured) reminded us in Doha. Then for years, the FA played Box and Cox with FIFA, going in and out of FIFA and did not take part in the first two World Cups. It finally confirmed its acceptance of FIFA post-Second World War. Then it raised money to help a bankrupt FIFA and in return made sure the special privileges were part of a contract.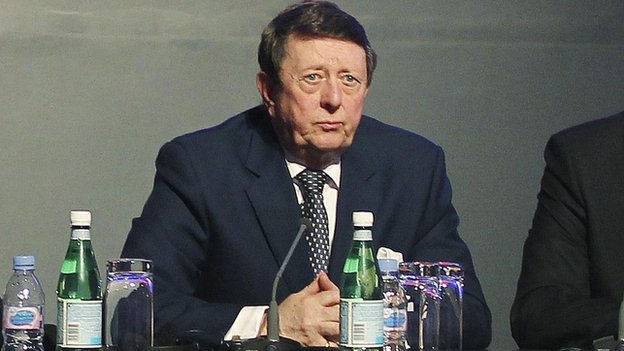 But if FIFA is to reform, can these privileges be defended?
Of course Britain is not the only country with privileges in FIFA. Europe is also ranked higher than any other continent. It gets as many places in the World Cup as the rest of the world put together, and in a 24 man Executive, Europe has eight members, twice the number that Asia and Africa have, and nearly three times what South America and North America have. This has always been justified on the grounds that Europe is the economic powerhouse of the game.
But with China catching up fast with America, and India also rising, how long can that position last? The Premier League, for instance, already derives more money from its sales abroad than from the UK.
And that is where I believe the German proposal is coming from. Europe does not want to lose its dominance in world football. Nor does it want the British home nations to be merged into one country as this would mean the number of UEFA members would fall by three and affect its ability to outvote other continents at FIFA Congresses.  The Germans clearly believe that sacrificing a British vice-presidency in FIFA is a small price to pay to help maintain the overall European position. It is part of an intricate power play where you give a dog a bone and hope it leaves you in peace.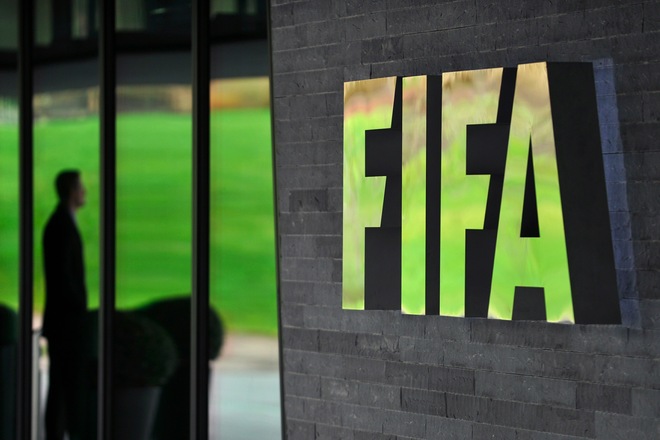 Whether this will satisfy the non Europeans who want much more is hard to say. But Budapest is one FIFA session that anyone who follows this remarkable organisation should not miss. Expect to hear voices saying, "Yes, we in FIFA are ready to reform", but this reform cannot just mean opening the books of ISL. It must also mean removing colonial privileges as well. As Sir Dave Richards might have put it, they are ready now, having stolen our games, to remove our clothes as well.
Mihir Bose is one of the world's most astute observers on politics in sport and, particularly, football. He formerly wrote for The Sunday Times and The Daily Telegraph, and was the BBC's head sports editor. Follow Mihir on Twitter.