It was billed as a "historic day" for FIFA in terms of its reform process but what happens now? It's one thing being accused of failing to sufficiently investigate corruption allegations against its members. But it's quite another actually doing something about it.
Anti-corruption guru Mark Pieth's eagerly awaited report into FIFA's recent conduct may have been hard-hitting in its conclusions and suggested firm ways of rebuilding trust. But until and unless FIFA acts on the recommendations the cynics will still swirl around football's world governing body.
The next move is supposedly the FIFA Congress in Budapest next month. That's where proposals such as splitting the Ethics Committee into two to make it more credible, limiting the terms of office for the President and vetting the appointment of key officials will be approved.

But even then, until someone is actually prevented from joining FIFA's inner sanctum because of a previously undiscovered misdemeanour, until there are concrete examples of FIFA learning lessons from the past, it's hard to grasp how last Friday's so-called day of transparency will end up being a genuine turning point in FIFA's determination to clean up its act.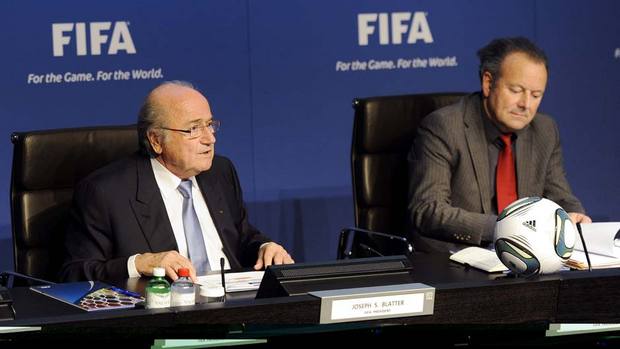 Pieth's (pictured right with FIFA President Sepp Blatter) report may have attacked the way FIFA dealt with alleged vote rigging but it was never going to call for a full investigation into  the 2018 and 2022 World Cup bidding process.
Qatar's landslide 2022 victory may have been constantly tinged with suspicion in some quarters but no firm evidence has ever been forthcoming and, more importantly, for the sake of balance any fresh inquiry into the tiny Gulf state's extravagantly funded campaign would also have had to include a probe into Russia's equally emphatic 2018 victory. One without the other would not have been fair since they were conducted simultaneously.
Pieth's anti-corruption proposals aside, there was one particular aspect of last Friday's Sepp Blatter press conference that accompanied the publication of Pieth's report which will have set alarm bells ringing among the four British associations.
Over the past few weeks, these associations have made it clear they might be prepared to give up their historically nominated FIFA vice-presidency, otherwise known as the "British seat", as part of the general reform process. But on one condition – that their role in the International Football Association Board (IFAB), the game's lawmakers, remains unchanged.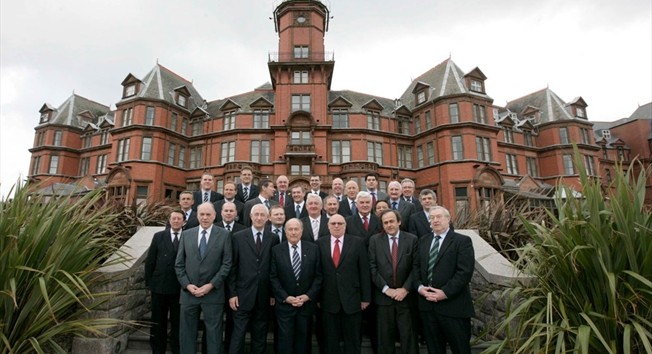 Blatter gave that particular quid-pro-quo a monstrous kick in the proverbials when he appeared to denounce the structure of the IFAB (pictured) whose composition is four representatives from each of the British associations and four from FIFA.
Any move towards "greater democracy and transparency", as Blatter put it, would inevitably mean a weakening of British influence.
"We will ask the IFAB to reform itself with a democratic, transparent and clear structure," Blatter said. Quite how that will pan out is unclear  but you can bet your life the phones will be buzzing at the headquarters of the English, Scottish, Welsh and Northern Irish FAs to get FIFA to clarify exactly what this means so that at least some retention of British privilege is maintained.
Andrew Warshaw is a former sports editor of The European, the newspaper that broke the Bosman story in the 1990s, the most significant issue to shape professional football as we know it today. Before that, he worked for the Associated Press for 13 years in Geneva and London. He is now the chief football reporter for insideworldfootball. Follow him on Twitter.