This season is turning out to be one in which football has had to look hard at itself. The critical question: is the game capable of examining itself? And if so, would changing things make this a defining football season?
I am afraid I have grave doubts.
The reaction to Bolton Wanderers midfielder Fabrice Muamba's collapse at White Hart Lane showed that the game has a soul, but much else has happened which indicates that football has a lot to do, both on and off the field, before it can lay any claim to be a moral sport watched and followed by decent people. The two semi-finals in the FA Cup last weekend proved the need for change yet again.

So, just before the first semi-final between Liverpool and Everton, which the former eventually won 2-1, Reds striker Luis Suarez (pictured below, in red) was much quoted in the media. What was striking was the relish with which he went back to one of the most infamous moments of the 2010 World Cup. The quarter-final tie between Uruguay and Ghana.
Let us recall that moment: it is the last minute of the match and Suarez handles the ball to prevent an almost certain Ghanaian goal. He knows he will be dismissed for his actions and Ghana will be awarded a penalty. But should Ghana miss this, it will offer a lifeline to his team. Ghana duly miss and Suarez becomes a Uruguayan hero as his team advance into the semi-finals.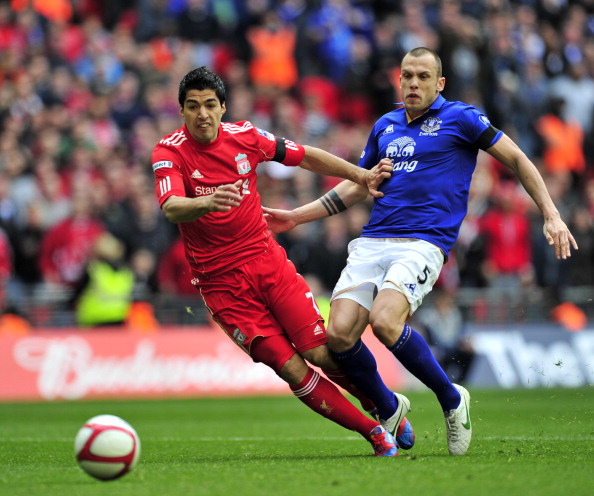 At the time when it happened it shocked many in South Africa, particularly those in the country brought up on rugby and who are unfamiliar with football's ways. As Ali Bacher, the man who ran South African cricket for many decades, told me: "In rugby that would be a penalty try, an immediate five points with the other team having a chance for a conversion which, if successful, would mean two more points. Football's penalty award encourages offenders to commit fouls knowing they stand a good chance of getting away with it. No respectable game should allow such a thing to happen."
But while the punishment meted out to Suarez was as per the laws of the game you would think, would you not, that it was an incident he would not want to talk about. If he did, surely he would express some contrition. However, his words on the eve of the semi-final, widely reported in the media, are worth repeating.
"The sacrifice I made was because it was so important for Uruguay to make the semi-finals. Now I want to win this semi-final." And then asked if he would repeat it for Liverpool he said: "It will take an enormous effort but I am dedicated to the team. If I am obliged to stop a ball in the last minute and we win, then I will repeat the [World Cup] action. Success for Liverpool is more important to me than anything else. But I do hope there will be no drama like this for me."
Now we all know the problems Suarez has had in relation to Manchester United's black French international defender Patrice Evra, and how part of his explanation for what happened is that he was misunderstood and his words mistranslated. I do not know if this is the case here, but use of words like "sacrifice" and "obliged" suggest he does not see anything morally wrong in what he did. His 'obligation' was to cheat to ensure a win, and his 'sacrifice' was to be sent off for cheating. His first loyalty was to ensure a win, by any and every means, rather than abiding by rules and being a good sportsman. And it is the absence of this moral dimension that is most worrying for football.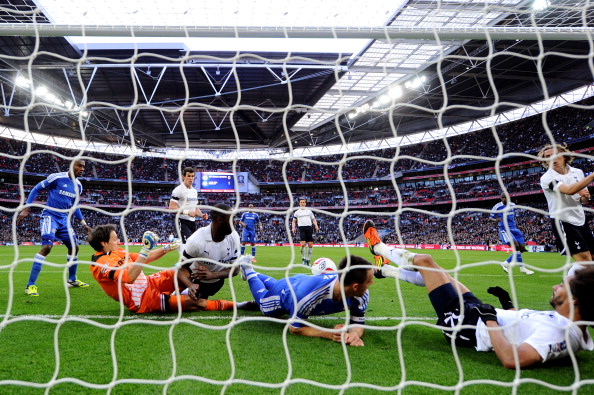 Football has always claimed to be a highly moral game, but from watching the way the game is played now, it is clear that the players do not feel morality comes into it. Indeed, it could be argued (as Bacher did) that the laws of the game actually encourage cynical, unsportsmanlike behaviour. The second FA Cup semi-final between Tottenham and Chelsea provided further examples of that. And one of them was a curious reversal of what happened in the World Cup two years ago.
This was when Petr Cech, the Chelsea goalkeeper, brought down Emmanuel Adebayor in the box. Tottenham nevertheless scored, and because of this the referee [Martin Atkinson] did not take any action against the Czech Republic number-one. Had the goal not gone in Cech would have been sent off and Tottenham awarded a penalty. Later Harry Redknapp, the beleaguered Tottenham manager, said he would have preferred that, his reasoning being Tottenham would have scored from the penalty and the absence of Chelsea's best goalkeeper for the rest of the match would have had a more dramatic impact on the game, which Chelsea won 5-1. It is, of course, asking too much for a change in the law to allow both the goal to stand and the offender in such circumstances to be sent off. The referee was within the laws when he acted as he did.
But where football does not help encourage moral behaviour is by refusing to allow referees access to technology. This resulted in the referee allowing Chelsea's second goal (pictured above) to stand despite the fact that it had not crossed the line. This has now renewed the call for goal-line technology and I can only repeat what I have often said: that the longer football continues to shun technology, the greater the danger of bringing the game into disrepute as it did during this semi-final.
What is also very interesting to note is what the 85,000-plus crowd at Wembley on Sunday was told about the second goal. Wembley has giant screens on which incidents of the match are replayed. Indeed at half-time there is a highlights show to remind us of what we may have missed. However, there was no footage of this incident shown.
Why?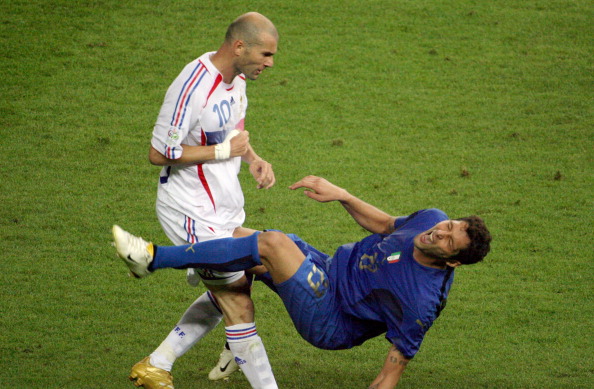 Clearly because the footage would have revealed that the ball had not crossed the line and Wembley officials did not want to take any chances with the [negative] reaction of the Spurs end. All very reminiscent of what happened during the 2006 World Cup final when the crowd at the Berlin Olympic stadium was not told that France's Zinedine Zidane had been sent off for head-butting Marco Materazzi of Italy (pictured above).
In other words, football crowds cannot be expected to act as mature human beings. So is it any surprise that some of them behave like hooligans?
This was again demonstrated before the second semi-final when a section of the Chelsea crowd refused to observe the minute's silence in memory of the Hillsborough dead and the Italian player, Piermario Morosini, who died so tragically after collapsing during a Serie B game on Saturday (April 14). Yes, the club has since apologised, and it was a minority, but from where I was at the Chelsea end it looked like a very sizeable minority. In any event even if it was only one supporter refusing the minute's silence that would be one too many. In the end, the referee had to cut short the silence to 30 seconds.
In the past when football has had hooligan and racist problems it has always claimed it was a minority. I felt then that this was a cop-out and it is so now as well. The point is that the game has to take a moral stance with regard to behaviour both on and off the field. And it has to make sure officials can use technology and do not emerge after the match with egg on their faces. Until that happens football's good name will be dragged through the mud.
Football's popularity makes it the greatest world game – but in this it could learn lessons from other team sports.
The tragedy is that I see no leaders in the game prepared to listen, let alone act.
Mihir Bose is one of the world's most astute observers on politics in sport, particularly football. He wrote formerly for The Sunday Times and the Daily Telegraph, and was the BBC's head sports editor. Follow Mihir on Twitter.