There were no oooos and aaahhhs from either the dignitaries or the media seated respectfully in the bosom of the national stadium.  Not much of the usual celebrity spotting.  In fact, a minimum of razzmatazz.
Compared with the equivalent events preceding the World Cup and European Championships, it was all rather low key.
Yet there was no doubting the significance of today's Olympic football draw at Wembley for organisers of London 2012.

The choice of a former Spice Girl, dressed head to toe in sparkling red, may have been somewhat of an odd choice to help assist with the draw but Mel C had been well briefed and played her part to the full, accompanied by, among others, former Brazilian ace Ronaldo and a pony-tailed Robbie Savage, the former Welsh international now making a name for himself as a hugely entertaining pundit.
Somehow seeing them pull the names out of the proverbial sack hardly got the pulses running. Even FIFA general secretary Jérôme Valcke – who flew straight in to explain the draw and straight out again – behaved as if it was just a routine occasion rather than something special.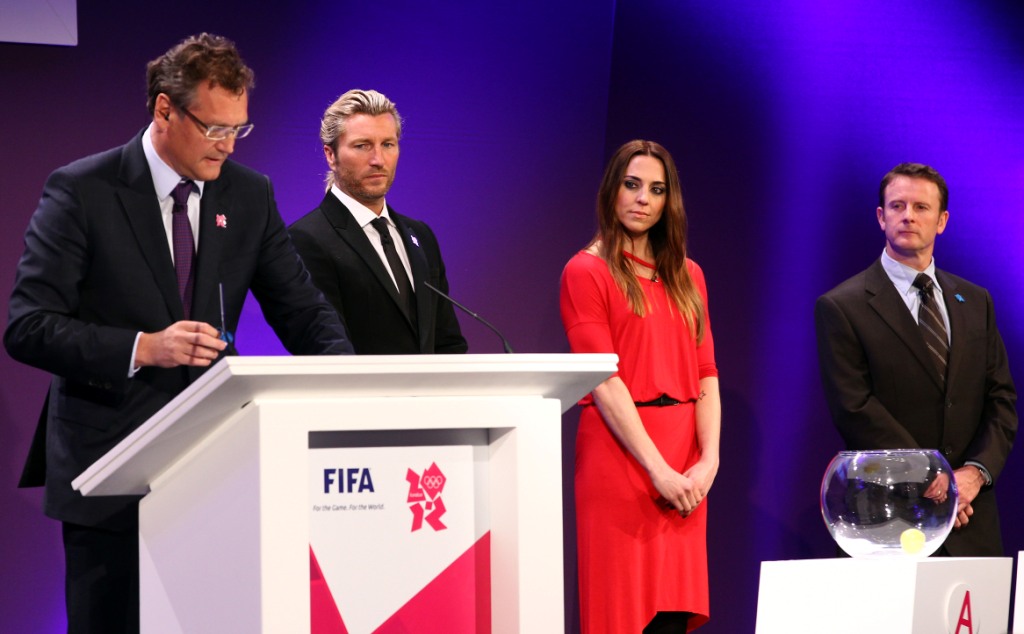 On reflection I guess you could hardly blame Valcke. The poor man has been lambasted from pillar to post over his infamous comments about Brazil's World Cup preparations – or lack of them.
This was one event where he could avoid the limelight and boy did he live up to it, rushing away from Wembley within minutes to catch a plane to his next port of call, wherever that might have been. Had Valcke not explained how the groupings worked – in other words that no team could be drawn against a country from the same confederation – and had he not made painstakingly sure that each country was placed in the right pot, you would hardly have known he was there save for his encyclopaedic knowledge of Olympic history.
Gary Lineker as the master of ceremonies did his level best to inject a touch of humour into the proceedings while Zhang Jilong, acting president of the Asian Football Confederation and FIFA's man overseeing the Olympic football tournament, said all the right reverential things.
It seemed almost inevitably part of the script that Ronaldo, looking somewhat more rotund these days having retired from the game, would pull hosts Great Britain first out of the hat for the women's draw.  Half an hour later and the entire exercise – for both the men's and women's competition – was complete.
Don't get me wrong. Clearly this was a big moment for London organisers. After all, football and the Olympics have hardly been regular bedfellows for this country. One million tickets have been sold for the Olympic tournament, the most for any sport according to London 2012 chairman Seb Coe. But that doesn't tell the whole story. There remain a further 1.3 million to offload, a daunting challenge given the ongoing debate over an all-British team; indeed whether football should be an Olympic sport at all.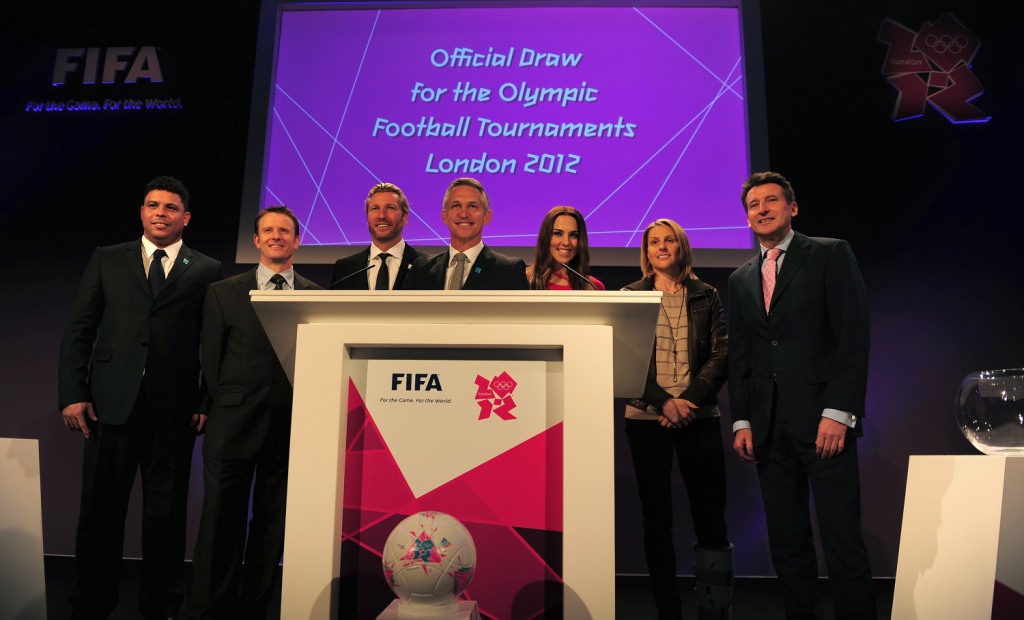 London 2012 organisers hope that today's draw will rekindle national interest. "It's a unique opportunity to share in the spirit of the Games and say, simply, 'I was there'," said Coe. The problem is, no-one can buy them for another couple of weeks.
The matches will take place at Wembley, Old Trafford, the Millennium Stadium in Cardiff, St James' Park, the City of Coventry Stadium and Hampden Park. "The bid was very clear – to, where possible, enshrine the Games not only in London but throughout the UK. We are a football loving nation," said Coe.
"I think over the next few weeks and months, now that we know which groups are playing where, that will help. I'm delighted this football tournament will play such an important role in our Games."
And so say all of us. The draw certainly threw up some mouth-watering fixtures, not least Great Britain-Uruguay among the men and Great Britain-Brazil among the women. But the prospect of swathes of empty seats for non-British fixtures must be a daunting thought.  And it once again raises the obvious question. If so many tickets are still available, how come they are not already on sale and we have to wait another fortnight or so? It was a question neither Coe nor any of his colleagues could convincingly answer.
Andrew Warshaw is a former sports editor of The European, the newspaper that broke the Bosman story in the 1990s, the most significant issue to shape professional football as we know it today. Before that, he worked for the Associated Press for 13 years in Geneva and London. He is now the chief football reporter for insidethegames and insideworldfootball. Follow him on Twitter.