Another corruption scandal exposed, more top names disgraced – and once again Sepp Blatter has seemingly slipped through the net of culpability.
No-one in sports administration has become more of an expert in the "not me, Guv" stakes over the years than the FIFA President who has once again distanced himself from any wrongdoing, this time in the explosive ISL bribery case.
By acknowledging that he was the person referred to as P1 in  Swiss court documents which FIFA published and which lifted the lid on an affair that has marred his 14-year Presidency, Blatter has taken a calculated gamble but one which, in a way, he had to.

Blatter has made it his personal crusade to reform FIFA in the last two years of his topsy-turvy Presidency and bring about greater transparency. To have allowed the ISL case to drag on any longer would have contaminated every single step of this process.
Yet it is now clear Blatter knew that his predecessor, João Havelange (pictured below, left), pocketed "commissions" from FIFA's former marketing partner in exchange for lucrative World Cup television rights.
So what he is effectively admitting is that FIFA did nothing to sanction Havelange or his former son-in-law Ricardo Teixeira, who between them were alleged to have received 41 million Swiss francs (£27 million/$42 million/€34 million) from ISL for personal gain.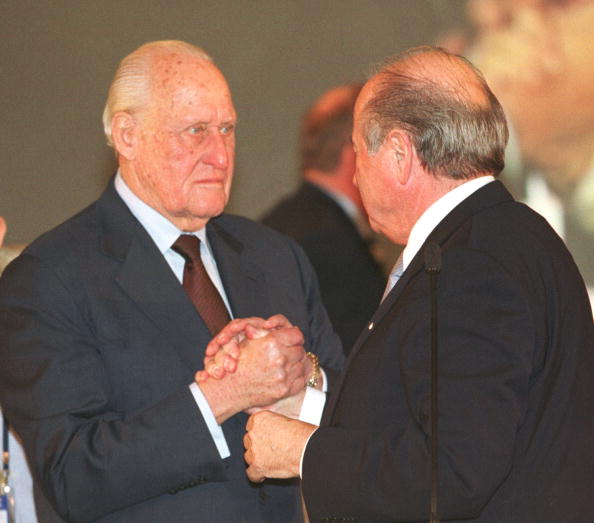 Cover-up? Not according to Blatter (pictured above, right) who argues firstly and foremost that he has never been accused of anything and therefore has nothing to hide; and secondly that the commissions were not considered a criminal offence at the time they were paid – between 1992 and 2001.
Spurious reasoning? Some might say so. Trustworthy any longer? Debatable. Blatter, who was FIFA general secretary at the time the payments apparently took place, will doubtless declare that he has no intention of resigning, just as he has done over a number of previous controversies that have cast doubt on his credibility over the years.
Ironically, until being forced into a position of greater openness following last year's cash-for-votes scandal, FIFA itself sought to keep the ISL case under wraps. Now that the documents have been published following a concerted campaign by a series of media organisations to get to the truth, critics of world football's governing body will rightly ask how FIFA can possibly turn a blind eye to the vast sums taken in kickbacks by Havelange and Teixeira, however long ago the affair took place.
A year ago, FIFA's Ethics Commission dropped a disciplinary investigation against Jack Warner over his role in the cash-for-votes scandal when the former Confederation of North, Central American and Caribbean Association Football (CONCACAF) boss and FIFA vice-president got in first by walking away from all his football roles. Teixeira (pictured below, left) recently did the same thing, citing ill-health, while Blatter has made it clear that only the full FIFA Congress can retrospectively punish the ageing Havelange who is still FIFA Honorary President.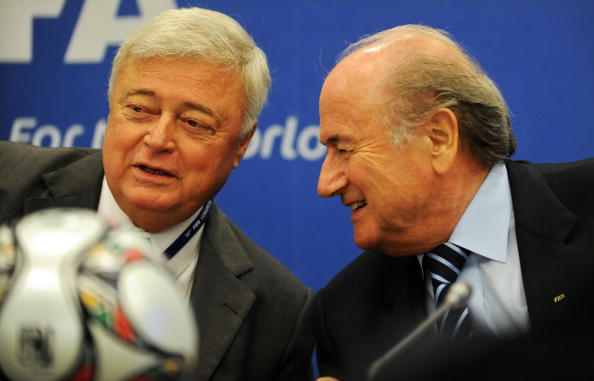 A satisfactory conclusion to the affair? Hardly.
What happens next is anyone's guess. Blatter is likely to face a media onslaught at Tuesday's (July 17) press conference, being streamed round the world, that follows a meeting of the FIFA Executive Committee in Zurich at which the chairmen of the revamped two-chamber Ethics Committee will be announced.
Not for the first time, but crucially with his make-or-break reform process in full swing, Blatter will have to mount another of his renowned charm offensives and muster all his qualities as a shrewd politician to prevent his reputation taking another downward spiral just when he is at pains to win over a sceptical public.
Andrew Warshaw is a former sports editor of The European, the newspaper that broke the Bosman story in the 1990s, the most significant issue to shape professional football as we know it today. Before that, he worked for the Associated Press for 13 years in Geneva and London. He is now the chief football reporter for insidethegames and insideworldfootball. Follow him on Twitter.