Thirteen years ago, during a trip to California, I watched the United States beat China in a nail-biting penalty shootout at the famous Rose Bowl to clinch the women's World Cup amid intoxicating euphoria.
It was an awesome spectacle in front of a staggering 90,000-plus crowd – made even more so by Brandi Chastain becoming an overnight celebrity by ripping off her shirt at the finish and swinging it in the air, pictures of which were immediately flashed around the world.
A moment of insanity, she called it, saying she had simply lost her mind.
No-one among the Team GB women's team went to quite such impulsive lengths at Wembley last night but the atmosphere in their showpiece fixture against Brazil, despite being on the other side of the Atlantic and played in far cooler conditions, somehow reminded me of that landmark afternoon in Pasadena.

Never in my wildest dreams did I imagine, when I saw the Americans lift the World Cup almost a generation ago, that British women's football – for so long watched by the proverbial two men (or rather two women) and a dog – would capture the same imagination quite so wildly.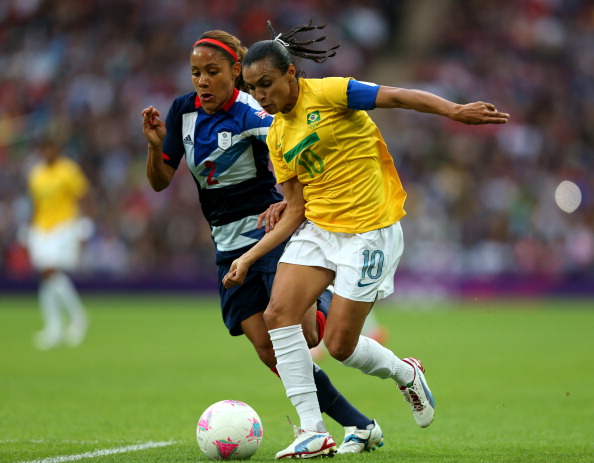 But that's exactly what Hope Powell's team has done, last night's sensational 1-0 win over Brazil marking the pinnacle of years of improvement and sending Team GB into an eminently winnable quarter-final against Canada with maximum points after three straight wins.
And they thoroughly deserved it in front of a record crowd of 70,584 for a women's game in the UK that every one of the players will remember for the rest of their lives.
Team GB, remember, had never before fielded an Olympic team. Brazil, playing the same kind of samba football as their men – one-touch, fluid, easy on the eye – went into the tournament as gold medal favourites and, in Marta (pictured above, in yellow), had the best player in the world.
Both sides had already qualified for the last eight but do not let that take anything away from Team GB. They took the lead after a mere 90 seconds through Steph Houghton (pictured below, in blue) – who has now scored in every game – and never looked back.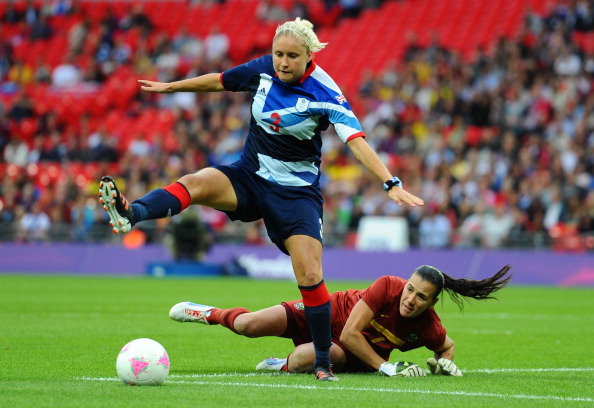 They could even afford to miss a second half penalty and although they were under the cosh at times – Alex Scott heading against her own post – they had the best chance from open play of the second half when Kelly Smith planted a free header straight at the Brazilian keeper.
In the end Houghton's effort from an acute angle after great work from Karen Carney was enough to top the group. The celebrations at the final whistle said everything about how they showcased their sport like never before in front of a crowd that was only 6,000 short of the Olympic record set in 1996.
Women's football may have struggled for recognition in the UK, and probably still will when the new Premier League season begins. But the sport has advanced a long way with a Women's Super League launched last year and 1.38 million players participating at various levels.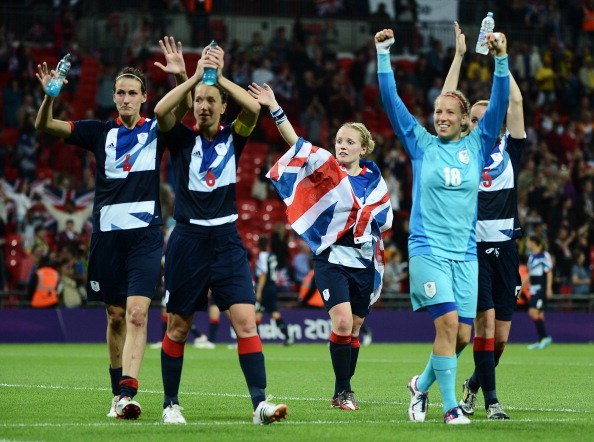 London 2012 has provided a platform for Powell's team (pictured above) to step into the limelight. They have grown in stature with each outing and suddenly, remarkably, a medal is now a realistic possibility.
When Dame Kelly Holmes gave a speech to the team on their first day in the Athletes' Village, she told them: "You are not just footballers, you are now Olympians." How they have embraced that sentiment.
Andrew Warshaw is a former sports editor of The European, the newspaper that broke the Bosman story in the 1990s, the most significant issue to shape professional football as we know it today. Before that, he worked for the Associated Press for 13 years in Geneva and London. He is now the chief football reporter for insidethegames and insideworldfootball. Follow him on Twitter.