Throughout this week, UEFA has been trying to spread the message that racism – indeed any form of discrimination – has no place in European football.
Champions League and Europa League games were dedicated to transmitting the message that the fight against racism will be given utmost priority.
The campaign could not have been more timely, with racism at the forefront of the game following not only the John Terry affair but, more worryingly, the disgraceful scenes in Serbia a couple of weeks ago when England under-21 players allegedly suffered constant abuse.

UEFA's disciplinary panel is due to hear the case in just under a month but this is surely the time for European football's governing body – if it really means what it says – to stand up and be counted.
And in particular its President Michel Platini. If ever Platini needs to put his money where his mouth is after constantly stressing his organisation has a "zero tolerance" attitude towards racism, that time is now.
What happened in Serbia proved, if anyone thought otherwise, that the scourge of racism is still rife in various parts of Europe.
Recent history suggests UEFA will only dish out minor sanctions. Let's face it, its track record is not exactly brilliant in this regard. Surely this time it will impose a punishment that acts as a proper deterrent rather than something paltry that will mean absolutely nothing.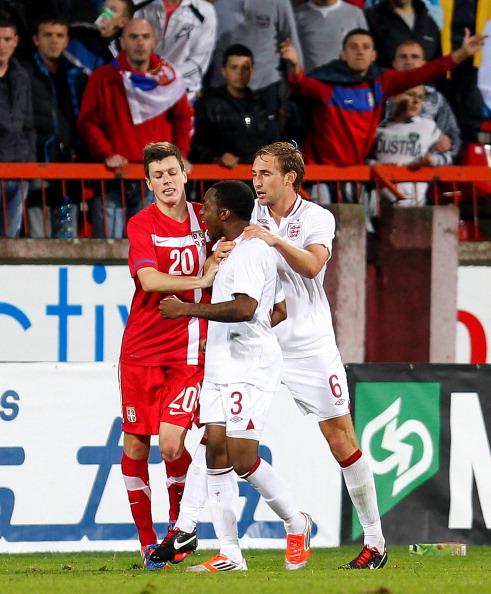 Anyone who heard those monkey chants and saw the insane scenes that followed the final whistle in Kruševac could not fail to have been appalled. Many have now called on UEFA to come down hard on Serbia. The country, after all, has been in hot water many times before because of crowd trouble. Platini himself has warned Serbia in the past that UEFA will not tolerate any more instances of fan violence, whether verbal or physical.
There is of course a bigger picture as to why UEFA must get tough: so that the message reaches everywhere where racist abuse still occurs. But will the authorities have sufficient courage? It's a fair question to ask especially when you consider that Danish striker Nicklas Bendtner was fined £80,000 ($130,000/€100,000) for exposing branded underwear during Denmark's 2012 European Championship encounter with Portugal. That was considerably more than a majority of UEFA sanctions for racism. How is that either logical or justifiable?
I know full well that UEFA is also, of course, looking into alleged misconduct by England players at the same fixture but it's the racism aspect that has upset everyone the most. In that regard, UEFA needs to make an example of Serbia. More often than not, it's the fans who are unfairly victimised when it comes to sanctions taken against clubs and federations. But when it comes to racism, supporters are the very people who should suffer the consequences.
So why not force Serbia to play matches behind closed doors? Or maybe ban them from future competitions? In the wake of what happened in Kruševac, the Serbian authorities have tried to mitigate any punishment they might incur by a clever pre-emptive strike, suspending four of those caught up in the fracas.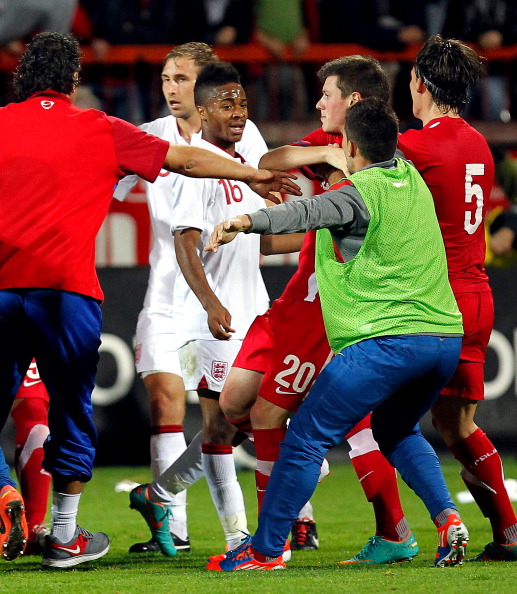 Clever but not clever enough. UEFA should make its own independent judgment of what happened without being swayed by what the federation has done. The sheer effrontery of the Football Association of Serbia (FSS) to claim that no racism took place would be laughable if it wasn't so serious. Maybe they were watching a different game to the rest of us.
The Serbs might argue that the English have no right to criticise others, given recent Terry affair and Luis Suárez's eight-game ban last season. I am no apologist for these cases. The difference is that in both instances the authorities took action. Plus, of course, the fans were not directly involved.
I have heard it argued many times that the problem in Eastern Europe is cultural; that some of these countries are light years behind when it comes to multi-cultural tolerance and diversity and simply need better social education to catch up. It's a genuinely fair argument. What it must not be allowed to do, however, is stop UEFA having the authority and bite to clamp down where necessary rather than be shown up as being too meek. One can only hope the events of Kruševac are not swept under the carpet.
Andrew Warshaw is a former sports editor of The European, the newspaper that broke the Bosman story in the 1990s, the most significant issue to shape professional football as we know it today. Before that, he worked for the Associated Press for 13 years in Geneva and London. He is now the chief football reporter for insidethegames and insideworldfootball. Follow him on Twitter.