Here we go again – just like clockwork. Only this was arguably the cruellest cut of all.
Six months after winning the greatest prize in European club football – the one Roman Abramovich craved from the moment he walked through the door – Chelsea have brutally cast aside the manager who brought it about, one who gained legendary status virtually overnight.
Time waits for no man, not least when it comes to football's mantra of short-termism. But Roberto Di Matteo, after succeeding – however fortuitously – on the biggest stage of all, deserved to be given longer rather than become the latest victim of the managerial merry-go-round at a club for whom the word ruthless might well have been invented.

Eight managers have now come and gone at Chelsea in as many years. Read that again just to take it in. Of course, football is a results-driven business and of course, most fans support clubs who at some stage invariably get rid of the manager, or first-team coach, as he is otherwise known.
But surely not with such predictable and alarming regularity. Not with this illogical timing given that Chelsea are technically still fighting to prevent becoming the first Champions League defending champions to be eliminated at the subsequent group stage. And not with this savagery given that Di Matteo managed to pull off precisely the coup all his luckless predecessors tried and failed to emulate, including the mercurial José Mourinho.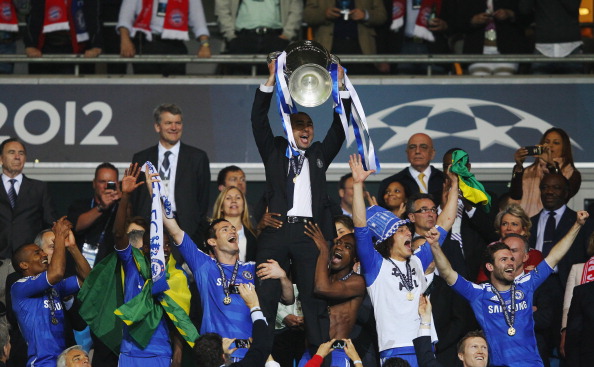 Let's not forget that in addition to the Champions League, Di Matteo (pictured above, with trophy) also captured the FA Cup: two trophies within two months of being brought in as a caretaker. Not bad going. Chelsea are also third in the Premier League, not third from bottom. Yet instead of a grateful owner going to any lengths to keep him, Di Matteo was shown the door at the first sign of a wobble. You couldn't make it up.
Or maybe you could. Chelsea, you see, operate differently to most definitions of convention. Once he had delivered the Holy Grail, there was only way for Di Matteo to go – downhill. Loyalty? Forget it.
What exactly Abramovich hopes to achieve by this latest merciless act, which stunned respected voices far beyond the domestic confines of English football, is an intriguing question. Reading between the lines, it seems clear he never really wanted Di Matteo in the first place but had his hand forced into offering a two-year deal once the Italian, a low key, publicity-shunning figure in contrast to the big-name personality Chelsea identify with their status, unexpectedly lifted the Champions League. In other words by default.
On the face of it, it seems any excuse was found to relieve Di Matteo of his duties, a classic ploy but as distasteful as it is unfair. Not even winning the Champions League could save him. Instead of acting with a modicum of class, Chelsea, lamentably, reverted to type.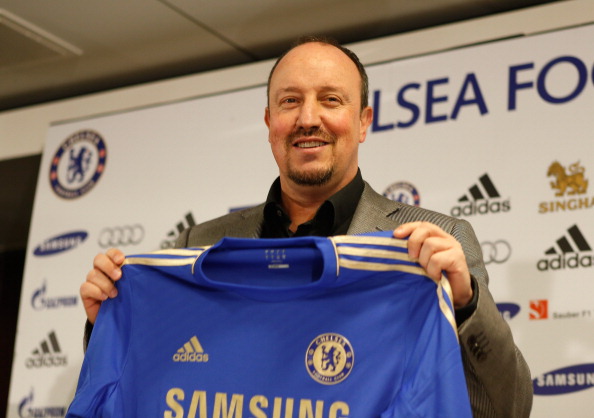 What has added even more farcical uncertainty to the situation is that the man brought in to replace Di Matteo, former Liverpool boss Rafael Benítez (pictured above), has only been given a short-term deal until the end of the season. Di Matteo was himself, remember, initially a stopgap after replacing the woefully inadequate Andre Villas-Boas. Yet as well as delivering trophies, he managed to heal the much-publicised wounds among the playing staff. Now, crazily, Benítez – who of course pushed all the right buttons when he was unveiled before the media – has been appointed as a stopgap too.
For whom? The answer, according to virtually everyone except the man himself, is former Barcelona boss Pep Guardiola, currently taking a sabbatical as he weighs up his options. For some misguided reason, Chelsea seem to think that if they court and hire Guardiola, they will become the new Barcelona, win all the big trophies every year – and do it with style. It is very much a flawed assumption. What if Guardiola also fails to match Abramovich's ambitions? Would the Nou Camp legend, one of the most respected figures in world football, suffer the same fate as those before him?
However successful Benítez is in the next few months, Chelsea have just as great a challenge off the field as on it. Perhaps even greater. Their chief executive Ron Gourlay told me in a recent interview that all the negative publicity heaped on the club over the John Terry affair was not a fair reflection of the work they do in the communities and how seriously they take their social responsibilities. Gourley also showered Di Matteo with praise – yet less than two weeks later he was unceremoniously ousted. However pointed the dig at his former club, no wonder Villas-Boas, now at Tottenham Hotspur, described Di Matteo's dismissal as just another day at the office.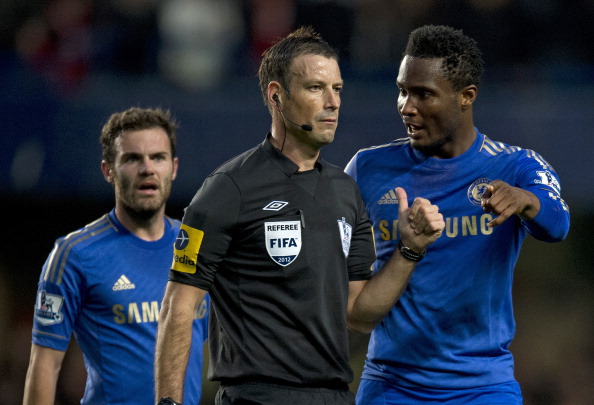 To make matters worse, Chelsea's international image has now been further damaged by the Mark Clattenburg (pictured above, centre) case, which has been thrown out not just by the police but the footballing authorities too. This was not the first time, remember, that the club had made an official complaint about a referee that proved to be unfounded, rather than keep it in-house. Chelsea may insist that all these unsavoury events were not of their own making and that they have been wrongly victimised. The challenge now is to try to claw back some of the global respect and admiration they have lost over the last few, tempestuous weeks. It will be a tough ask.
Andrew Warshaw is a former sports editor of The European, the newspaper that broke the Bosman story in the 1990s, the most significant issue to shape professional football as we know it today. Before that, he worked for the Associated Press for 13 years in Geneva and London. He is now the chief football reporter for insidethegames and insideworldfootball. Follow him on Twitter.