It is just over two years since that momentous December day when Qatar stunned the footballing world by winning the race to stage the 2022 World Cup by a landslide.
At virtually every turn since, Hassan Al-Thawadi and his campaign team have had to cope with negative reporting about the methods used by the tiny Gulf state to achieve one of the most jaw-dropping results in the history of sports event bidding.
But if you think Al-Thawadi – the razor sharp, fast-talking English and American-educated lawyer who was, and still is, the public face of Qatar 2022 as he dashes round the world – is allowing all the whispers of suspicion, dirt digging and unproven allegations of corruption to halt Qatar's focus in its tracks, think again.

Sitting in his spotlessly clean yet surprisingly sparse office on the 37th floor of the downtown Doha building that houses both the burgeoning numbers of recruited 2022 World Cup staff and the Qatar Football Federation, Al-Thawadi concedes the criticism has been painful.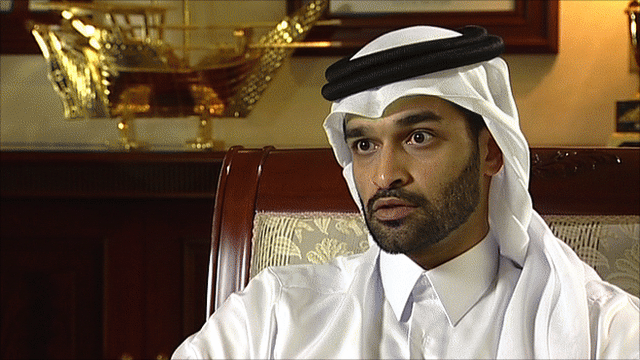 Qatar may have spent big to get their message across and made mistakes along the way. But never having been proved to break any FIFA rules, Al-Thawadi (pictured above) remains bemused by the scale of the backlash and the number of misconceptions.
"There is no doubt the hurt is always going to be there," he explained.
"I welcome constructive criticism because, guess what, nobody's perfect.
"South Africa in 2010 was a great success on so many levels yet wasn't perfect.
"But if it's not constructive criticism all you can do is look at the glass as half full.
"I am learning about the school of hard knocks but all I am interested now is the future."
FIFA general secretary Jérôme Valcke's infamous leaked email suggesting last year that Qatar bought the World Cup set the ball rolling in terms of raising obvious questions over the bidding process and hardly helped the tiny Gulf state's cause.
Valcke's untimely comments were construed in different ways, however, with many seasoned observers reasoning that what he actually meant was that Qatar's huge marketing spend gave it a natural advantage over other 2022 contenders.
"You can look at virtually anything and draw inferences," Al-Thawadi argues.
"It's like the parody where six blind men are walking round an elephant and are asked to describe it. The point is, we know what we are doing and nothing will stop us. We have to keep our eyes on the ball. The minute we don't, people will say we can't deliver."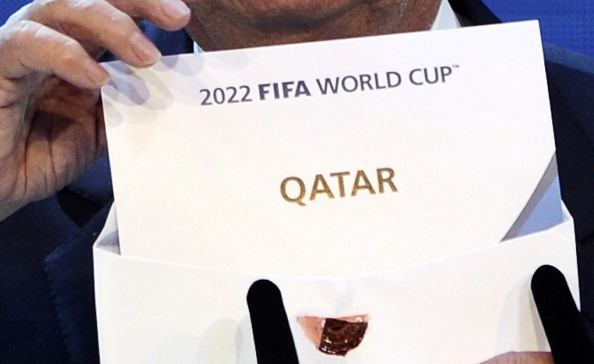 Despite the continuing picking away at Qatar's tactics, Al-Thawadi is determined to leave all the ill-feeling and negativity behind, however many times in the next few years the nation-building vision might take a hit.
Whether he likes it or not, however, the heat issue is unlikely to just disappear. Amid the growing clamour to switch the World Cup to the winter months, Al-Thawadi explains his personal thinking. "Look, it's very simple. We bid as a summer World Cup with cooling technology, [But] if the pillars of the football community come back to us and tell us winter or otherwise…then we will listen. But make no mistake, the cooling technology is a legacy concept. It opens up two thirds of the world to being able to enjoy their summers. Right now, the plan is still to hold the tournament in summer."
While the searing desert heat remains the main focus of the opposition camp, size comes a close second. The furthest distance between stadiums at 2022 is likely to be around 70km but Al-Thawadi doesn't see that as an issue either. The Olympics, he points out, stages 26 sports in one city. So, he argues, in the same way Qatar – half the size of Wales – will cope with millions of fans pouring into the country and snaking their way to the 12 stadiums, nine of which are being built from scratch starting in 2014.
He is not alone among key administrators in dismissing smallness as a problem. Sebastian Coe, the public face of London 2012, told the recent inaugural Doha Goals conference – aimed at using sport as a tool for positive change – that size did not necessarily matter and was certainly not an argument for knocking Qatar's success.
"It will be a mixture of the two," says Al-Thawadi. "It's a new concept, a bit like the Olympics but the feel will definitely be football. Fans will feel safe, they will feel secure, they will feel comfortable. They will also have a lot of fun. They will not only be physically cool; they will be cool in every sense."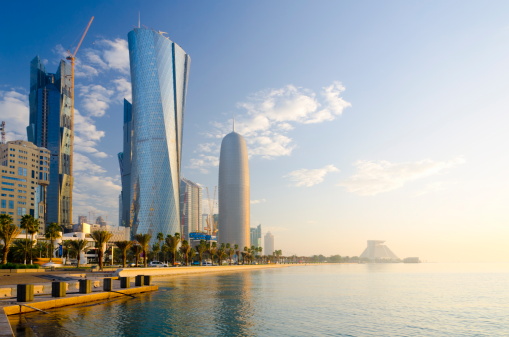 Pinned to a wall on a lower floor of the same building, known as the Al Bidda Tower (pictured above), is a detailed planner outlining what is headed "Programme Wide Masterplan: Stage One Draft".
Al-Thawadi quickly intervenes to point out that this complex chart of diagrams and arrows is not for public consumption – except to certain staff and consultants already recruited.
But if anyone had any misgivings about Qatar's ability to pull off what many believe is mission impossible, this operational blueprint – covering infrastructure, stadium construction, environment, transport and a host of other organisational features – provides an immediate insight into the work that is already being carried out to bring the World Cup to the Gulf a decade from now.
As does the soon-to-be-released strategy document which covers, over 44 pages, the next three years, setting out operational goals and objectives of Qatar's programme during the initial 2012-2015 period. It's a complicated read but a useful exercise in ascertaining how out of the box, if you like, Qatar is thinking.
Legal and security committees have already been set up to provide crucial advice and feedback, all designed to create positive a impact and enhance the fan experience both at the stadiums and in entire neighbourhoods.
It seems a tall order, particular given Doha's ghastly traffic congestion with cars gridlocked at peak times and pretty bad throughout the rest of the day. One taxi driver told me that the problem was that everyone owned a car – and insisted on driving their own rather than sharing.
The horrendous jams, insists Al-Thawadi, will change completely once an entire metro and road network is constructed, with the first signs of the progress likely to be sometime in 2014. The combination of billions of dollars and fierce determination can go a long way.
"There is a significant amount of work that needs doing," concedes Al-Thawadi. "Tenders are already out for the first tunnelling phase but I look at it like a 400-metre race. Can you go flat out early? No. Can you build up to it slowly? No. It's a fine balancing act and the next 10 years are exactly like that. We are putting into place a decision-making process, up and down the chain, that is quick and efficient."
But what, I asked him, was Qatar going to do about its human rights record regarding migrant workers which is constantly questioned in the media and seems to be at odds with the vision of multiculturalism?
"This gets raised all the time and for me it's kind of strange because we have always said we are making a commitment towards the human and social elements which are very important," he responds. "In all constructions contracts there will be requirements that meet international standards."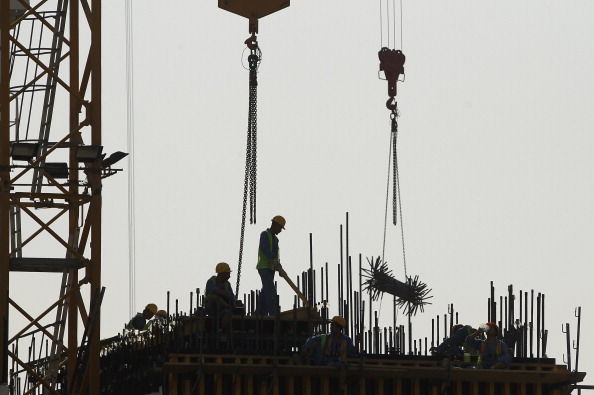 Indeed, Al-Thawadi is fiercely proud of the legacy element that Qatar has promised. Last week's Doha Goals conference, pulling  together many of sports' leading decision makers and stakeholders, was a classic example of the passion being demonstrated to use sport as a tool for positive change, not just in Qatar but the entire region.
Much has been made already of the jaw-dropping Aspire Dome, the state-of-the-art multi-sport venue that is used both a training and coaching headquarters for aspiring young Qatari hopefuls and hand-picked African athletes being integrated into Qatari life, and as a conference centre to spread the message of positioning the oil-rich state as a true sporting hub.
Al-Thawadi insists Qatar's relentless quest to be taken seriously would have happened regardless of whether or not they won the right to stage the World Cup. Many punters had never heard of Qatar as a sporting destination prior to the bid but Al-Thawadi counters: "The World Cup might have been a catalyst but don't forget we have also bid for the Olympics and we've already hosted a string of major international sports events. Aspire got built years before the World Cup came on board. To dispel the myth very clearly, sport is within our DNA."
And football in particular. Al-Thawadi refutes the suggestion that Qatar doesn't deserve the World Cup because it has no footballing pedigree and has never qualified for the finals. "Football wasn't born here overnight just because of 2022. I don't buy the pedigree argument. Asia now has a strong standing in world football and it's not easy qualifying. Don't forget that in terms of club football Al-Sadd (Qatar's leading club, pictured below) came from nowhere to win the AFC Champions League last year. That shows the pedigree is being built. Look how long it took Africa. We have only been in place since 1971 as a country."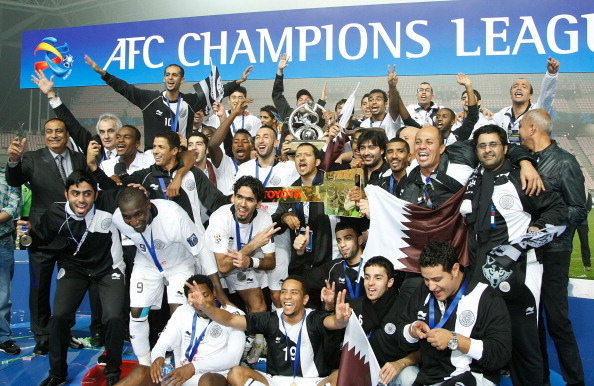 Which is why the aspect of nation building is playing such a key role in 2022 planning, just as it did in South Africa in 2010. "We are perhaps on a scale no-one has seen before because the concept is not limited to the borders of Qatar and is about the entire Middle East," said Al-Thawadi. "We want the power of sport to break down stereotypical barriers."
But while the ideology might be for a Middle Eastern World Cup, Qatar has no intention of sharing the tournament with its neighbours. UEFA President Michel Platini, who has pushed through his plan for a pan-Continental European Championship in 2020,  suggested recently that multiple hosting might also work for Qatar, the idea being to allow other Gulf states who could never stage the World Cup on their own to have a piece of the action. But Al-Thawadi says this is not part of the grand plan and dismisses it outright. "It's not something that was part of our bid. For me it's a Qatari World Cup."
Which makes him even more determined to succeed, regardless of the tunnel vision he believes some of his critics may have. "When I look back – sleepless nights working on our final presentation and coming up with innovative concepts in our technical bid – I'm very proud of what we've done. After all, we were new to this whole industry; we didn't know anybody. When we won the bid on December 2, 2010, some of my closest non-Qatari friends rang me up in tears. Combining all the different cultures outweighs all the knocks we have taken. I have a pretty positive feeling that in time people will understand what we are trying to do too."
"We have a great concept and a great dream but the measure for me in terms of whether we are on the right path has always been commitment of the people and the operational staff who buy into the vision: people willing to work through thick and thin. That commitment is incredibly uplifting."
Andrew Warshaw is a former sports editor of The European, the newspaper that broke the Bosman story in the 1990s, the most significant issue to shape professional football as we know it today. Before that, he worked for the Associated Press for 13 years in Geneva and London. He is now the chief football reporter for insidethegames and insideworldfootball. Follow him on Twitter.