"If you add up the amounts clubs have spent in the last three or four years I think maybe you will find a surprise." Jose Mourinho
Jose Mourinho sat in the press conference with his arms folded. His bottom lip was pouting. This was the face of a child whose daddy had told him he was not allowed a lollipop. For the world's top managers, and the habitually successful Portuguese is certainly one of them, the football transfer market has all the thrills of the sweetshop for a schoolchild. But for the Chelsea manager this summer, there has been no sugar rush.
According to Transfermarkt.com, Chelsea have comfortably the most valuable squad in the Premier League, worth €560.25 million and fully 22.5% more valuable than second-ranked Manchester United. This value is not the result of accident or Mourinho's magical coaching. Chelsea have the most valuable squad after sustaining more than a decade of aggressive transfer-market spending.
Even Mourinho, the main beneficiary of the Chelsea owner Roman Abramovich's largesse as he was festooned with Didier Drogba, Ricardo Carvalho, Arjen Robben and Petr Cech upon his arrival from Porto in 2004, had to admit as much. "In the beginning of Mr Abramovich coming to Chelsea, Chelsea was buying the title," confessed Mourinho. "Now, all of them they are buying the title. It is up to us to be strong and to fight them and obviously to try to win it again, even without the big investments."
Yet even if Mourinho is being denied new baubles now, he is hardly hard done by. The foundation upon which Chelsea have built during Mourinho's second spell at Stamford Bridge runs deep and strong. Although the arrival of Sheikh Mansour and his sovereign wealth at Manchester City for a while eclipsed Chelsea's spending, UEFA's new Financial Fair Play regime put a stop to that. The greater maturity of Chelsea's development meant their revenues and profitability could justify higher transfer expenditure than at the Etihad Stadium, and so the taps were opened up once more. Indeed, although this would evidently surprise Mourinho, since the season prior to his return to England, Chelsea have stepped up their investment and became once again the biggest spenders in the land.
In that time Eden Hazard, Oscar, Willian and Nemanja Matic have all arrived at Stamford Bridge and all were key players for Mourinho in his title-winning season last year, having arrived as part of a combined two-season investment in new signings after player sales of £168.4 million. This is not a fact Mourinho chose to share publicly.
Premier League Big 6's Net Transfer Spending, 2009-10 to 2013-14
Mourinho's words were clearly designed to apply public pressure on the club's senior management team to loosen the purse strings and invest anew. Something he might also have raised to them in private is that when last their transfer spending dipped, Chelsea's Premier League performance suffered likewise.
Premier League Big 6's Finishing Positions, 2009-10 to 2014-15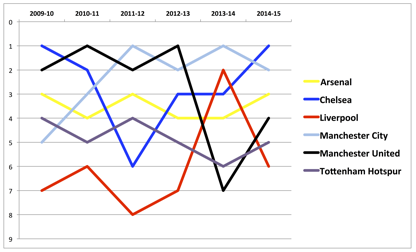 The root of Mourinho's dissatisfaction is that last season seven of his outfield players featured in 34 or more Premier League matches. This statistic reflects an extremely light run of injuries that other clubs could not enjoy. For Manchester City there was only one player with 34 or more appearances (although seven played more than 30 times), at Arsenal there were only three who did (and no one else played more than 30), Liverpool were also three and 0, Manchester United were 0 and three, and Tottenham Hotspur were three and three. Can Chelsea perform quote so consistently if more heavily disrupted by injuries this season?
Mourinho will also be aware that this past reliance on a core squad of players will weigh heavily on their legs in the season to come. In previous seasons, such concerns have been tempered with transfers.
Chelsea's principal player signings, 2009-10 to 2014-15

Chelsea's ten-figure gross expenditure in 2013-14, Mourinho's first season back in the Stamford Bridge dugout, quite clearly laid the foundations for his title-winning campaign. And, since he has invited us to compare his club's spending with others', let's take a look at their top-six rivals' figures too.
Arsenal's principal player signings, 2009-10 to 2014-15

Oops, Jose! Turns out Arsenal's net expenditure is a tiny fraction of Chelsea's over the past five seasons for which data is available, 9.5% of it indeed. Mourinho and his Chelsea supporters might point out that Arsenal stepped up their investment during the 2014-15 summer transfer window, with Alexis Sanchez, Calum Chambers, Danny Welbeck and others requiring large cheques to be signed. However the club's interim accounts to November 2014 show how the Gunners hierarchy still made efforts to balance the books, reducing the net spending in that transfer window to £30.7 million. Ironically, part of the reason for that was the eight-figure sum Arsenal received from Chelsea for the sell-on clause they had agreed with Barcelona over Cesc Fàbregas.
Liverpool's principal player signings, 2009-10 to 2014-15



Liverpool's return on investment, as measured by league performances depicted in the line graph above, has been the weakest of the six Premier League teams. Although less than two-thirds that of Chelsea, Liverpool's net transfer budget has been almost seven times Arsenal's, so their average finishing position between 2009-10 and 2014-15 – at sixth, 2.5 places below Arsenal and 3.3 below Chelsea – has been disappointing to say the least.
Manchester City's principal player signings, 2009-10 to 2014-15

Manchester City have had the most football success over the period, with an average finishing position of 2.3 – bringing two titles and two runners-up positions in the past four years. Yet despite the tremendous investment, in recent seasons the bulk of the biggest signings have not paid off. None of those on whom the thick end of £80 million was invested in 2012-13 remain at the club, while Alvaro Negredo from 2013-14 is gone, with Stevan Jovetic almost certain to join him. Much still depends on prior years' acquisitions such as Vincent Kompany, Yaya Touré, Edin Dzeko, Samir Nasri and Sergio Agüero.
Manchester United's principal player signings, 2009-10 to 2014-15

United's transfer activity over the period has been a lesson in how to atrophy a squad. Despite spending £206.7 million between 2009-10 and 2013-14, they brought in only 18 players, the fewest of the top six, leading to a seventh-place finish at the end of those five years. Interim accounts for United show that the manager in that 2013-14 season, David Moyes, had only £26.8 million to spend in the summer window, a sum that reduced his investment flexibility still further. United's board were not prepared to make the same mistake again, and when Louis van Gaal arrived to lead them he was backed up with more than £100 million in net transfer expenditure, an investment that returned them to the Champions League.
Tottenham Hotspur's principal player signings, 2009-10 to 2014-15

Spurs have benchmarked their transfer strategy more closely to their north London rivals Arsenal, with a tendency to invest lower sums in younger players they hope will make their reputations at White Hart Lane. It has often worked, with Nacer Chadli, Eric Dier and Christian Eriksen more than compensating for the disappointments of Roberto Soldado and Paulinho.
There is, as they say, more than one way to skin a cat. But whether in these days of FFP Mourinho is equipped to do that when denied a transfer kitty is something only time will tell. Or will there be a surprise for us all, as he is again lavished with tens of millions more from the wallet of Abramovich, Chelsea's sugar daddy?
Journalist and broadcaster Matt Scott wrote the Digger column for The Guardian newspaper for five years and is now a columnist for Insideworldfootball. Contact him at moc.l1701675049labto1701675049ofdlr1701675049owedi1701675049sni@t1701675049tocs.1701675049ttam1701675049.