April 29 – With just 11 weeks to go before the start of the Glasgow 2016 Homeless World Cup, July 10-16, organisers have released a team ranking with Brazil and Mexico topping the 48-team Men's positions and Mexico and Chile heading the 16-team Women's.
The event will be held in Glasgow's St George's Square and will feature 64 teams from 51 countries – 512 players. Tickets are free and organisers anticipate 100,000 spectators over the seven days.
Now in its thirteenth edition, the tournament rankings are based on team performance over the past seven years, with extra weight given to last year's championship in Amsterdam, Santiago 2014, and Poznan 2013. Tournament rules mean that players can only play once in the Homeless World Cup once, hence consistency from year to year is more important than final position in a single tournament.
The Glasgow tournament is supported substantially buy the Scottish Government and Glasgow Life. Organisers recently announced a partnership with Scotmid Co-operative ad Bala Balls to provide Fairtrade footballs for the tournament, and local IT and communications company Exsel Group is providing infrastructure services.
Paul Bush, Director of Events for VisitScotland said: "The Homeless World Cup is set to be an incredibly important event for Scotland, inviting people, who may not otherwise have the opportunity to experience our warm welcome, to the country and generating discussion about the issue of homelessness at all levels of society."
Matches are small sided and are streamed online. Mexico are the reigning champions in both the mens and womens events.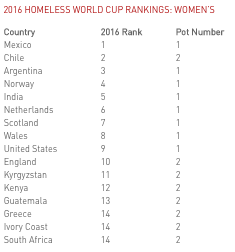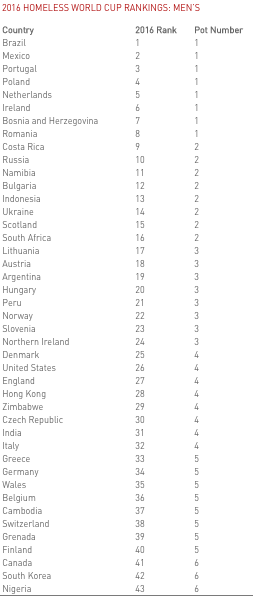 Contact the writer of this story at moc.l1702228289labto1702228289ofdlr1702228289owedi1702228289sni@n1702228289osloh1702228289cin.l1702228289uap1702228289