By Andrew Warshaw
June 3 – Explosive new allegations have emerged of a cover-up orchestrated by FIFA president Gianni Infantino which could push him towards an ethics hearing only three months into the job.
According to  German and Swiss publications, Infantino ordered recordings of a FIFA council meeting in Mexico last month to be deleted and could face a 90-day suspension if found to have acted inappropriately.
The recordings appeared to confirm he had pushed for the removal of FIFA's Audit and Compliance chief Domenico Scala even though  FIFA described as "ludicrous" an article in German's Frankfurter Allgemeine Zeitung (FAZ) that a plot had been hatched to get rid of Scala, tasked with cleaning up financial corruption within FIFA.
Now, however, it is further claimed, in a leaked email dated May 23, that Infantino personally instructed his legal chief Marco Villiger – appointed this week as one of FIFA's two deputy general secretaries – not to publish minutes of the meeting in question that took place a couple of days before the May 13 FIFA Congress. The internal email exchange (reproduced below) appears to confirm that Villiger acted at the request of Infantino.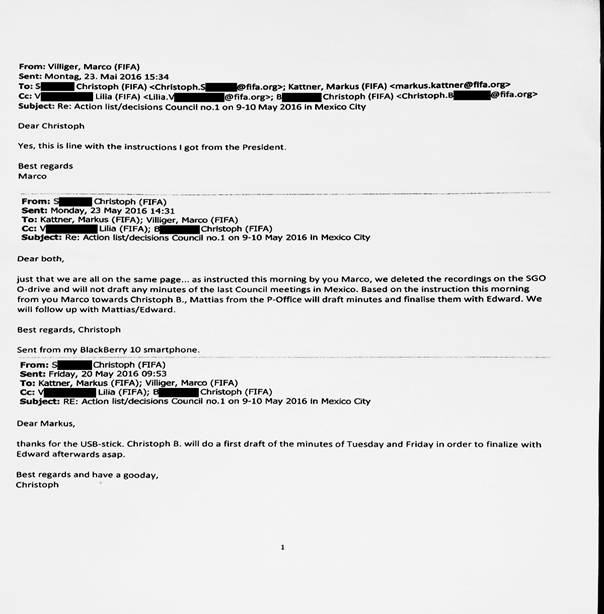 FIFA's ethics committee have refused to confirm whether Infantino is under investigation. "We are not in a position to indicate if we have or have not preliminary investigatory proceedings against an individual," a brief statement said. " We would however like to point out that there no formal proceedings going on against Mr. Infantino."
When Infantino was elected three months ago, it was hoped he would provide a safe pair of hands. Now, like Sepp Blatter before him, he has already become embroiled in scandal and skulduggery – including appointing his new general secretary Soumara Fatma as a fait accompli without due process or an integrity check, refusing to accept his $2 million salary on offer from the compensation committee headed by Scala, and forcing both Scala and his finance director Markus Kattner out of the organisation.
The latest leak has been dismissed by FIFA, who said in a statement that one recording had been deleted because it was stored improperly, but that the original audio file still existed and was properly archived.
"In accordance with standard practice all official FIFA meetings – including council meetings – are recorded and archived. This was the case for the meeting in Mexico City in question," a statement said.
"The email exchange that makes mention of the deletion of audio files refers to a copy of the original audio file of the meeting that was improperly saved on a local drive. This mention does not refer to the officially archived audio file. That file exists and is properly saved at FIFA."
Yet once again FIFA has been forced into unconvincing trouble-shooting mode just when Infantino is striving to enhance his image. At the very least the leaked email asks more serious questions about Infantino's quest for power and authority, the exact opposite of what the reform programme set out to achieve under his presidency.
Should the allegations against Infantino be substantiated, the 46-year-old former UEFA general secretary's position seems bound to come under serious threat. Insideworldfootball has further learned that Kattner, who would have drawn up the minutes as acting secretary general, was barred from attending the meeting at which Scala's removal was discussed. Kattner was later sacked by FIFA for unidentified  "breaches of his fiduciary responsibilities in connection with his employment contract" without a personal hearing.
Kattner has not yet commented on the precise reasons for his dismissal but a source close to him told Insideworldfootball he was "surprised by the steps taken" and that he "had to learn about the allegations via the media."
"He will take all legal action to protect his integrity and good standing," the source added.
Contact the writer of this story at moc.l1679915342labto1679915342ofdlr1679915342owedi1679915342sni@w1679915342ahsra1679915342w.wer1679915342dna1679915342