By Paul Nicholson
June 27 – One of the major legacies of the France 2016 European Championships will be the new and renovated stadia that the French clubs are left to play in. But with 19 of Ligue 1's club stadia owned by municipalities, will the clubs really benefit from the increased revenue opportunities?
Research by the KPMG Football Benchmark sports group shows that privately-owned stadia generate a greater share of revenue for clubs than those that are publicly-owned.
They suggest that this reflects on the growth of the league overall and that this is what has contributed to the success of the Premier League and Bundesliga "both from a business and sporting perspective.
"These leagues are gaining exemplary international recognition through new and prosperous sponsorship and television broadcasting deals, which are also due to their modern, attractive, and filled home grounds."
In the Premier League 16 out of 20 Premier League clubs own their stadia while 10 out of 18 clubs own their grounds in the Bundesliga.
Contrast this to Spain's La Liga where 13 stadia are owned by municipalities, Italy's Serie A where 17 stadia are publicly owned and France's Ligue 1 where a massive 19 stadia are under public ownership.
Euro 2016 is being played across 10 venues, four of which are new-builds: Stade des Lumieres in Lyon, Allianz Riviera in Nice, Matmut Atlantique in Bordeaux, and Stade Pierre-Mauroy in Lille. The Stade Velodrome in Marseille and the Parc des Princes in Paris, have undergone major reconstruction projects. Out of the four newly-built stadia, only one is privately owned, Parc Olympique Lyonnais (pictured) by Olympique Lyonnais.
Football Benchmark says that there is a correlation between the age of a stadia (ie how modern it is) and the attendance and capacity of the stadium when it comes to generating revenue.
The researchers point out that "Italy's Serie A is rather symbolizing a stagnant football league. Serie A is struggling to regain the international recognition enjoyed in the past. The challenging conditions of Serie A are expressed through their obsolete, publicly-owned and oversized stadia, which are rarely filled."
Across Europe, the largest stadia are in Germany, where the average capacity of a Bundesliga stadium is 44,563, Italy comes second with an average capacity of 40,356, followed by Spanish with 38,377. The Premier League, which operates at more than 95% of its overall stadium capacity full every week (eight clubs are operating at over 99%) is seeing significant privately funded ground expansion projects at Liverpool, Tottenham Hotspur and Stoke City, with Chelsea in planning stages of a rebuild of Stamford Bridge.
To see the full KPMG Football Benchmark report at https://www.footballbenchmark.com/stadia_landscape_2016_2017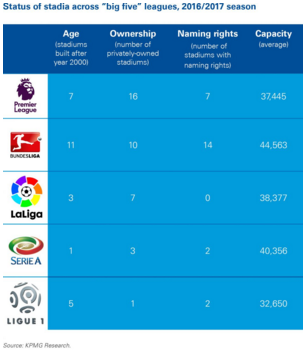 Contact the writer of this story at moc.l1701892335labto1701892335ofdlr1701892335owedi1701892335sni@n1701892335osloh1701892335cin.l1701892335uap1701892335