July 20 – The Asian Football Confederation (AFC) will hold its 2016 AFC Annual Awards Night ceremony at the Emirates Palace Hotel in Abu Dhabi on December 1.
The event will be hosted by the United Arab Emirates Football Association (UAEFA) and the Abu Dhabi Sports Council (ADSC) who signed an agreement with the AFC yesterday in Kuala Lumpur at the AFC's headquarters.
AFC General Secretary Dato' Windsor John and UAEFA General Secretary Mohammed Hazzam Al Dhaheri (pictured centre) completed the signing formalities.
This is the second time that the AFC Annual Awards ceremony will be hosted in Abu Dhabi. The first time was in 2006 and it was the first time the event had been held outside Kuala Lumpur.
AFC President Shaikh Salman bin Ebrahim Al Khalifa said: "The AFC Annual Awards Night is the most prestigious celebration in our yearly calendar and represents the pinnacle of our continent's achievements.
"Football has grown enormously to command a dominant place in UAE and we are extremely pleased to hold this year's Annual Awards in the wonderful city of Abu Dhabi."
His Excellency Aref Hamad Al Awani, ADSC General Secretary said: "It is really great for us to sign this agreement with the AFC to host the 2016 Awards Night.
"Hosting the 2016 Awards Night will have positive effects on UAE football and is another addition to UAE sports which will further enhance Abu Dhabi's position as a capital for international sport events."
The AFC's 2015 Annual Awards were held in India's capital, New Delhi. The 2015 award winners are listed below.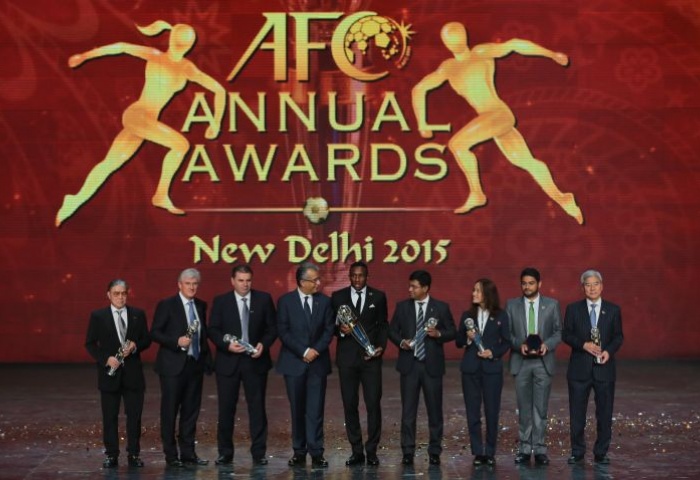 AFC 2015 Award Winners
AFC Member Association of the Year
Inspiring
Japan Football Association
Developing
Hong Kong Football Association
Aspiring
Bangladesh Football Federation
AFC Dream Asia Award
Japan Football Association
AFC National Team of the Year
Men
Australia National Team
Women
Japan Women's National Team
AFC Coach of the Year
Men
Ange Postecoglou (AUS)
Women
Asako Takakura (JPN)
AFC Player of the Year
Men
Ahmed Khalil (UAE)
Women
Aya Miyama
AFC President Recognition Awards for Grassroots Football
Inspiring
Japan
Developing
Vietnam
Aspiring
Brunei Darussalam
AFC Fair Play Association of the Year
Japan Football Association
AFC Club of the Year
Guangzhou Evergrande (CHN)
AFC Futsal Player of the Year
Vahid Shamsaee (IRN)
AFC Futsal Team of the Year
Tasisat Daryaei (IRN)
AFC Youth Player of the Year
Men
Dostonbek Khamdamov (UZB)
Women
Rikako Kobayashi (JPN)
AFC Foreign Player of the Year
Ricardo Goulart Pereira (BRA)
AFC Asian International Player of the Year
Son Heung-min (KOR)
Contact the writer of this story at moc.l1701541093labto1701541093ofdlr1701541093owedi1701541093sn@no1701541093slohc1701541093in.lu1701541093ap1701541093