August 4 – With the European season set to start over the next three weeks across the Big Five markets, a raft of new managers will be looking to bring early success to their new clubs and avoid the mid-season managerial change threat.
With mid-season management change usually driven by the fear of relegation, KPMG's Football Benchmark team has analysed data and found that of the 61 clubs that maintained their top-tier status in 'big five' leagues from the 2011/12 to the 2015/16 season, only 13 avoided mid-season managerial changes.
Reinforcing the argument that mid-season change doesn't guarantee survival, the report finds that "23 out of 71 'big five' league clubs relegated over the seasons under review decided to maintain their managers until the end of the troubled season despite poor results." 47 teams that changed their managers mid-season were still relegated.
Top of the firings chart is Italy's Serie A. "The number of mid-season hirings registered in Serie A (65 over 5 seasons) is higher than the Premier League and Ligue 1's totals combined," finds the report. The three clubs that have replaced their managers with most frequency during this period are all Italian: US Citta di Palermo (10), Cagliari Calcio (7) and Genoa CFC (6).
France's Ligue 1 and the English Premier League are the most secure plaes to manage in the Big 5 Leagues, registering the lowest number of manager dismissals in the last five seasons, 31 and 33 respectively. Germany's Bundesliga is the second most impatient with 39, behind La Liga's 45.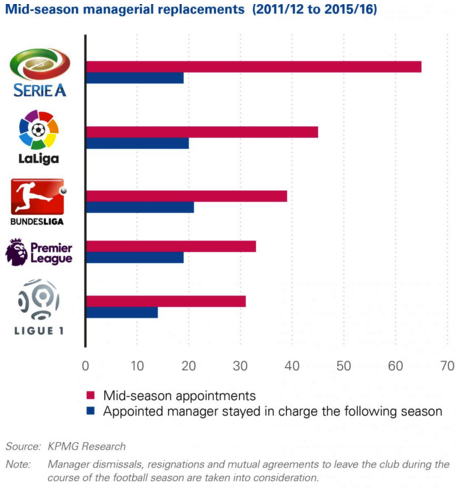 And if the lesson to be learned is that club's should think twice before changing manager, they aren't heeding it. Football Benchmark says: "The figures show no consistent drop in the number of managerial changes in any of the leagues. In fact, the aggregate number of manager replacements during the 2015/16 campaign (52) was the highest in the analysed period."
See the full report at https://www.footballbenchmark.com/midseason_managerial_changes
Contact the writer of this story at moc.l1701668588labto1701668588ofdlr1701668588owedi1701668588sni@n1701668588osloh1701668588cin.l1701668588uap1701668588