By Paul Nicholson
August 23 – West Ham topped the attendance chart for Round 2 of the Premier League season in the first league fixture at their new 60,000 all-seat stadium. Well, almost all-seat.
The stadium capacity had been reduced to 57,000 by The London Stadium Safety Advisory Group (LSSAG) and Newham Council as some home fans had stood during a Europa League qualifier against NK Domzale.
Despite the crowd restriction there were still some fans left without seats. One ticket holder tweeted West Ham execs saying "@karren_brady @davidgold Block 214 row 73 no seats! Not happy".
Brady responded with an apology. "I can only apologise LS185 [London Stadium 185, the stadium operator] say admin error," she wrote, "…we will make sure it is rectified LS185 will be compensating 56 supporters affected."
With the capacity reduced West Ham filled all but 23 seats in the stadium. Man Utd, in second place in the table had only 405 unfilled seats while Leicester City had just 254 unfilled seats.
Round 2 attendance figures were an increase on the opening day of the season last week and slightly on last season's round 2. Average capacity across the Premier League was at 95.5% with three clubs above 99% full and eight above 94%.
Burnley who last week failed to get over 90% capacity came in at over 94% this week for their 2-0 home win over Liverpool.
Last season Sunderland alongside Aston Villa regularly came bottom of the table and for their first home game had 5,845 unfilled, slightly disappointing for what was a derby match against newly promoted Middlesbrough.
West Brom were bottom of the table in terms of percentage of capacity full at 88.1%.
Premier League Round 2 stadium attendance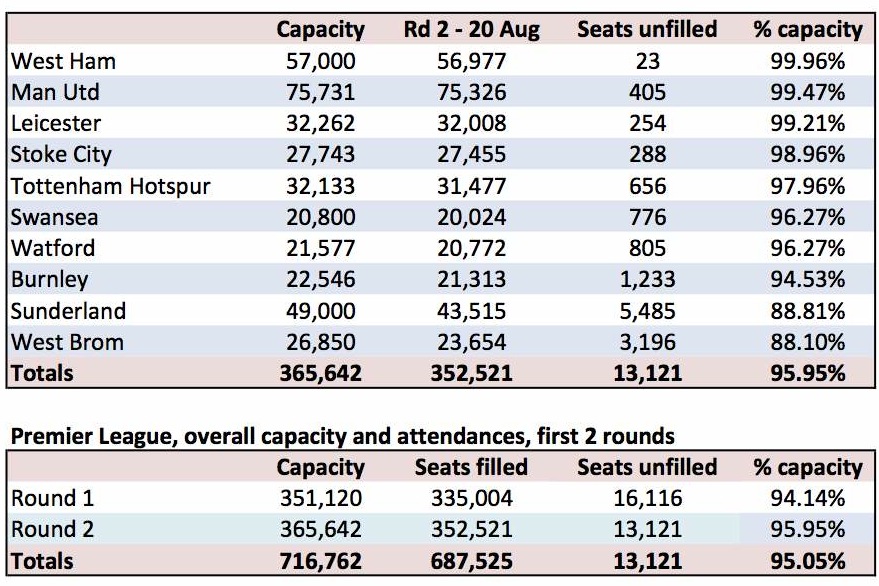 Source: Insideworldfootball
Contact the writer of this story at moc.l1674876011labto1674876011ofdlr1674876011owedi1674876011sni@n1674876011osloh1674876011cin.l1674876011uap1674876011