By Paul Nicholson
October 30 – Internazionale have announced a jump in revenue for 2015-16 of almost €43 million, despite having no involvement in European competition and in particular the lucrative Champions League participation and prize monies, a core target for the new Chinese owners.
The club reported total revenue, including player trading of €241.4 million. A 26% rise on the €198.5 million the previous year.
The Serie A club was majority acquired by China's Suning Corporation earlier this year and has put in place a management plan and hired new commercial personnel to drive revenue for one of the biggest and most fabled names in European club football.
This season Inter are competing in the Europa League with Champions League qualification the target for next season. Inter could well be one of the beneficiarirs of UEFA's controversial new deal with the European Club Association (ECA) that will see the top four clubs from Europe's top three leagues automatically qualify for the Champions League.
The improved financial numbers are important for Inter who say in a statement that "we forecast the financial year 2016-17 to be in line with our expectations, allowing us to comply with the UEFA Financial Fair Play conditions, thus reaching adjusted break-even."
Inter were hit with UEFA Financial Fair play sanctions in May 2015 having spent freely Inter in the battle to return to former Italian and European glory. But in failing to meet their own high objectives had racked up a loss of €140.4 million in the 2014-15 year. This loss was more than halved in the last year to €59.6 million.
Inter agreed with UEFA in 2015 "to report a maximum break-even deficit of 30 million euros for the financial year ending in 2016 and no break-even deficit for the financial year ending in 2017." Progress to that objective is being made.
The club said that a "capital increase of €142 million and subsequent additional funding for a total amount of 
€180 million provided by the new majority shareholder, granted new financial resources improving the company's capability to finance its business."
Michael Bolingbroke, Chief Executive Officer of Inter, said: 
"The consolidated full year 2015-16 financial results for F.C. Internazionale Milano Group show that 
we are firmly on track with our long-term business plan for the Club. These figures are without any contribution of revenues from participation in UEFA club competitions.
"We have a solid five-year business plan in place for the Club including the generation of new revenue streams that will lead to profitability through sustainable commercial growth. In this regard the Club will benefit from major opportunities for the growth and development of the Inter brand outside of Italy, thanks in no small part to our new majority shareholder Suning, and their vast footprint in China and Asia."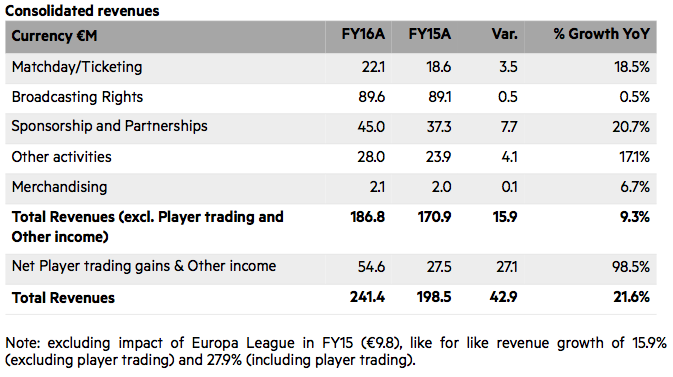 Contact the writer of this story at moc.l1674842916labto1674842916ofdlr1674842916owedi1674842916sni@n1674842916osloh1674842916cin.l1674842916uap1674842916