By Paul Nicholson in Abu Dhabi
December 1 – With the leaders and achievers of Asian football gathering in Abu Dhabi ahead of the Asian Football Confederation's glamorous Annual Awards night at the Emirates Palace, the UAE gathered its own stars alongside the AFC Award nominees to raise the awareness of disability football as part of its social responsibility programme.
Players took part in a range of football activities with disabled children from Abu Dhabi Special Needs School, Salgado Grassroots Academy and Kanoute Grassroots Academy.
At the centre of the AFC social responsibility programme is health education and an on-going commitment to social responsibility activity.
The AFC will early next year set up a charitable foundation, based either in the Middle East or Asia, based around the five pillars of children and youth, social inclusion, health, education and humanitarian aid. An estimated two thirds of the population in the AFC region are in high risk natural disaster zones. Already $100,000 has been pledged to the foundation from Saudi Arabia.
The UAE's Omar Abdulrahman, one of the nominees for player of the year, said: "Football is about hope and joy and it is a real pleasure to see the bright smiles on the kids' faces here. I know how special these kinds of moments are, for both me and the children here.
"Asia is a special continent where football can have a big social impact. The AFC is doing a great job with social responsibility events like this."
But the sharp end of the day's activities will be the awards tonight – a celebration of performance and achievement in this rapidly developing and ambitious confederation. Now in the their tenth edition – the first AFC awards were held in 2006, also in Abu Dhabi – the evening will feature guest performances from singer-songwriter Nathalie Saba, the UAE's pop icon Aryam, as well as a gravity-defying act from the Aerialist Acrobatic Group.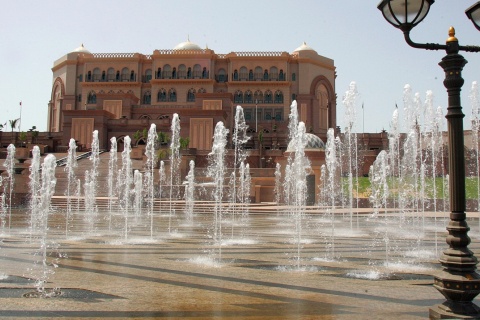 The AFC Player of the Year and the AFC Women's Player of the Year, as well as the AFC Dream Asia Award are among the headlining awards that will be handed out.
AFC Player of the Year
Men
Omar Abdulrahman (United Arab Emirates)
Hammadi Ahmed (Iraq)
Wu Lei (China PR)
Women
Lisa De Vanna (Australia)
Caitlin Foord (Australia)
Tan Ruyin (China PR)
AFC Dream Asia Award
Japan Football Association
Korea Football Association
Qatar Football Association
AFC Member Association of the Year
Inspiring
Japan Football Association
Korea Football Association
United Arab Emirates Football Association
Developing
All India Football Federation
Football Association of Malaysia
Vietnam Football Federation
Aspiring
Bhutan Football Federation
Football Federation of Cambodia
Football Federation of Sri Lanka
AFC President Recognition Awards for Grassroots Football
Inspiring
Football Federation Australia
Japan Football Association
Qatar Football Association
Developing
Hong Kong Football Association
Philippine Football Federation
Vietnam Football Federation
Aspiring
Football Federation of Sri Lanka
Macau Football Association
National Football Association of Brunei Darussalam
AFC Coach of the Year
Men
Choi Kang-hee (Korea Republic)
Makoto Teguramori (Japan)
Atsushi Uchiyama (Japan)
Women
Chan Yuen-ting (Hong Kong)
Miyo Okamoto (Japan)
Ri Un-suk (DPR Korea)
Award winners who will be announced at the gala event with the prizes to be presented at a later special event.
AFC Futsal Player of the Year
Aliasghar Hasanzadeh (IR Iran)
Ahmad Esmaeilpour (IR Iran)
Farhad Tavakoli (IR Iran)
AFC Youth Player of the Year
Men
Ritsu Doan (Japan)
Mohammed Dawood (Iraq)
Rakan Al Anaze (Saudi Arabia)
Women
Fuka Nagano (Japan)
Sung Hyang-sim (DPR Korea)
Hana Takahashi (Japan)
AFC Asian International Player of the Year
Shinji Okazaki (Leicester City/Japan)
Shinji Kagawa (Borussia Dortmund/Japan)
Son Heung-min (Tottenham Hostpur/Korea Republic)
Awards already presented:
AFC Referees Special Award
Men
Alireza Faghani (IR Iran)
Reza Sokhandan (IR Iran)
Mohammad Reza Mansouri (IR Iran)
Women
Kate Jacewicz (Australia)
Renae Coghill (Australia)
Uvena Fernandes (India)
Contact the writer of this story at mo.ll1701598128abtoo1701598128fdlro1701598128wedis1701598128ni@no1701598128slohc1701598128in.lu1701598128ap1701598128