By Paul Nicholson
December 12 – Barcelona were sanctioned for the 'irregular' movement of players under the age of 18 and questions have been raised over the Real Madrid academy system as regards transfer of minors. But England is by far the most active in the international recruitment of minors.
In a country whose football culture is currently in the midst of horrific and multiple child sex abuse allegations, the questions over the welfare of minors within football and the morality of moving children across international borders on the often false promise to families of a professional career are more acute than ever.
A report by the CIES Football Observatory reveals that the number of players who left their country before the age of 18 reached a new record high in 2016.
Of almost 600 footballers who moved abroad before the age of 18 and who currently play in clubs at 31 top division leagues of UEFA member associations, for almost one third of them, the first foreign destination was England.
England 'imported' a massive 180 minors. The second biggest importing country for minor players is Italy with 78 followed by the Netherlands with 53. In terms of origins, the most represented nations are Belgium, Sweden, France, Hungary and Austria.
The report has been fully explored in French language book Slow foot, where it states that "players having left their country under the age of 18 have, on average, less rewarding careers than footballers who left later with more experience under their belt."
While this has for some time been the suspicion of observers of the football club trade in minors, the obvious conclusion is that it is the money within the market that is dictating the movement of youths rather than development of their footballing potential in secure and supporting environments.
The authors claim that "the premature international migration of inexperienced players poses serious risks for both the footballers concerned and the teams recruiting them."
CIES report authors Drs. Raffaele Poli, Loïc Ravenel and Roger Besson, said:"Unfortunately, in spite of all sporting logic, and in an overly speculative context where numerous actors make their living out of player transfers, the international flow of minors increases with each year."
Principle destinations for players having migrated as minors present on October 2016 at 31 European top division leagues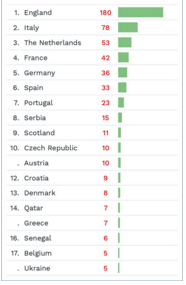 Source: CIES Football Observatory
View the full report at http://www.football-observatory.com/IMG/sites/mr/mr20/en/
Contact the writer of this story at moc.l1674843170labto1674843170ofdlr1674843170owedi1674843170sni@n1674843170osloh1674843170cin.l1674843170uap1674843170