December 28 – China has decided to cut the permitted quota of overseas players in domestic teams from five to four in an effort to slow down the escalating demand for expensive foreign stars to the detriment of the development of local talent.
Clubs in the mega-rich Chinese Super League have splashed out huge amounts on foreign players since President Xi Jinping laid out his vision of turning the country into a football powerhouse.
The new restrictions on club rosters were announced by the Chinese Football Association (CFA), who added that only three foreigners from the same team would be allowed to play at any one time.
"High-level foreign players have brought energy to the CSL and made CSL games more enjoyable, but they've created financial burdens for clubs and reduced opportunities for mainland players," the CFA said.
The new rules were announced a week before the CSL transfer window opens and 24 hours after Shanghai SIPG club confirmed it had signed Chelsea's Brazilian midfielder Oscar for a eye-watering €70.5 million, a record breaking transfer fee in China.
Chinese teams broke the Asian record for the most expensive signings three times in 10 days in the January-February transfer window. On January 21 five-time Chinese Super League champions Guangzhou Evergrande sold two-time AFC Champions League winner Elkeson to Shangahi SIPG for €18.5million. Six days later when newly-promoted Jiangsu Suning spent €28million on Chelsea's Brazilian midfielder Ramires. Two days later Guangzhou Evergrande spent €42 million on Colombia and Atletico Madrid star Jackson Martinez.
These were record deals not just for China but for the Asian region. And the big spending didn't stop there. Jiangsu Suning spent $50 million on Shakhtar Donetsk's Alex Teixeira and the bar was raised again when Brazil's Hulk joined SIPG for €55.8 million in July.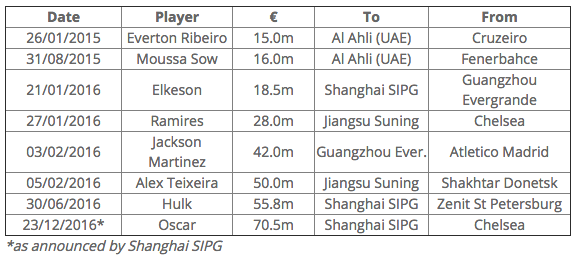 Source: Asian Football Confederation
The new quota rules will take effect when the next season starts in March and would "promote the long-term development of every club within the professional league", the CFA said.
The official People's Daily warned last week that the explosive growth in Chinese football and $1.15 billion in overall spending this year "far exceeded the economic value brought to the league".
Contact the writer of this story at moc.l1701552979labto1701552979ofdlr1701552979owedi1701552979sni@w1701552979ahsra1701552979w.wer1701552979dna1701552979