December 29 – The English Premier League doesn't take a winter break, but for football fans it felt like it had taken one with a flurry of fixtures over the 10 days of December 10-18 and then a long and lonely wait to the traditional feast of Boxing Day fixtures on December 26.
And Premier League fans certainly feasted with just 8,265 seats unfilled out of 387,588 available across the league – an average 97.22% of stadia capacity filled.
Five clubs filled more than 99% of capacity, while all clubs filled more than 90%. Fans now have to wait for another week until fixtures continue on New Year's Day. The bleats of managers complaining about too many fixtures over the holiday period have been replaced by the moans of fans deprived of their beloved places of Premier League worship.
Swansea topped the attendance table with only 43 seats unfilled as Bob Bradley oversaw his last game in charge. Man Utd, Chelsea, Leicester City and Arsenal all recorded over 99% of their stadia full.
Hull City were bottom of the table but were over the 90% mark for the second time this season. They were only at 68% for their last home game. The season has now reached the half way stage of 18 matches.
Insideworldfootball figures are taken from the official stadium capacities and the official reported attendances and do not take into account any seat kills for safety or media reasons.
Round 18 Premier League Attendances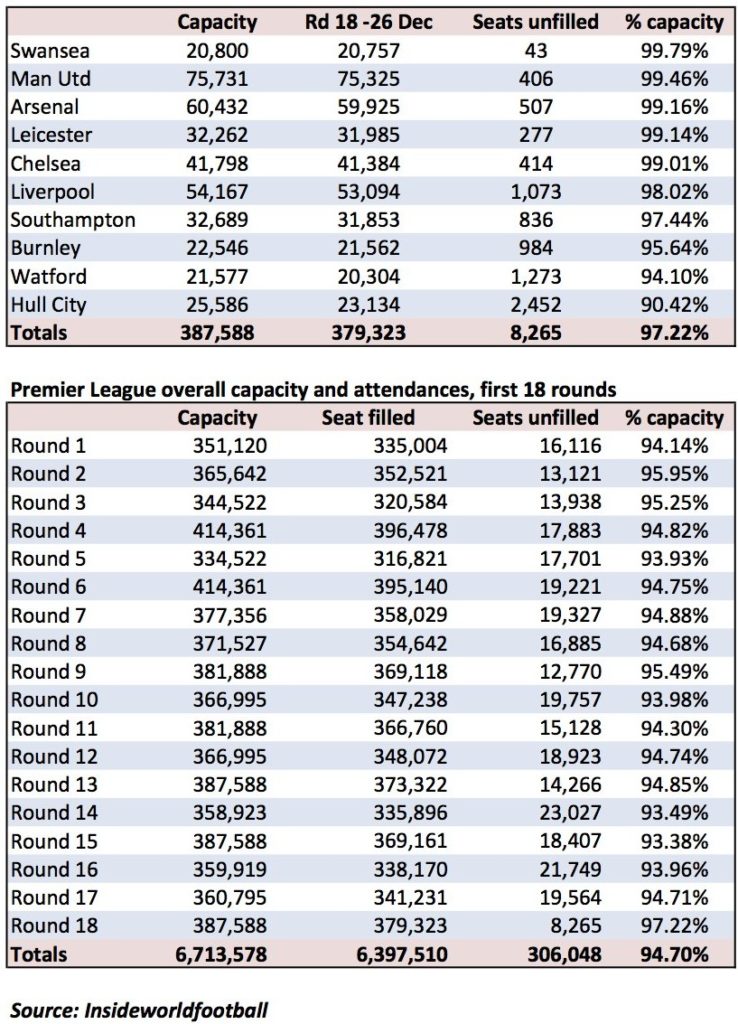 Contact the writer of this story at moc.l1674922470labto1674922470ofdlr1674922470owedi1674922470sni@n1674922470osloh1674922470cin.l1674922470uap1674922470