November 27 – International football focus is warming up for the World Cup Final Draw which will take place this Friday in Moscow's State Kremlin Palace.
The 32 teams are divided into four pots with the highest ranked nations – taken from the FIFA/Coca-Cola World Ranking – going into pot 1 with host nation Russia.
Eight groups of four teams will be drawn from the four pots with FIFA saying its "general principle is to ensure that no group has more than one team from the same qualification zone drawn into it. This is applicable to all zones except Europe, which is represented by 14 teams. Each group must have at least one but no more than two European teams drawn into it. As such, six out of the eight groups will feature two European teams."
This sees, for example, four of the qualified AFC teams in pot 4, with one in pot 3. The draw will ensure that Iran (in pot 3) is not drawn with any of the AFC teams in pot 4. FIFA says "the geographic separation principle will be monitored by a system designed to take all parameters into account, which means that groups may be skipped."
Similarly for the Conmebol qualified teams. Peru, Colombia and Uruguay, which are in pot 2, will not be drawn into the same group with Brazil or Argentina, which are in pot one.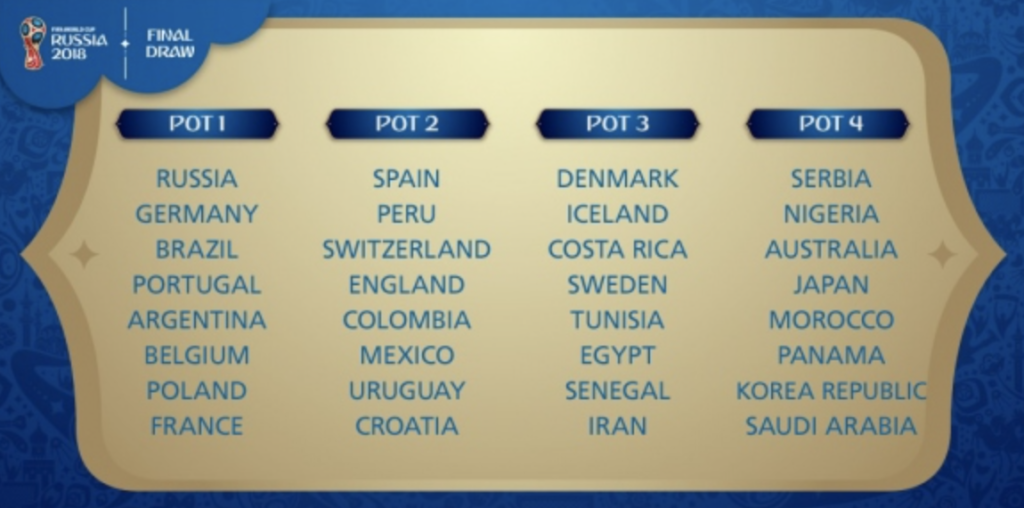 Contact the writer of this story at moc.l1656662932labto1656662932ofdlr1656662932owedi1656662932sni@n1656662932osloh1656662932cin.l1656662932uap1656662932