By Paul Nicholson and Andrew Warshaw
March 12 – Greek's football chaos took an ugly turn for the worse on Sunday after gun-carrying PAOK owner Ivan Savvidis stormed on to the pitch to threaten a referee after a goal was disallowed in the top of the table clash with AEK Athens.
Savvidis' actions make a mockery of UEFA and FIFA's attempts to bring normality to Greek football which is riddled with match fixing in the lower leagues, and accusations of referee corruption and match manipulation in the top tier Greek Super League.
An arrest warrant was issued on Monday against Savvidis as well as four other people. Police are reportedly searching for him, though the warrant only concerns the pitch invasion itself and not the fact that Savvidis bore a gun. In Greece, not even duty police officers are allowed to carry arms in football stadiums.
In a statement UEFA said it "strongly condemns the recent incidents in Greek football. Given that the incidents occurred in a domestic competition, any disciplinary measure to be imposed falls under the jurisdiction of the revelant bodies of the Hellenic Football Federation."
With the responsibility passing to the Greeks, it leaves UEFA and FIFA with huge questionmarks over whether their intervention into Greek football has only resulted in a situation more divided, and now more dangerous if owners are carrying guns to stadia and threatening officials. This is a big step up from the 'vested-interest' appointment of referees to matches, the previous league-wide criticism directed at the new management of the HFF and UEFA.
During the clash between leaders AEK Athens and rivals PAOK, Savvidis came on the field twice accompanied by bodyguards – the second time without his jacket and with a holstered pistol strapped to his hip.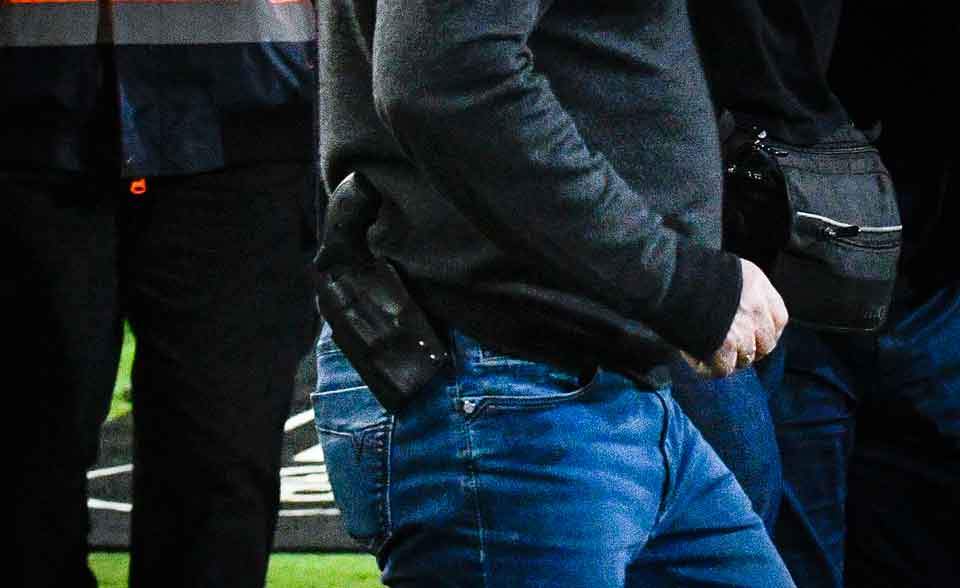 The incident occurred following a disallowed PAOK goal by referee Kominis in the dying seconds  in Thessaloniki.
AEK officials claimed Savvidis threatened the referee during his first foray on to the pitch, before being pulled away. They also maintain he also threatened AEK's operations manager Vassilis Dimitriadis.
Local reports quoted AEK's Spanish coach Manolo Jimenez as saying  Savvidis went up to the referee, showed him his gun, and said: "Your career as a referee has ended."
Amid the chaos PAOK fans ran on to the pitch to protest about the disallowed goal which seems likely to prompt fresh rumours over matchfixing which has been a serious issue in Greek footballing circles.
The game was abandoned when AEK players refused to return to the field following the incident and the club say they will file a complaint with FIFA and UEFA. Yet amid the confusion, it was later announced that following AEK's refusal to return to the pitch and a change of heart from the referee, the goal had been awarded after all, with the game finishing 1-0 to PAOK. It will now be up to the Greek FA to decide whether this scoreline should stand.
PAOK said in a statement: "After what happened today, PAOK chairman Ivan Savvidis is preparing all necessary procedures to protect the team and all his collaborators from the threats and attacks they have been subjected to."
Greek Deputy Culture and Sports Minister Georgios Vassiliadis said in a written statement that firm action would be taken.
"Such extreme phenomena call for bold decisions," he said. "We will not allow anybody to deter us from this path, even if tough decisions are required in consultation with UEFA," Vassiliadis said.
Savvidis has previously been criticised for comments indicating he believed he was in control of the Greek federation, saying in an TV interview to ERT that Hellenic Football Federation president Vangelos Grammenos is "ours".
Club confidence in referees was already at an all time low and trust in FIFA and UEFA's ability to find an equitable balance in Greek football had pretty much evaporated. Where radical solutions are required to win back control and respect for the administration of the game, instead FIFA and UEFA have supported a new regime with allegiances their rivals say are distorting Greek football in their favour.
See http://www.insideworldfootball.com/2018/01/30/greek-football-tragedy-game-changing-referees-match-fixing-rampant-fifa-uefa-smile/
Contact the writers of this story at moc.l1685900977labto1685900977ofdlr1685900977owedi1685900977sni@n1685900977osloh1685900977cin.l1685900977uap1685900977 or moc.l1685900977labto1685900977ofdlr1685900977owedi1685900977sni@w1685900977ahsra1685900977w.wer1685900977dna1685900977