May 4 – Research by Brighton-based Brandwatch into the visibility of company logos on Twitter and Instagram provides a fascinating insight into the success of football-related  visual marketing on the social web.
As part of its 2918 Brand Visibility report, Brandwatch has measured the visibility of three of the largest club sponsors' logos – Adidas, Nike and Puma – to determine the best return on investment.
Brandwatch counts the average unique images per month and then ascertains a ROI value by dividing this number by the amount paid for sponsorship.
According to Brandwatch "this reveals exactly how much each sponsor paid per image" and they have produced a table of the results for European football:
As Brandwatch point out, Puma performs particularly well in this analysis with its clubs appearing first and second and on average, across all monitored sponsorships, Puma have a much cheaper cost per image:
Puma = $2.40 cost per image
Adidas = $8.02 cost per image
Nike = $11.83 cost per image
There are two main lessons drawn from this research – one is that by placing their logo on club shirt sleeves, Puma have been able to ensure greater visibility for their brand. The second is that it is very important to pick the right clubs to sponsor to ensure success!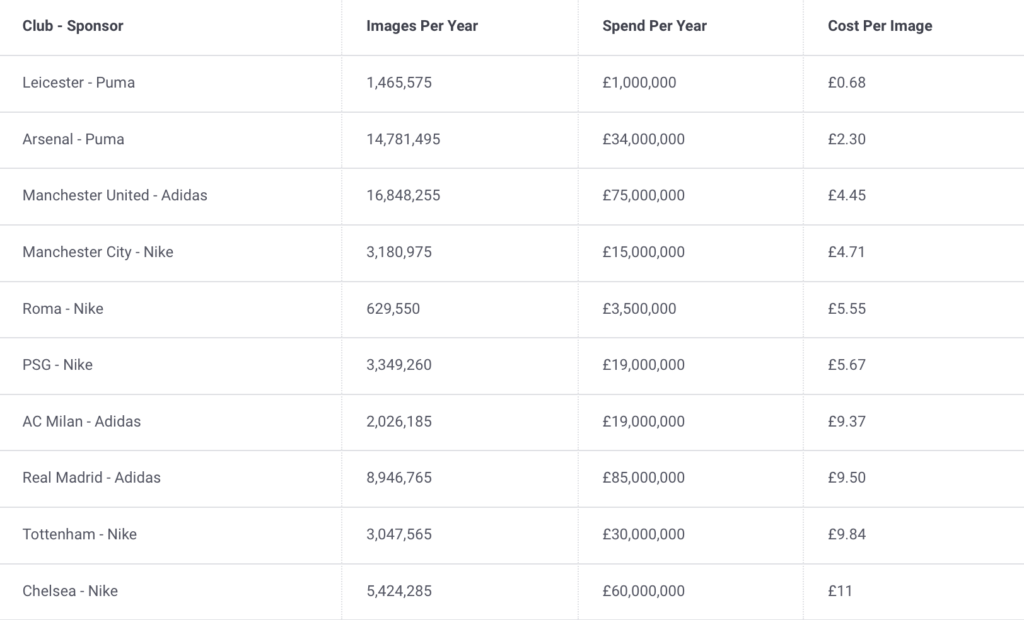 See the full report at https://www.brandwatch.com/reports/2018-brand-visibility-report/view/
Contact the writer of this story at moc.l1701553342labto1701553342ofdlr1701553342owedi1701553342sni@r1701553342ebab.1701553342kram1701553342