June 27 – Mexico are leading the social media World Cup with more than 9 million interactions since the start, according to social media marketing platform Socialbakers. That is a whopping 2.5 million interactions ahead of second place Germany.
The German social interactions were sparked into action by Toni Kroos' last minute winner that saw him jump into fourth spot in the player ranking with 880.
Top of the ranking, and a very long way ahead. is Cristiano Ronaldo who with 5.7 million interactions is almost 2 million ahead of Neymar and, if he were a country, would rank him second ahead of Germany, France, Spain and his own country Portugal.
Bottom of the country rankings are Saudi Arabia and Iran who are, perhaps surprisingly, only just behind Sweden with 61,000 interactions.
In terms of players there are some interesting stats. Lionel Messi's (3rd ranked) 2.8 million interactions are almost entirely on Facebook, as are Egypt's Mohamed Salah's 361,000 interactions.
Generally Facebook is more dominant than Twitter in terms of interactions – some players show low levels of Twitter activity – though sixth placed Harry Kane's Twitter account dominates his stats with 480,000 interactions against 100,000 on Facebook.
Socialbakers figures are taken for the period June 14 to June 25.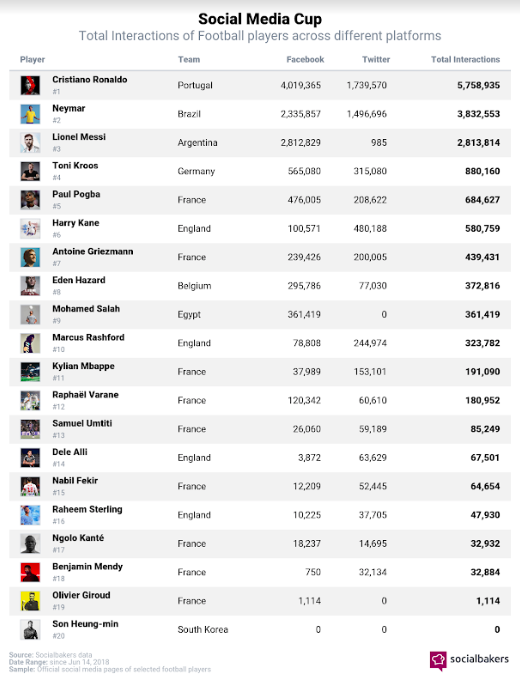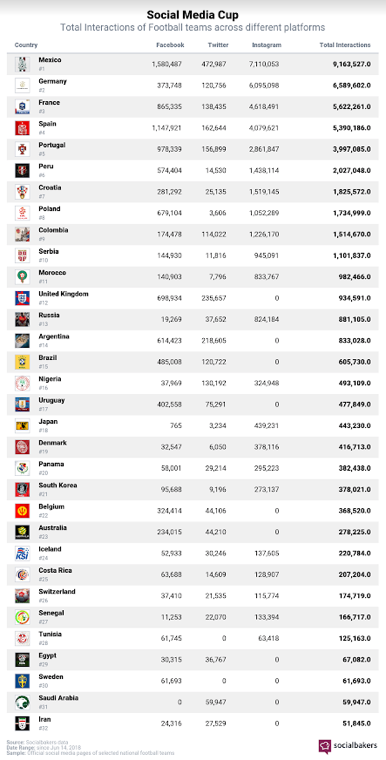 Source: Socialbakers
Contact the writer of this story at moc.l1664039558labto1664039558ofdlr1664039558owedi1664039558sni@n1664039558osloh1664039558cin.l1664039558uap1664039558