November 28 – FIFA and EA Sports have launched the first global ranking platform of eFootball players that will be based on Weekend League performances and FIFA Global Series events. The first ranking was released this week with Joksan– toping the list with 850 ranking points.
The FIFA 19 Global Series Rankings will be updated weekly at FIFA.gg and will monitor the progress of the top verified FIFA19 players globally as they progress on the road to the finals of the FIFA eWorld Cup 2019 which will be competed for by 32 players.
"As well as establishing a regular worldwide competition ranking to further underline the exciting growth and professionalisation of eFootball. Fans are now able to keep track on the results of their favourite players, and competitors themselves are able to monitor their standings during the season. We are looking forward to finding out who the best 32 competitors will be at the end of the season and welcoming them at the FIFA eWorld Cup 2019," said Luis Vicente, Chief Digital Transformation & Innovation Officer at FIFA.
The ranking competitions are aligned to the FIFA Global Series qualifying events both online and at live events. These include tournaments hosted by PlayStation, Professional Gamers League (PGL) and Gfinity, as well as a further 15 Official League Partners, FUT Champions Cups, the FIFA eClub World Cup and the just-announced FIFA eNations Cup.
Mosaad 'Msdossary' Aldossary, is the reigning FIFA eWorld Cup Champion, and described the rankings as a "fantastic step forward" in a FIFA press release.
"Not only will it help me track the progress of my rivals throughout the season, the FIFA 19 Global Series World Rankings will play an important role in further raising the profile of competitive FIFA gaming around the world and keep fans and the general public updated on who is in contention to compete to become FIFA eWorld Cup Champion at the end of the season."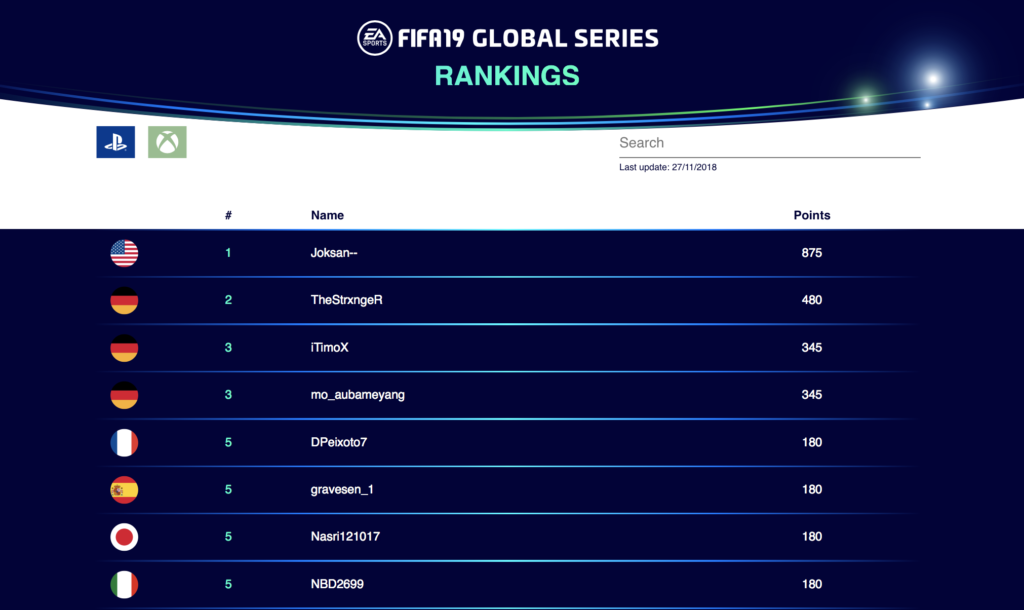 Contact the writer of this story at moc.l1685360814labto1685360814ofdlr1685360814owedi1685360814sni@n1685360814osloh1685360814cin.l1685360814uap1685360814